Jack Daniel's Tragic Death Stemmed From A Forgotten Lock Combination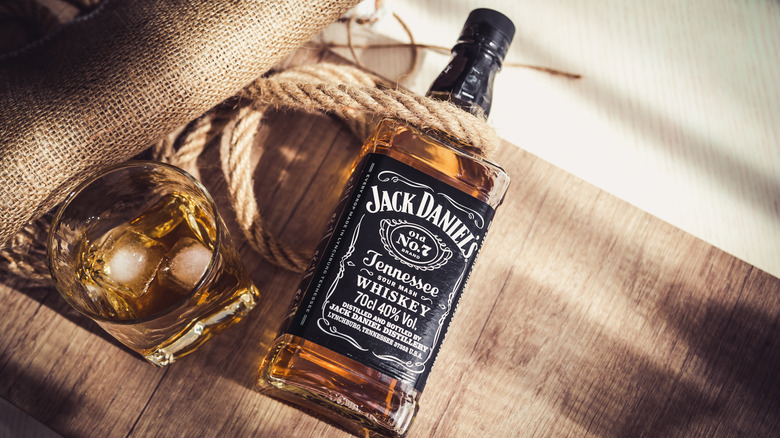 igorPHOTOserg/Shutterstock
Correction 9/5/22: A previous version of this article stated that the distillery was located in Lynchburg, Virginia. The distillery is located in Lynchburg, Tennessee. 

Before his namesake whiskey brand became a household name, Jack Daniel was just a young boy who left home to live at a nearby Virginia farm, according to Jack Daniel's. In 1864, Jack Daniel went on to live with Reverend Dan Call. The reverend and an enslaved person named Nathan "Nearest" Green both taught Daniel everything he needed to know about whiskey. 
Certain townfolks thought it was improper that Reverend Call was a minister who sold whiskey, Insider reports. To keep the peace, Call sold his distillery in Lynchburg, Tennessee, to Daniel for $25. By 1866, Jack Daniel's Distillery opened its doors (per Jack Daniel's). According to The New York Times, the Jack Daniel's whiskey brand is still a success, even more than 150 years later. Each year about 275,000 people take a tour of the Lynchburg distillery, and its famous whiskey is one of the best-selling alcoholic beverages of all time. In 2021, Jack Daniel's sold 13.5 million of its nine-liter cases of alcohol, which was their best-selling year to date, according to Statista.
How a safe injured Jack Daniel
Unfortunately for the brand's founder, Jack Daniel was felled by his own strong work ethic — and his impatience. One morning in 1906 (per Jack Daniel's), he went into work before anyone else arrived. Insider reports that he planned to complete some paperwork, so he approached the large metal safe where they were stored. Unfortunately, it was locked and he didn't know the combination to open it. Instead of just waiting for someone who knew the combination to show up, Daniel gave the safe a good kick, which obviously did not open it.
Daniel was badly injured from the kick, injuring his big toe. Insider states that after the kick, Jack Daniel's big toe became infected, and since this was before modern medical advances, there wasn't much that could be done. This led to several more years of suffering as a result of Daniel's impatience.
Jack Daniel lived for five years with a toe injury
Insider reports that as a result of the infection Daniel developed, his toe and eventually the entirety of his leg had to be amputated. During this time, he knew that he couldn't continue running the whiskey factory as he used to. So in 1907, he turned over the operations of his business to his nephew, Lem Motlow (per Jack Daniel's). Jack Daniel was only in his 60s when he died on October 9, 1911 (per Insider). The official cause of death was complications stemming from his gangrenous limb.
According to Insider, tour guides at the distillery, like Jesse James, like to joke that, "The moral of the story is never come to work early. It'll kill ya." The safe remains at the Lynchburg distillery to this day, with the exception of special events. AdWeek reports that the safe that "killed" Daniel was actually displayed in New York in 2016, during the whiskey brand's 150th anniversary.