The Vintage Biscuit That Once Pulled Over $20,000 At Auction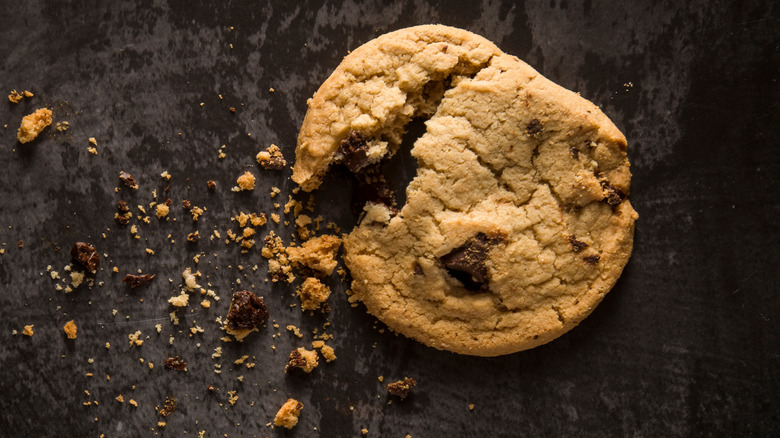 HK.Studio/Shutterstock
Sometimes a slice of wedding cake ends up in a couple's freezer, to be thawed and enjoyed on an anniversary or two. That's one kind of preserved historical memory involving baked goods.
There are scores of films, documentaries, television shows, books, and articles dedicated to telling the story of the Titanic, the famously "unsinkable" ship that tragically sank in 1912, claiming some 1,500 lives in the process. The coverage, even now, is impressive, because all these years later, people still hunger for tidbits of information about the sad tale of the storied ship. And many don't just want to know about it; they want a piece of its notorious history for themselves, at any cost. Enter a biscuit from the Titanic that sold in 2015 for £15,000 — about $23,000 (via ABC News).
An unknown collector from Greece snapped up the rather dry-looking, but remarkably well-preserved biscuit at an auction in the U.K. where other Titanic memorabilia was being sold. The auctioneer, Andrew Aldridge of Henry Aldridge & Son Auctioneers, was quoted as telling the BBC the items were some of the most "collectible and iconic" items from the ship to be sold. Today's processed food products include sell-by/best-by dates. Among the lot of Titanic-related memorabilia, how did a bit of commercial baked goods manage to enter the market more than a century after its creation?
A biscuit worth its weight in gold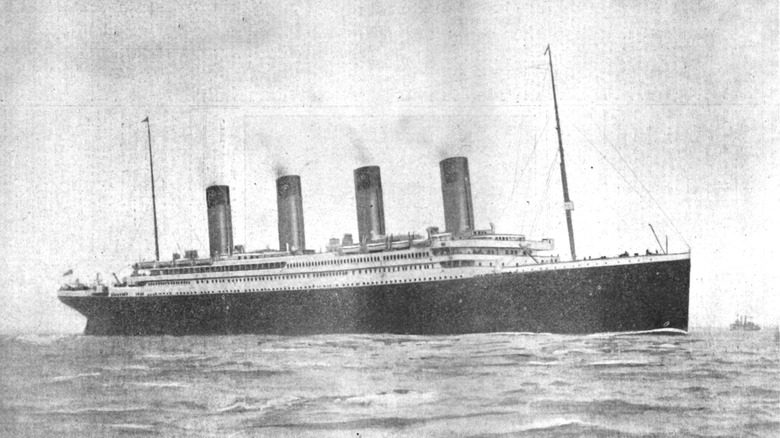 Print Collector/Getty Images
The century-old biscuit is probably one of the most expensive baked products in the world (via History Daily). In perhaps a bit of historical irony, the company that made this now pricey artifact was known for manufacturing cheaper items back in the day, like dog biscuits and foods used as rations for emergencies or war.
If it hadn't been for newlyweds James and Mabel Fenwick, the biscuit might not have survived to this day. They were on their honeymoon on the ship the RMS Carpathia, which ultimately helped rescue 700 people from the Titanic, when they found the biscuit. It had been part of a survival kit on a Titanic lifeboat, according to History Daily. James Fenwick wrapped the biscuit in a Kodak film envelope and included a note that read, "Pilot biscuit from Titanic lifeboat April 1912." He then kept it as a souvenir, according to ABC News.
An expensive baked good and priceless photos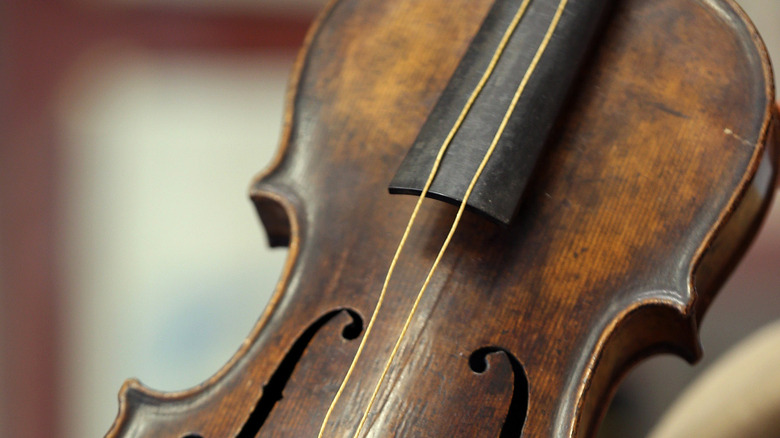 Matt Cardy/Getty Images
The pricey biscuit that brought in $23,000 actually sold for $8,000 more than expected, according to ABC News. But it was just part of a collection of items once owned by James and Mabel Fenwick sold at the 2015 auction in the U.K. Also offered up was a photographic negative of ice floes, shot from the rescue ship Carpathia, along with James Fenwick's personal journal describing details of the harrowing rescue of Titanic survivors (via invaluable).
While the biscuit was certainly expensive, people have paid a lot more to own a piece of the ill-fated ship's tragic history. In 2013, someone paid $1.7 million for a violin (above) that's said to have been played while the Titanic sank (via the Daily News). A letter from a survivor is also on the list of the most expensive Titanic items sold. In 2014 it sold for $200,000. And in 2011, a ship plan sold for $336,000. The plan was used in an investigation to determine why the Titanic sank, according to the Daily News.