Elvis' Iconic Jumpsuits Weighed More Than You Think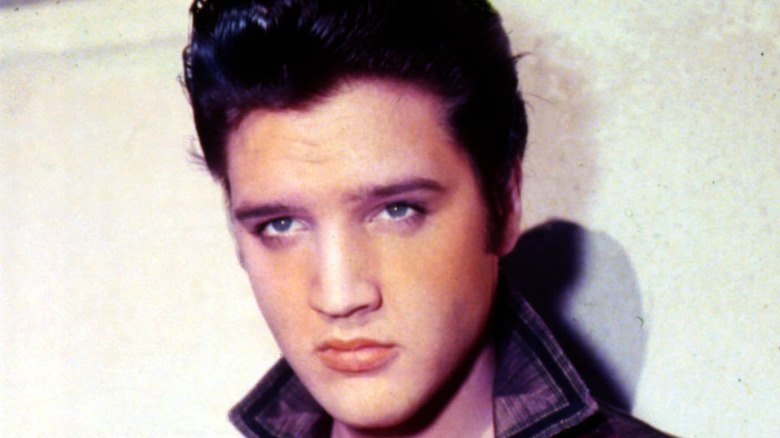 Getty Images/Getty Images
Elvis Presley impacted multiple facets of society from the music industry to dance to fashion. The classic slicked back pompadour hair with one strand left out of place still finds its way onto hair products in the 21st century. His career was much shorter than the world would have hoped. Yet in those two decades he managed to change up his onstage look drastically. In the 1950s, Presley performed on "The Ed Sullivan Show" several times, despite the controversy over how he moved onstage. Ed Sullivan himself was among those who deemed Presley's gyrations too suggestive for prime time television. This led to Presley's performance being filmed only from the waist up.
In those early days of his career, Presley wore rather tame suit jackets, save for a light pink suit jacket made by a family-owned clothing store in Presley's hometown of Memphis, Tennessee. He changed things up in 1968 with a double leather ensemble for his prime time special. But what became his trademark to caricature-like proportions were his jumpsuits.
Elvis Presley recorded Aloha from Hawaii in 1973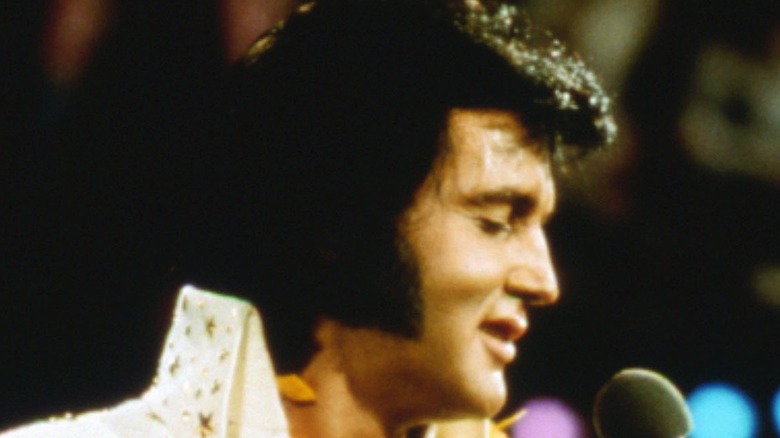 Michael Ochs Archives/Getty Images
After years of filming less-than-desirable movies in Hollywood (despite his detest for such films), Elvis Presley began performing regularly again by 1969. His shows and the newly opened International Hotel in Las Vegas broke Vegas show attendance records more than once, marking a triumphant return to his former glory. For many of these Vegas performances all of his performances on tours throughout the 1970s, Presley sported high-collared jumpsuits with varying levels of bling. 
In 1973, Presley recorded his "Aloha from Hawaii via Satellite" concert, which was broadcast via satellite to over one billion viewers all over the world. The soundtrack from the show took the top spot on the Billboard album charts as well. He wore the American Eagle jumpsuit (that's right, the jumpsuits each have their own names). The American Eagle jumpsuit had 6,500 jewels and stones sewn into the fabric. This added up. The outfit weighed 70 pounds (per Kauai Hawaii).
Elvis Presley's style influenced celebrities and fans alike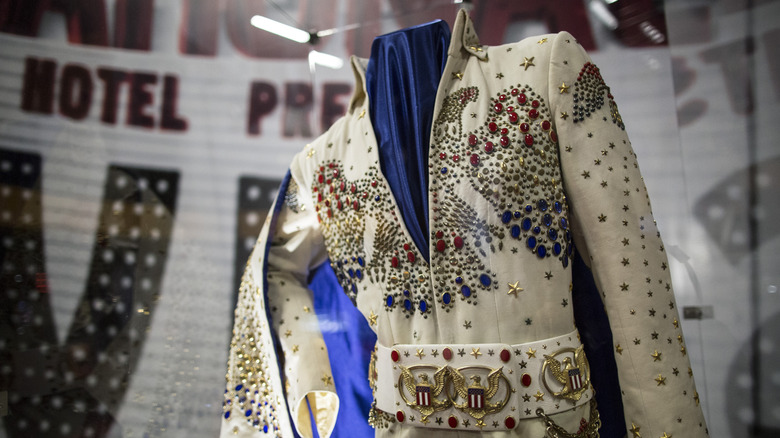 Dan Kitwood/Getty Images
The next few years were marked by decline. Elvis Presley's prescription drug dependence began to catch up with him. Though he continued to tour all over the United States, the glitzy jumpsuits could not hide his physical health issues. His death in 1977 makes for a cautionary tale for celebrities of all magnitudes.
Graceland is now a pilgrimage site for any Elvis fan. It was his home for two decades in Memphis, Tennessee. Though multiple rooms have been preserved to look just as they did when Presley lived there, the property is now a museum which features an entire room just for his jumpsuits. "The costumes were as big a part of his show as the songs," states Graceland archivist Angie Marchese (per Commercial Appeal). 
The influence of Presley's onstage attire is just one of the many lasting legacies of "The King." CNN explains that among those influenced were Mick Jagger and David Bowie who both rocked their own versions of flashy jumpsuits in the 1970s, as does Harry Styles in the 2010s.