Everything We Know About Eliza Fletcher's Alleged Killer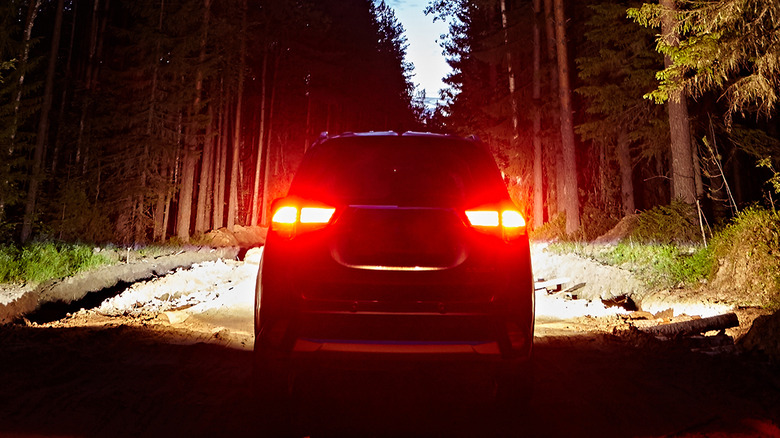 Artic_photo/Shutterstock
On the night of Monday, September 5, the body of 34-year-old school teacher and mother of two, Eliza Fletcher, was found in Memphis, Tennessee (via Fox13 Memphis). Fletcher, who taught at the all-girls private school, St. Mary's Episcopal, was also an heiress of the Orgill Company. According to Forbes, the company supplies over 70,000 national retail chains that specialize in hardware with equipment such as power tools, building materials, and more. It brings in an estimated revenue of $3.2 billion per year.
Fletcher was kidnapped while jogging in the early morning hours of September 2 near the University of Memphis and set off a frantic search for her abductor (via Fox News). A DNA investigation of a pair of sandals found near the scene — where witnesses say she was forced into an SUV connected to her kidnapping — pointed to 38-year-old Cleotha Abston. U.S. Marshalls moved to arrest Abston immediately and take him into custody. Additionally, Abston's own cell phone and video footage on the device showed him scoping out the scene of the crime in advance, which allegedly tied him to the kidnapping (via the New York Post).
Charges were initially filed against Abston for kidnapping, tampering with evidence, theft, identity theft, and fraudulent use of a credit card (via ABC7). His bond was set at $510,000. Since Fletcher's body has been found, Abston now faces charges of first-degree murder and first-degree murder in perpetration of kidnapping.
Previous brushes with the law
Cleotha Abston's troubles with the law started when he was only 12 years old when he was charged with aggravated assault with a weapon and rape (via New York Post). At the age of 16, Abston kidnapped local Memphis prosecutor, Kemper Durand. Abston held Durand up at gunpoint and forced him into the trunk of his own vehicle by demanding his car keys. Durand survived and testified in court against the teenager in 2000. Durand stated that the only time he was permitted out of the vehicle was to withdraw cash from various ATMs along the way. He shouted to an armed security guard for help while being forced to withdraw funds, and his life was spared as a result.
While kidnapping Durand, Abston had an additional person in the car, Marquette Cobbins. However, Durand voluntarily took the stand at Cobbins' trial to state that the co-robber was merely a victim of circumstance. While in the trunk, Durand stated that he could hear Cobbins encouraging Abston to free him. According to an obituary for Durand, who died in 2013, he was a criminal defense attorney (via Heavy). In 2001, Abston was sentenced to 24 years in prison for holding Durand up at gunpoint; however, was released in November 2020 (via Newsweek).
Abston's rap sheet does not end with Durand's kidnapping. On the day prior to Eliza Fletcher's disappearance, a woman reported to Memphis Police that Abston used her CashApp without her knowledge or consent. She had lost her wallet at a movie showing, and Abston worked as a part of the Majesty's Cleaning Service crew at the theater. Details are hazy as to why police did not respond to her complaint (via Heavy).
Abston's neighbors of the past two years said that he made them feel uncomfortable and sometimes offered to pay for sexual favors (via New York Post).
Personal life
On Facebook, Cleotha Abston uses the moniker "Pookie" and has 461 friends (via Facebook). His profile says "Wild Child" in parentheses. His profile picture is of a golden Glock that says "Wild Mob." On the platform, he complained of mental illness and celebrated smoking marijuana (via Heavy). On the day that Eliza Fletcher's abduction was reported, Abston's brother, Mario Abston, noticed his sibling cleaning out his GMC Terrain vehicle and washing his clothes in the sink. The brother noted that his sibling was displaying unusual behavior. Although it appears Mario was cooperative with police, a search warrant was issued for his home, which turned up a semi-automatic handgun as well as heroin and fentanyl. He was arrested and taken into custody at Shelby County Jail for booking (via Action News 5).
According to the Daily Mail, Nathaniel Isaac, who married into the Abston family, believes the entire family to be "******* nuts" and says that since news of the abduction, Abston's mother has gone into hiding. Isaac was convinced of Abston's guilt before Fletcher's body was found and expressed he was sorry for the woman's family and hoped she was returned home safely. In a statement released Tuesday, September 6, the day after Fletcher's body was identified, her family issued a statement (via the New York Post), saying, "We are heartbroken and devastated by this senseless loss. Liza was such a joy to so many — her family, friends, colleagues, students, parents, members of her Second Presbyterian Church congregation, and everyone who knew her."