The Real Reason Steven Tyler Sounds So Different On Dream On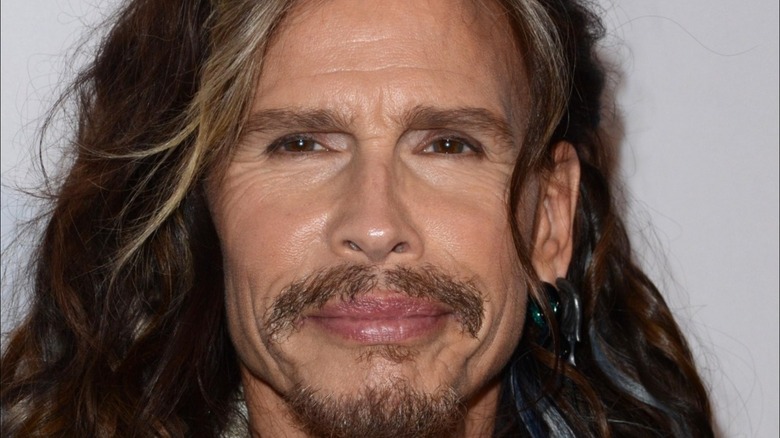 Kathy Hutchins/Shutterstock
Steven Tyler has one of the most recognizable voices in the rock world, and he is dubbed the "Demon of Screamin'" for his wide vocal range, high-pitched screaming, and wild stage antics. His vocal prowess coupled with his striking sense of style makes him a charismatic frontman for Aerosmith, but Tyler didn't always like the sound of his voice. He eventually found his confidence and was able to create his own unique style despite getting inspiration from other artists. As noted by Rock Celebrities, one of his inspirations for waiting to become a rockstar was iconic musician Janis Joplin, who he watched perform live when he was 15 years old. Seeing her perform while smoking and drinking made an impact on the young Tyler, and he realized that he wanted to be able to do what Joplin did.
Aerosmith was formed in Boston in 1970, and a couple of years later, the band signed a recording contract with Columbia Records. In January 1973, the self-titled debut album "Aerosmith" was released, but record sales didn't do well. According to Live for Live Music, Aerosmith felt that the lack of sales was the result of Columbia Records putting more marketing effort into Bruce Springsteen, who also released his record on the same day. The record company almost dropped the band, but one of the songs in the debut album, "Dream On," was released as a single and became Aerosmith's saving grace (via Groovy History). It peaked at No. 59 on the Billboard charts, but the song was a major hit in Boston.
Dream On features Steven Tyler's real voice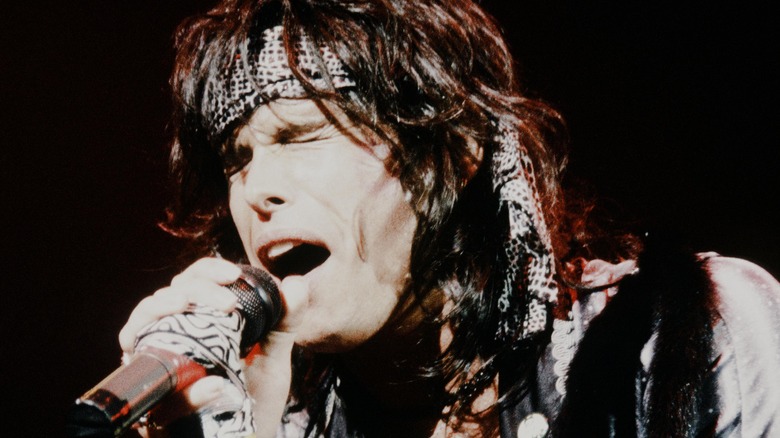 Koh Hasebe/shinko Music/Getty Images
"Dream On" was written by Steven Tyler, and it took him about six years to complete. He started writing it even before Aerosmith was formed, and completed it before the band released their debut album. As reported by I Love Classic Rock, Tyler's inspiration for the song's chords was the time when he was a young boy listening to his father — a Julliard-trained musician — play the piano. "It's about the hunger to be somebody. Dream until your dreams come true," he once said about the song. Admittedly, he said he knew nothing about writing songs when he was working on "Dream On" during his teenage years.
Aerosmith fans noticed that Tyler's voice sounds different in "Dream On" than in other Aerosmith songs, and there are also those who don't even recognize the voice as Tyler's. In the Aerosmith biography titled "Walk This Way," he revealed that he used to be insecure about the sound of his voice, and because of that, he changed how he sang in the first few albums Aerosmith released. A producer also gave him the advice to sing differently during the recording of the band's first album. In fact, "Dream On" is the only song wherein Tyler used his "real" voice, he revealed, according to Society of Rock, which is why he sounds so different in it compared to other Aerosmith hits. Eventually, Tyler learned to embrace his vocals and found a signature style that sets him apart from other rockstars. In 2018, "Dream On" was inducted into the Grammy Hall of Fame, which honors records that have historical significance.
Steven Tyler's vocal style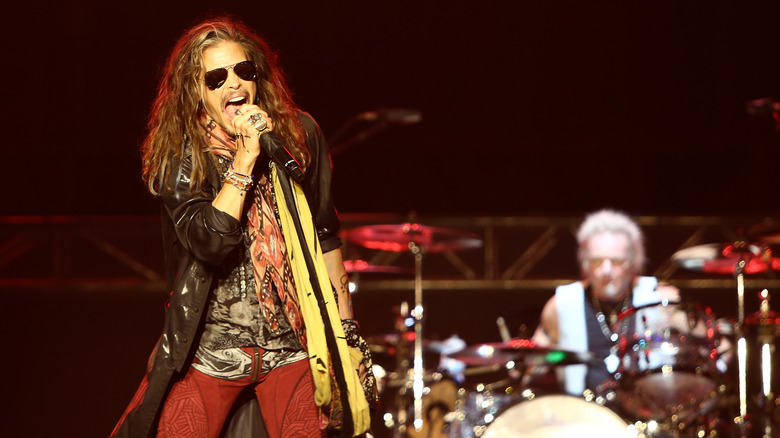 Debby Wong/Shutterstock
According to Rock Music Revival, Steven Tyler is a tenor, the highest singing voice among males. However, Tyler is also capable of reaching notes beyond the typical vocal ranges for tenors as evidenced in the Aerosmith song, "Crazy," wherein he sang one note so high that he sounded like an instrument. Apart from that, he is also known for screaming, which, as expected, can damage the vocal cords, as noted by medical experts. As reported by the Wall Street Journal, Aerosmith has had to cancel a tour after Tyler's voice was affected after a blood vessel popped on his right vocal cord. He had to undergo surgery, and he was able to get back his voice. Singers who wail, screech, and belt out tunes are the ones most at risk of getting their vocal cords damaged.
Tyler's career has spanned several decades, and in an interview, he noted that one of the things he hates is that he loses his voice for a couple of days after performing continuously on stage for a few hours (via Rock Celebrities). He told "On Air with Ryan Seacrest" that he hates not being able to talk for a few days, and being a screaming rockstar has taken its toll on him. When asked whether he's planning to retire, however, Tyler said that he isn't sure when that will happen, as he loves performing too much to let it go.