Iggy Pop Credits These Two Iconic Frontmen For His Career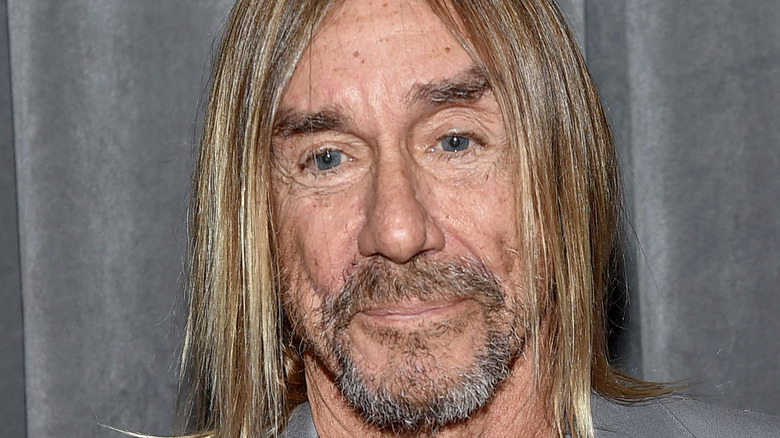 John Shearer/Getty Images
One of the most popular topics of conversation among fans of rock music is: Who's the best frontman, or lead singer, in history (per Rolling Stone). Formed in 1969, the early punk band called The Stooges, lead by James Newell Osterberg, Jr. better known as Iggy Pop, commonly ranks on lists of best punk band as well as best frontman (also via Rolling Stone). Hailing from Detroit, what set the band apart, among other things, was Pop's fearless performance style, which began during his time with The Stooges and continued throughout his long solo career, as the NME notes.
From cutting himself with glass live on stage to smearing himself with peanut butter, what's for certain is that no one performs quite like Pop. As the singer revealed to Rolling Stone in 2007, he drew influence for his distinct on-stage persona in his youth from two other classic rock singers. And once you find out what Pop borrowed from each of these well-known frontmen, you won't look at an Iggy Pop performance clip quite the same.
Jim Morrison is one of Iggy Pop's favorite singers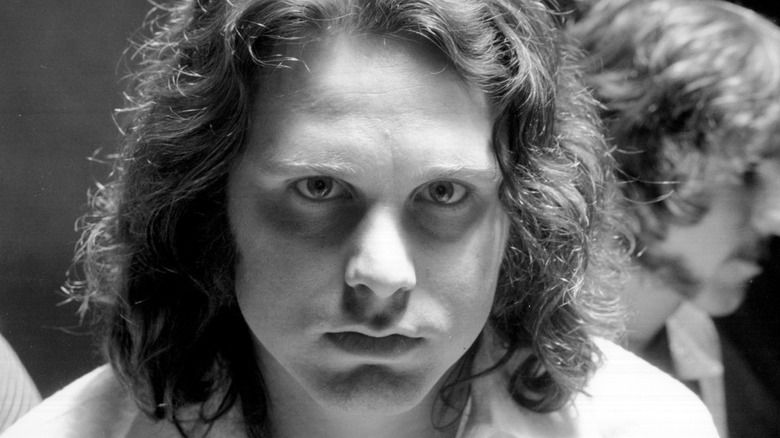 Estate Of Edmund Teske/Getty Images
In that same Rolling Stone interview, Iggy Pop spoke of his love for The Doors lead singer Jim Morrison, who died in 1971, according to NPR. Prior to that point, though, Pop saw Morrison and The Doors twice, and the experience of watching Morrison perform live on stage was a foundational experience for the rock musician, as Pop told Classic Rock Revisited.  
In that same interview, Pop remembered an early The Doors concert he witnessed. "[H]ere's this guy, out of his head on acid, dressed in leather with his hair all oiled and curled," Pop said, referring to Morrison. "The stage was tiny and it was really low. It got confrontational. I found it really interesting. I loved the performance ... Part of me was like, 'Wow, this is great.'"
Speaking with Rolling Stone, Pop further expanded on what he adopted as his own from the late The Doors lead singer. "[I]t was the way to stand at the mic — the stance and the grab. He hung on the stand. Nobody else did that.," Pop said. "The other thing was he might do anything — and he doesn't respect you. You don't get respect for ten bucks."
Pop was also influenced by Mick Jagger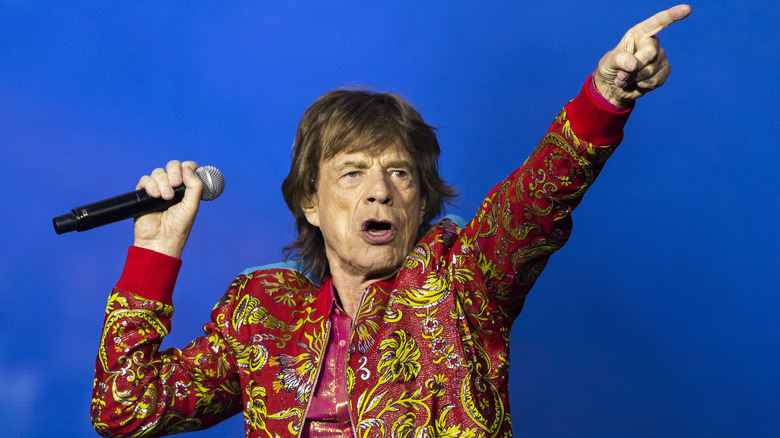 Bsr Agency/Getty Images
The other iconic frontman Iggy Pop is known to have patterned himself after is Rolling Stones singer, Mick Jagger. Pop mentioned to Rolling Stone that what he liked best about the Stones lead singer was how he moved on stage, as well as Jagger's willingness to give a raw vocal performance. Or as Pop put it, "[T]he voice as an irritant." When Jagger sang, Pop continued, "it was the opposite of nice."
Pop's own influences aside, he's certainly taken the influence of those two musicians even further to more extreme forms of expression, and he now casts an influence all his own on rock music for generations of young musicians. Pop has even worked with many of these next-gen musicians, as Rolling Stone elsewhere notes. That eclectic list of newer talent Pop has appeared with includes Cat Power, Death in Vegas, Green Day, and many others (via Pitchfork).