Why Royal Watchers Are Hoping The Queen's Corgis Will Be Part Of Her Funeral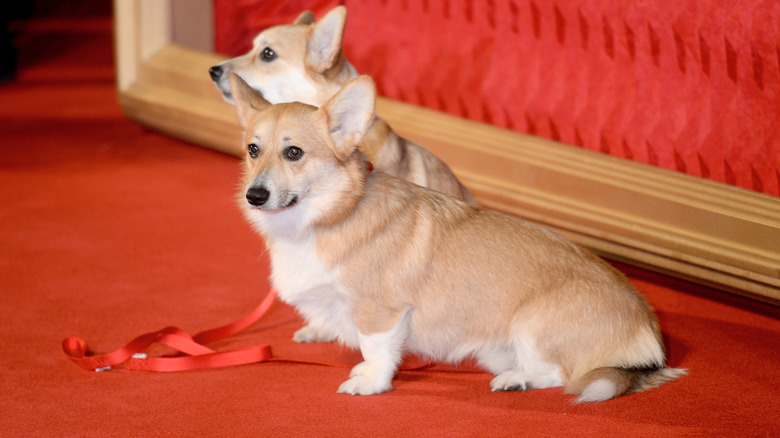 Dave J Hogan/Getty Images
If there was ever one thing about Queen Elizabeth II that made people smile, it was her flock of squat corgi dogs that encircled her on a regular basis. Despite her stoic stance, animals like corgis and her beloved horses brought out the queen's softer side. Her corgis even made a cameo in the James Bond short that was a part of the 2012 London Olympics opening ceremony (via YouTube).
According to the American Kennel Club, Elizabeth's relatives also owned Royal Pembroke Welsh corgis (the official breed name). Her first very own corgi was named Susan and given to Elizabeth on her 18th birthday. Susan and young Elizabeth were fast friends and the tiny dog even went with her on her honeymoon with Prince Philip.
Many of the queen's corgis were descended from Susan's line which and raised at Windsor Castle by exclusive breeders. Windsor's many dogs were handled by gamekeeper Bill Fenwick and his wife, Nancy. Notably, when Fenwick died, Prince Philip and Queen Elizabeth attended his funeral, despite a general rule that monarchs do not attend staff funerals.
Throughout her life, Elizabeth II owned over 30 corgis, making them one of the most famous dog breeds in history. The official breeding program, where the corgis descended from Susan, ended in 2002. The last dog related to Susan died in 2018, which devastated the queen. These cute creatures played such a major role in the monarch's life that it's no wonder many people expect her corgis to be a part of her funeral.
A royal's best friend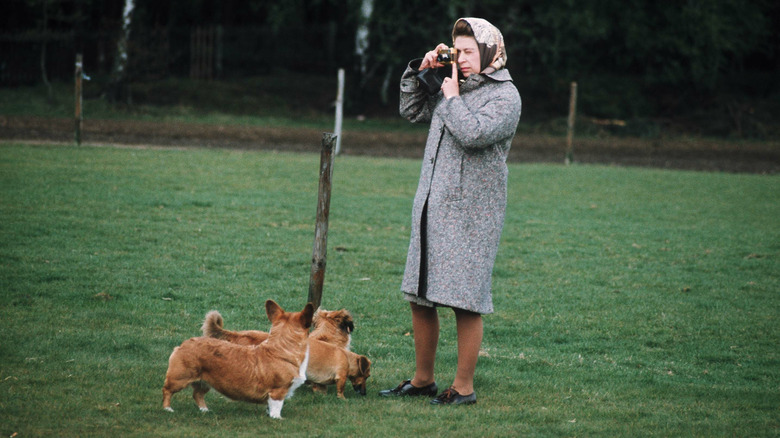 Anwar Hussein/Getty Images
Dogs and English royals go way back. A 16th-century royal, Mary Queen of Scots, had a similar love of animals, especially her dogs (via Vanity Fair). As shown in the 2007 historical drama "Elizabeth: The Golden Age," her most loyal companion stayed with her until the very end — when the Catholic queen was executed. 
According to Newsweek, Queen Elizabeth, Britain's longest-running monarch, is survived by four dogs, which include a Dorgi and a Cocker spaniel, in addition to two more corgis. (IN case you were wondering, a dorgi is a crossbreed between a dachshund and a corgi, as Elizabeth famously bred one of her corgis with one of her sister's Daschunds.)
Horse-trainer and long-time advisor to the Queen, Monty Roberts said (via Newsweek) that the queen stopped breeding corgis in 2015 because she "did not want to leave any behind." Since the dogs have survived her, it is expected that the corgis will quite possibly be a part of her funeral. According to Town and Country, mourners at the funeral for Edward VII, the queen's great-grandfather, were led by his fox terrier called Caesar, so the tradition is there if they choose to follow it.