The Unusual Royal Mourning Tradition Of London's Cabbies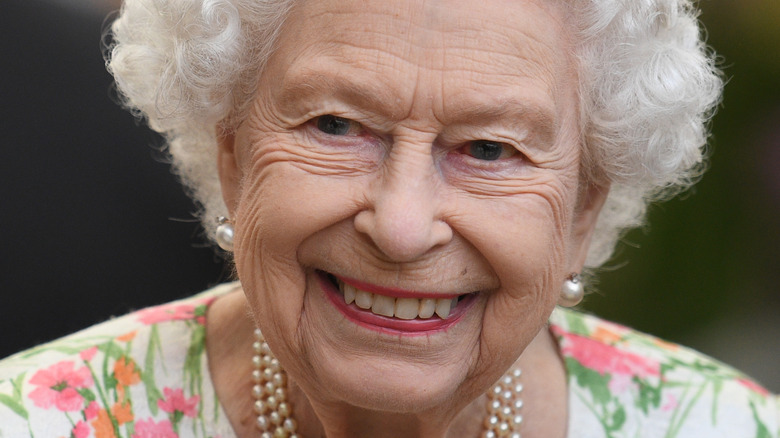 Wpa Pool/Getty Images
When Prince Philip, the Duke of Edinburgh, died in April 2021, dozens of black London cabs lined up on the Mall, a road that links Buckingham Palace and Trafalgar Square (via Daily Mail). This is the main London royal ceremonial road, used for processions and major national celebrations, including the Trooping the Colour ceremony that celebrates the birthday of the British sovereign every year. When Prince William and Kate Middleton married in 2011, this is where people gathered to see them wave from the Buckingham Palace balcony (per Walk London). 
The appearance of the black cabs on the road might have seemed a bit strange, but there's a reason behind it. Starting in 1999, Prince Philip often drove (or had a royal chauffeur drive) a gas-powered Metrocab for "incognito" trips around London. The eco-friendly black cab took the prince to both official and private engagements — he even drove it himself to ferry Barack and Michelle Obama to the palace when they visited London in 2016 — to the delight of other cab drivers who would catch sight of him here and there. He continued to use the cab until 2017, when it was retired and donated to a museum (via People Magazine). 
When Prince Philip died in 2021, Business Insider reported that dozens of black cabs paid their respects by lining up the sides of The Mall with flags on their hoods. The touching tribute was an emotional way to say goodbye to the Prince, who was also a decorated WWII combat veteran.
Black cabbies are paying their respects again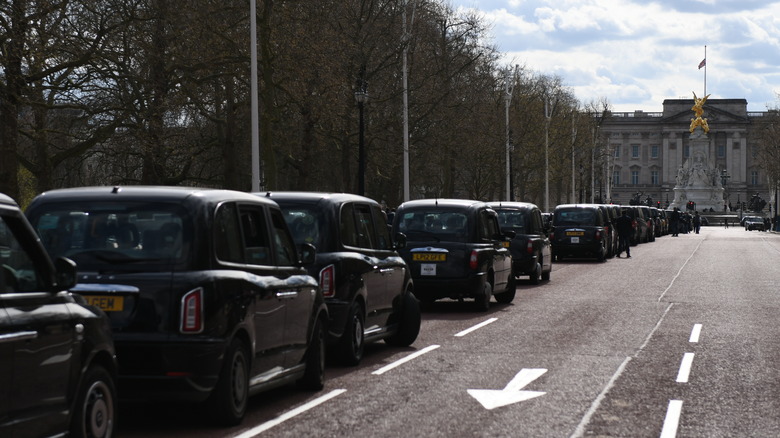 Chris J Ratcliffe/Getty Images
When the death of Queen Elizabeth II was announced on September 9th, 2022, black cabs started to show up at the Mall right away. About 50 of them lined up the rainy streets around Buckingham Palace before the streets were closed to help keep control of the large crowds gathering there to mourn the death of the queen (via Hull Daily Mail).  
News reporters describe the scene as incredibly moving as cabs parked to pay their respects just as they had done a year before for Prince Philip. The gesture is particularly moving as it was spontaneous, with no special organization involved to bring the drivers there — many claimed that as they heard the news on the radio, they simply changed their routes and headed straight for the palace, Yahoo! reports. 
While the Duke of Edinburgh used his black cab a lot, the queen wasn't a stranger to it either. In 2012, she surprised theatergoers when she showed up with her husband at the Theater Royal Haymarket to catch a show — not in a royal limo but in the Duke's beloved black cab, with a uniformed royal chauffeur at the wheel (per Daily Mail).  
As the UK says goodbye to its longest-serving monarch, it seems fitting that black cabs are again lining up the Mall to pay their respects and signal the beginning of a mourning period.