Queen Elizabeth II Made An Interesting Cameo In A James Bond Skit For The 2012 Olympics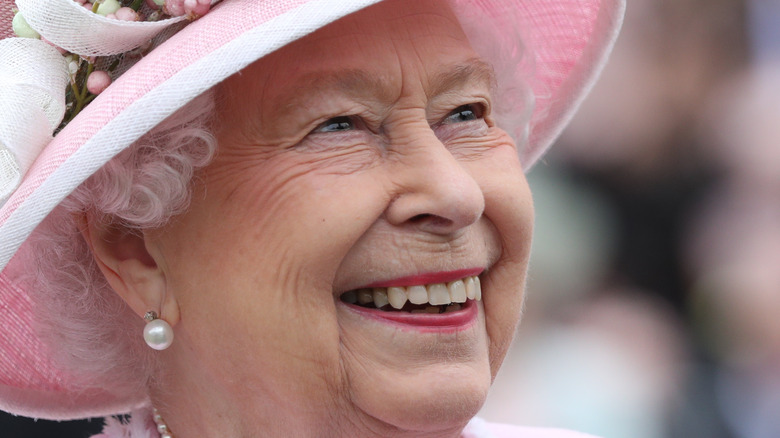 Wpa Pool/Getty Images
As the ceremonial head of state of hundreds of millions of people across the United Kingdom and its Commonwealth Realms, the sovereign of the United Kingdom is expected to compose themselves at all times with the utmost dignity and decorum. And Queen Elizabeth II, who died on September 8, 2022, exemplified those ideals in spades. However, she was also a joyful, jocular woman who was not afraid to laugh when appropriate, nor was she afraid to poke fun at herself.
Her Majesty's willingness to engineer a laugh at her own expense was driven home in 2012, when London hosted that year's Summer Olympics. Specifically, as The Hollywood Reporter explains, the event's organizers decided to reference two of Britain's proudest franchises — its monarchy and the James Bond films — in a recorded clip video clip that would be shown during the proceedings. And while the late queen could have easily declined and told the producers to hire a lookalike actress, she instead threw caution to the wind and appeared, as herself, in the clip. And she earned rave reviews for her performance.
'She wanted to be in the sketch'
In the clip, Daniel Craig (the actor who portrayed James Bond at the time), in character as James Bond, arrives at Buckingham Palace to meet briefly with the queen, and then the two embark on their adventure (we'll say no more to avoid spoilers).
As the New York Post reports, the bit's director, identified by The Hollywood Reporter as Frank Cottrell-Boyce, got the queen's permission to be portrayed in the sketch. However, when doing some groundwork for the shoot, a member of the production team went by Buckingham Palace to ask about what Elizabeth would be wearing on the day of the opening ceremony so that the actress who portrayed her would be in the same outfit. "The queen's dresser said, 'Why are you doing all this?' And we told her, 'so we can make it look like the queen.' So she said: 'Oh, the queen wants to do it.' She put herself up for that, she wanted to be in the sketch," Cottrell-Boyce explained to the BBC (via The Hollywood Reporter). Not one to contradict their sovereign's wishes, the producers decided to allow her to portray herself. She even asked for — and was given — a line.
The bit brought down the house in London that night, and Elizabeth herself was praised for her comic timing, as Yahoo Sports reports.