Inside The Mysterious 2013 Disappearance Of Brandon Lawson
Millenius/Shutterstock
As of 2021, there are 44,581 missing people in the state of Texas (via Texas Center for the Missing). Brandon Lawson is one of these individuals. On August 8, 2013, Lawson left his San Angelo, Texas home and has not been seen since (via Uncovered). Then 26, the father of four was an oil worker in a long-term relationship with Ladessa Lofton. On the night of his disappearance, the San Angelo Standard-Times writes, Lawson and Lofton had a falling out. Lawson had not returned home the night before and had recently relapsed on drugs.
As a result of their argument, Lawson left the home in his truck and headed toward his parent's home. Oxygen notes that Lawson's parents lived three hours away and shortly after leaving, Lawson ran out of gas on Route 277. According to a different article from the San Angelo Standard-Times, Brandon called his brother Kyle and asked if he could bring him gas. Kyle then picked up a gas can from the home his brother shared with Lofton and made his way to Brandon's location.
Brandon then told his brother that he was being chased out of town by "the Mexicans in the neighborhood" (per the San Angelo Standard-Times). As Brandon had a history of drug use, Kyle believed that Brandon was under the influence. However, Brandon denied this. Per Oxygen, the brothers spoke to each on the phone on and off for the next 50 minutes. At one point, Brandon was distressed and claimed that he was injured.
He made a troubling 911 call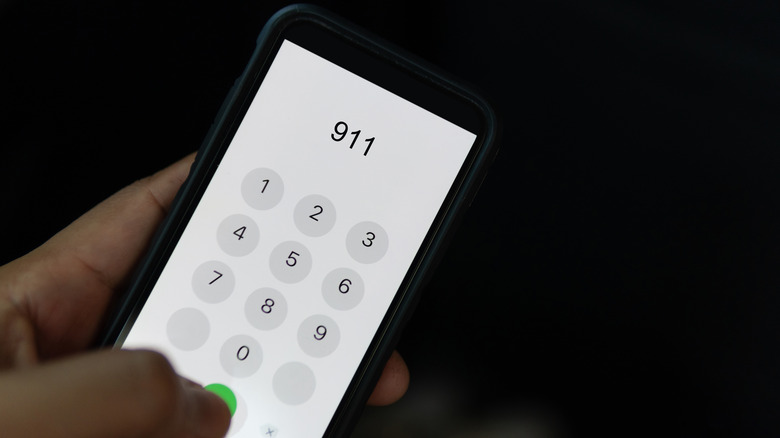 releon8211/Shutterstock
As Kyle had yet to arrive at his location, the San Angelo Standard-Times reports that Brandon Lawson called 911 for help at 12:50 a.m. He told the dispatcher, "Yes I'm in the middle of a field (inaudible) pushed some guys over, right here going towards Abilene, on both sides. My truck ran out of gas, there's one car here, the guy's chasing (inaudible) to the woods, please hurry!" (via NBC 5). Lawson added that he needed the police. Soon after, Kyle arrived at the scene at the same time as Chief Deputy Brandon Neal.
Neal had not been called by the dispatcher, but by a concerned truck driver who had seen Brandon's abandoned vehicle. Oxygen states that Brandon told Kyle on the phone that he could see him and was "right here." Brandon, however, was nowhere to be found. Kyle was not concerned, as he believed that Brandon was hiding from the police due to an outstanding warrant. As neither Kyle nor Neal knew of the 911 phone call, they didn't think that Brandon was in any immediate danger (per San Angelo Standard-Times). Uncovered explains that both parties lightly searched the area for Brandon but eventually left.
Kyle, per the San Angelo Standard-Times, returned in the early hours of the morning to look for Brandon, who he assumed was still hiding. Kyle failed to find him. According to Oxygen, officials then searched the area, but they too could not find any traces of Brandon.
Brandon Lawson's remains may have been found
With little to go on, the San Angelo Standard-Times writes, there are several theories surrounding Brandon's disappearance. Some believed that he left of his own volition to start a new life. Brandon (above) had recently cashed out his 401K and had an outstanding warrant. One supporter of this theory is Deputy Neal. He noted, "If someone wants to be gone, they can." Brandon's brother Kyle was also questioned in the disappearance, but he was later cleared of any wrongdoing. Another theory is that Brandon may have simply succumbed to the elements.
Uncovered states that although the area where Lawson went missing has been searched several times over the years, there was one specific spot that was off-limits until 2022. Prior to this, the property was private. Brandon's family and a group of volunteers decided to search the area and found clothes that matched what Brandon was wearing on the night he went missing. They then called Texas Rangers.
In February, another article from the San Angelo Standard-Times reported that Brandon's family posted an update on Facebook. They said, "The Texas Rangers conducted a search that ultimately led them to discover human remains in this same area. Although DNA tests are needed to confirm identification, in our hearts ... we know that it is Brandon." As of April 2022, the results of the DNA test have not been made public (via Uncovered). If the remains are those of Brandon Lawson, they will undoubtedly bring closure to his loved ones. Nevertheless, it might not provide all the answers that his family is looking for (per All That's Interesting).