Here's Who Inherited Roy Orbison's Money After His Death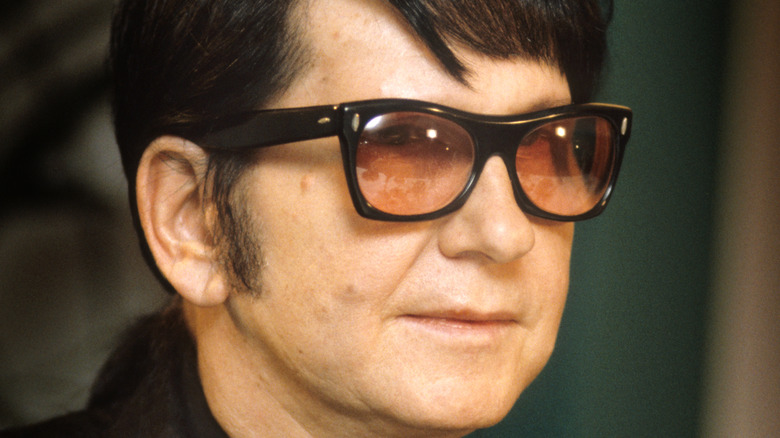 Gie Knaeps/Getty Images
With 23 Top 40 hits, including two that reached No. 1 on the charts, singer/songwriter Roy Orbison carved out a successful career that garnered the adulation of fans and the respect of his contemporaries. Even the King himself was in awe of Orbison's musical prowess, once referring to the late musician as the greatest who ever lived, a high compliment coming from Elvis Presley (via Do You Remember). The black attire and giant sunglasses that hid a lot of Orbison's face helped to give confidence to the performer who often spoke of his horrible stage fright. After performing countless shows in all corners of the globe, Orbison's talent left behind both a musical and financial legacy.
Before his untimely death in 1988 at the age of 52, Celebrity Net Worth estimates that Orbison's estate was worth $20 million. No doubt his 1960s and 1970s hits were major contributors, but he had some resurgence in popularity in the years before his death that continued to pad his nest egg. His 1963 single "In Dreams" was played in rotation for a new generation of fans when the 1986 David Lynch film "Blue Velvet" incorporated it (on YouTube). Additionally, Orbison was recruited by George Harrison to join the supergroup "The Traveling Wilburys" in 1987, along with Jeff Lynne, Tom Petty, and Bob Dylan. Though Orbison died before the band's success took off, those royalties were sure to be a great finale for a man who earned a great income playing music that he loved. Orbison left behind a wife and three sons, who would be the principal candidates for inheriting the proceeds of this large estate.
Orbison's widow controls his music catalog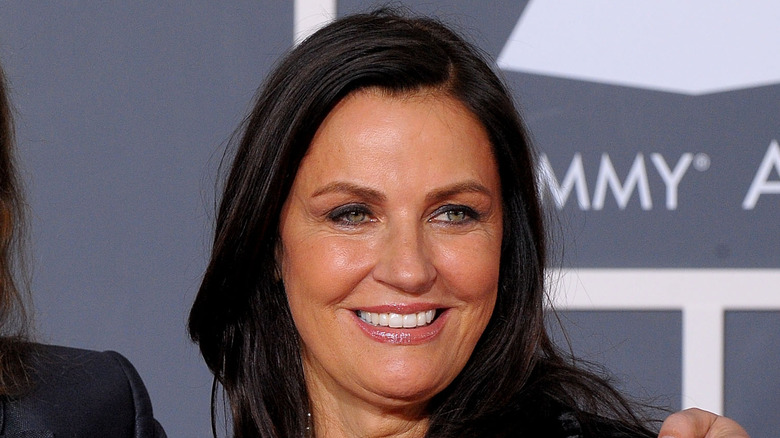 Jason Merritt/term/Getty Images
Orbison met his second wife, Barbara Wellhoener Jakobs (above), while on tour in Leeds, U.K. in 1969. The couple soon married and had two children, sons Roy Jr. and Alex (via Parade Magazine). The new Mrs. Orbison proved to be a monumental force in her husband's career, serving as his manager until his death on December 6, 1988. The Los Angeles Times reports that after his death at age 52, his widow worked hard to not only keep his musical legacy alive but dedicated herself tirelessly to grow it. The final album of his career, "Mystery Girl," debuted two months after his death and hit No. 5 on the sales charts. She also secured the release of the four-CD box set "Roy Orbison: The Soul of Rock and Roll," in 2008, putting his music together in a 107-song collection for fans new and old alike.
The most valuable piece of Orbison's estate by far was given to the wife and business manager who survived him. Rolling Stone reports that she was put in charge of her late husband's entire musical catalog; Independent referred to her as one of the wealthiest widows in pop history. Barbara was a powerful steward of the musical portion of his estate, suing several entities for unlawful use of his songs and likeness, as well as going after Sony (via Deseret News) for failure to pay the estate for royalties (per BBC). But if weren't for two horrific tragedies that he was forced to endure some 20 years before his death, the shape of his estate would have looked completely different.
Orbison lost a wife and two sons in two separate tragedies
Michael Ochs Archives/Getty Images
Orbison had first been married to Claudette Frady, whom he had met when he was beginning his career in music. They had three children together throughout their rocky marriage: sons Roy, Anthony, and Wesley. AmoMama reports that Orbison and Claudette split up in 1964 when the strain of his touring and her infidelity were too much for their relationship to handle. They reconciled in 1967, though their reunion was a brief one. Tragically, Claudette died after a truck collided with her motorcycle when she and Orbison were out for a ride one day near their Tennessee home. She died in his arms while they waited for help to arrive. 
One year later, Orbison was touring Europe when another tragedy struck. He was informed that his house in Tennessee had caught fire, killing sons Roy and Anthony. Wesley was spared, as he was staying with his grandparents at the time of the fire (via AmoMama). This left Orbison to care for his only surviving child as a single father, though he would find himself married to Barbara not too many years later.
Arguably, the estate left behind by Orbison would have been much different had neither of these tragedies occurred. He might never have met Barbara, leaving his musical catalog in the hands of someone who might not have worked so hard to maintain and grow one of the most beautiful musical sounds in the world of pop music.