The Only Two English Monarchs Who Weren't Crowned In Westminster Abbey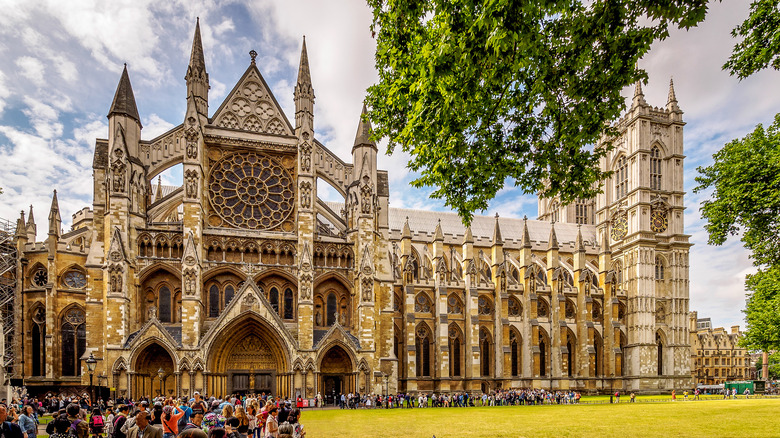 photo.eccles/Shutterstock
Westminister Abbey is one of the most important places in the United Kingdom. As London Tickets by Headout says, the creation of the London church first started in 1050, eventually building a foundation in 1090, and establishing itself as a full-on abbey in the late 1100s. The abbey has had a long tumultuous history, such as multiple reconstructions, design changes, and expansions; much of what is now the modern-day church actually took multiple centuries to come together. The church was also subject to a 1914 terrorist bombing done by the suffragettes of the Women's Social and Political Union. The women blamed the church as being a major culprit in limiting women's rights, and thus attacked the building accordingly.
But, perhaps most importantly, the church is most famous for being the place where royal coronations happen. As the Westminster Abbey website says, the abbey has been Britain's central coronation facility since 1066. A coronation ceremony is when a monarch is crowned, thus finalizing their reign. Almost every monarch in British history has been coronated at this church for centuries — except for two, Edward VIII and Edward V.
Who was Edward VIII?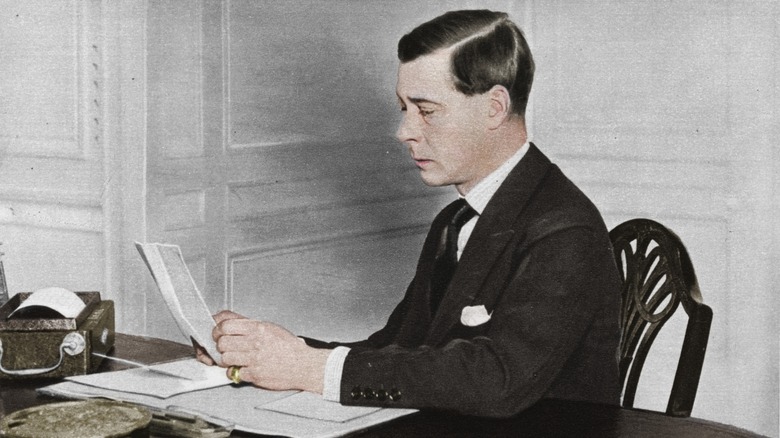 Print Collector/Getty Images
Prince Edward VIII was one of the most curious monarchs in British royal history. As Britannica says, Edward VIII was born on June 23, 1894, in Richmond, England, and died on May 28, 1972. He was King George V and Queen Mary's oldest child. In his youth, he took part in the Royal Navy and Grenadier Guards during World War I. Intensely interested in agriculture, he spent his days in his garden at Fort Belvedere, where he found refuge away from politics and higher society. 
As History explains, Edward VIII succeeded King George V on January 20, 1936, the day he died. However, what would come next would shock the nation. At the time, Edward VIII wished to marry an American named Wallis Simpson, which the British state and public vehemently disapproved of. As such, Edward VIII abdicated from the throne, as he did not want to be king without his wife. George VI became king afterward.
Who was Edward V?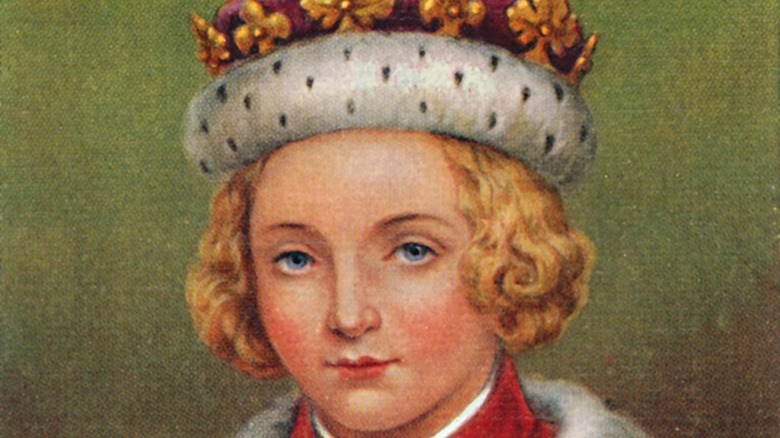 Print Collector/Getty Images
Edward V's story was one filled with violence and death. Born on November 2, 1470, in London, England, Edward V was the son of Edward IV and Queen Elizabeth. He became prince of Wales on June 1471, after a successful crown reclamation by Edward IV (via Britannica). Edward V was only 12 years old when he was made king on April 9, 1483, after the passing of his father. As he was still just a child, Richard, duke of Gloucester, and uncle to Edward V became Lord Protector, which means head of state. 
It wasn't too long after that Edward V's reign was challenged. As the official Royal website says, a marriage contract mix-up between Edward IV and Lady Eleanor Butler had made Edward V's rule illegitimate. What happened next isn't known with absolute certainty, but neither Edward V nor his brother Richard was ever seen again after being sent to the Tower of London. Reportedly, they were murdered by either Henry VII or Richard III, but there's no substantial evidence (as of now) to corroborate that rumor. Given that Edward V's reign only lasted a few months, he was never coronated.