Inside The Friendship Between Michael Jackson And Eddie Murphy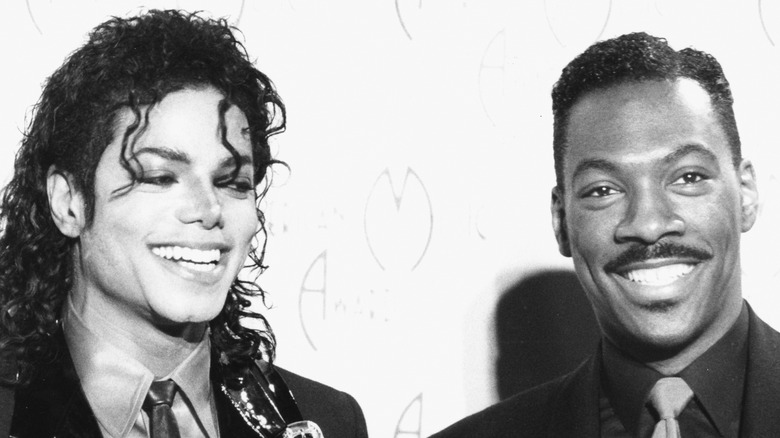 Kevin Winter/Getty Images
Those in the celebrity world often cross paths as costars in films and television. However, some celebrities meet due to award shows, talk shows, parties, and especially, music collaborations. The 1980s and early 1990s were a poignant era in the careers of both Eddie Murphy and Michael Jackson.
Eddie Murphy rose to fame when he became a cast member of "Saturday Night Live" in 1980 (per Today). In his four years as a cast member, he portrayed memorable recurring characters like Mr. Robinson (a parody of Mr. Rogers). He made the switch to movies and was a box office success with "Beverly Hills Cop" and "Coming to America" among others. 
Michael Jackson dominated the 1980s as one of the biggest-selling music artists of the era. Jackson had 14 No. 1 hits to his name, including "Beat It," "Bad," and "Say Say Say" in collaboration with Paul McCartney. A collaboration with Murphy sounds out of the ordinary, but there was more than met the eye. 
Eddie Murphy met Michael Jackson when he was 19 years old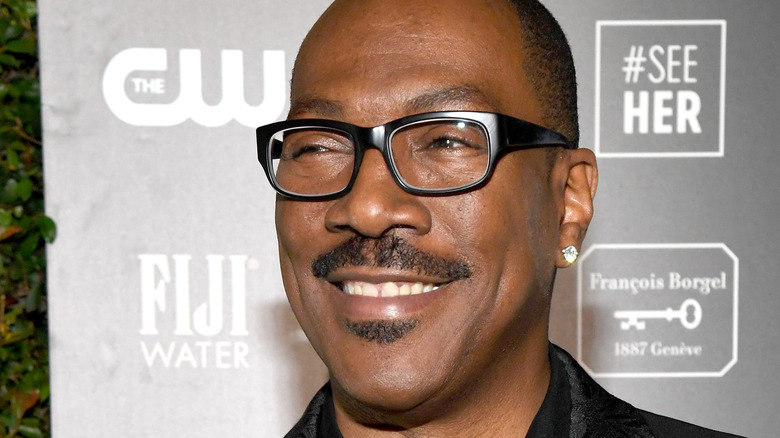 Kevin Mazur/Getty Images
Eddie Murphy dipped into the music industry as well. His 1985 song "Party All the Time" sold a million copies, according to Discogs. He kept one foot in the world of stand-up comedy, however. In an essay for Medium, writer Deante Young chronicles Murphy's relationship with Michael Jackson. In his 1983 stand-up special for HBO, "Eddie Murphy: Delirious," he seemingly mocks Jackson. He then mocks the moonwalk dance in another stand-up special, "Eddie Murphy: Raw," released in 1987. These jabs must have been purely for comedy because, at the American Music Awards in 1989, Murphy presented Jackson with the Video Pioneer award. The two hugged and even laughed when Jackson asked him to raise his microphone before his speech. 
Their interaction at the American Music Awards was apparently an accurate display of their friendship. In 1993, Jackson made a guest appearance in Murphy's "Whatzupwitu" music video. Murphy reached out to him regarding the music video and later explained that they had known each other since Jackson was only 19 years old (per New York Post).
Michael Jackson was a real person around Eddie Murphy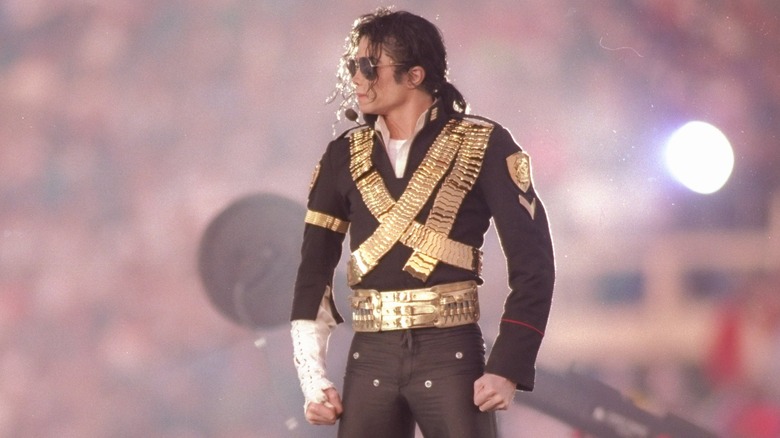 Mike Powell/Getty Images
Two decades after filming "Whatzupwitu," Eddie Murphy reflected on his friendship with Michael Jackson. "Michael wasn't 'Wacko Jacko' when he was with me. He was a real person with his family and kids, but he could turn on the persona of Michael Jackson instantly," Murphy explained to the New York Post. As for how he felt about the poor reviews that "Whatzupwitu" received, he is unbothered and proud of the fact that he has a fun video of Jackson and himself dancing together, especially after Jackson's death.
With such statements, Murphy subtly revealed that he knew a version of Jackson that is widely different from the version known to the general public. He also seemed to reveal their genuine friendship and his reverence for Jackson given his sentimental thoughts on "Whatzupwitu." Despite this, as a comedian at heart, Murphy does not shy away from the occasional lighthearted impression of Jackson, a skill that he showed off with Jerry Seinfeld on "Comedians in Cars Getting Coffee" (via YouTube).