Beth Chapman's Loving Final Words To Her Husband Dog Before Her Death
Michael Loccisano/Getty Images
Duane "Dog" Chapman is revered for catching criminals and ensuring that they face the law (via Newsweek). According to the Independent, Chapman gained notoriety with his long-running reality TV show "Dog the Bounty Hunter." Here, Chapman, who was also a bail bondsman, sought out individuals who skipped out on their bail or court appearance. Per A&E, his family, including his wife Beth, were featured on the show and involved in the search for fugitives. The Hollywood Life reports that Chapman was married four times before settling down with his beloved wife Beth.
Entertainment Tonight writes that the pair married in 2006 after years of being on and off. In 1988, Beth and Chapman met under unusual circumstances (via Country Living). Beth was 19 and caught shoplifting a lemon from a grocery store and was taken to jail for having an unregistered gun in her pocket and various unpaid parking tickets. Beth's father called Chapman to bail her out. She then fell head over heels for him but Chapman, then 35, thought she was too young for him. In Touch Weekly notes that Beth got into the bond business to get his attention.
However, they both were with other people at the time and Beth even married one of Chapman's friends (per Country Living). But fate eventually brought them together for good and after 13 years of marriage and two kids together (via In Touch Weekly), only death could separate Beth and Chapman.
Beth Chapman's cancer battle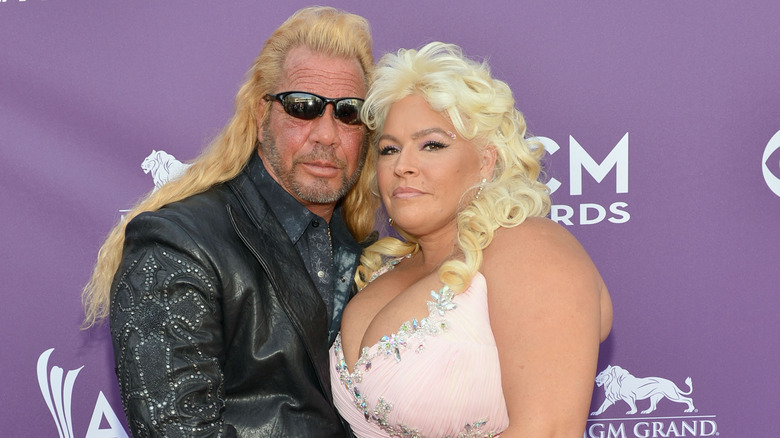 Rick Diamond/acma2013/Getty Images
In September 2017, Beth was diagnosed with Stage 2 throat cancer (via Entertainment Tonight). Soon after, she released a statement that read "I've been dealt my share of unexpected blows over the course of my almost fifty years but nothing as serious as the one I heard from my doctors two weeks ago when they uttered those dreaded three words, 'you have cancer.'"  She added that she was prepared to overcome the disease by any means. While Beth underwent treatment, she and Chapman agreed to star in "Dog and Beth: Fight of Their Lives," a reality show centered on her cancer battle.
In November of that year, Beth told People that she was in remission. However, the joy was short-lived. SurivorNet writes that Beth's cancer spread to her lungs a year later. Cameras actually captured the moment that Beth was told her cancer had returned for "Dog and Beth: Fight of Their Lives" (via CNN). Although she opted for chemotherapy, Beth hated the side effects of the treatment.
Her daughter, Bonnie Chapman, told SurivorNet that her mother decided to stop chemotherapy after one round. She stated "She despised who she was after that one session. And she had tried (the chemo) because so many people had been telling her, 'please, at least try.' And she didn't want to disappoint people by not trying it at all, but at the end of the day, she did not want to lose her hair, her teeth ... She didn't want to feel like she was falling apart."
Her family was her concern until the very end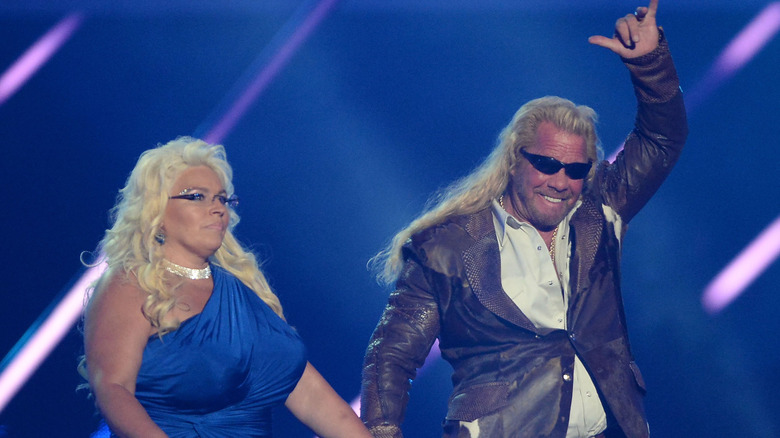 Jason Merritt/term/Getty Images
According to SurivorNet, Beth's family accepted her decision to stop chemo and Chapman stood by her side as her cancer worsened. People explains that at one point, Beth was unable to breathe prompting her to tell Chapman "Please, let me go." Another article from People states that she was eventually placed in a medically induced coma. 
On June 26, 2019, Beth Chapman died at the age of 51 (via CNN). Per USA Today, her cause of death was stage 4 lung cancer. In her final moments, SurvivorNet reports that she was solely focused on her family and how they would live without her. Beth and Chapman had a blended family that included 12 kids, 15 grandchildren, and one great-grandchild (via Hawaii News Now).
Chapman told reporters "When she had an attack I didn't know anything to do but to say 'in Jesus' name' and hold her," he said, "And when I said 'in Jesus' name' she said, 'Say it again, say it more'" (via another article from CNN). Chapman added that Beth said "'I love you' and 'Are you guys all okay? Don't worry,' but she never accepted it." 
Although the family knew that her life was coming to an end, Chapman stated that her death was "really unexpected" (via Hawaii News Now). Per her wishes, Beth was cremated (via Entertainment Tonight). TMZ writes that some of her ashes were scattered in Hawaii, where the couple resided.