Who Is Queen Elizabeth II's Private Secretary, Sir Edward Young?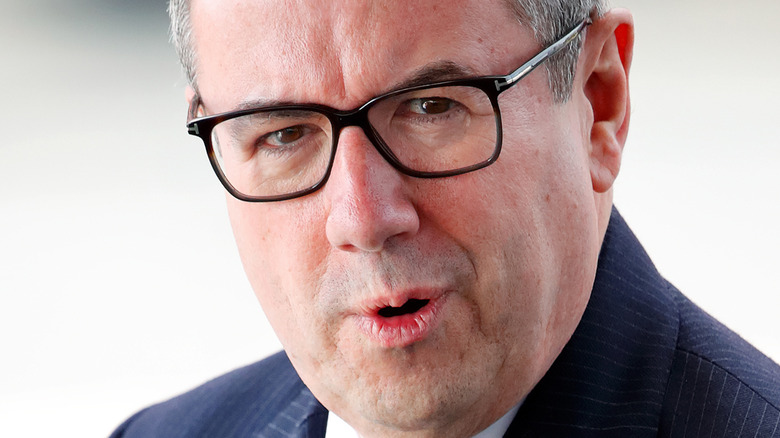 Max Mumby/indigo/Getty Images
Queen Elizabeth II was usually surrounded by a bevy of family members and employees who assisted her in carrying out her duties as the sovereign of the British monarchy. One of the most perennial figures at her side has been Sir Edward Young (above) who per the royal family's official website has held the position of the queen's private secretary since September 1, 2017. He previously served as deputy private secretary and assistant private secretary, and has been a member of what the site calls "the Royal Household" since 2004. 
The private secretary's responsibility is simply given as "supporting the queen in her duties as head of state." The site goes on to note that the private secretary is in charge of communications between the queen and the British government as well as the 14 other Commonwealth Realms for which Queen Elizabeth was sovereign, including Australia, Canada, the Bahamas, Jamaica, and New Zealand. 
Per Newsweek, Edward Young spent the 1990s working in finance before moving on to serving as an advisor to various members of the British Conservative party. His last job outside of the royal family was head of corporate communications for the broadcasting company Granada PLC; he was then hired as the queen's assistant private secretary in 2004 and promoted to deputy private secretary in 2007. Young worked closely with Lord Christopher Geidt, who served as the queen's private secretary until 2017, when Young took over the role after Geidt's retirement.
Young was knighted by the queen herself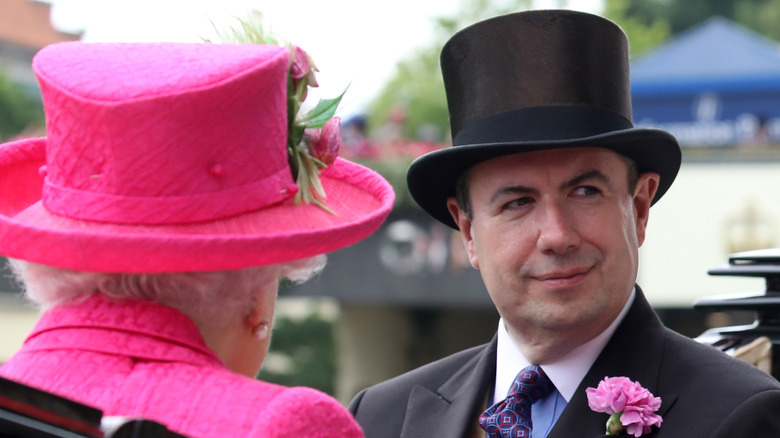 Chris Jackson/Getty Images
Queen Elizabeth bestowed three honors upon Young, starting in 2010, when she named him Lieutenant of the Royal Victorian Order (via The London Gazette). In 2015 he was appointed Commander of the Royal Victorian Order, and in 2019, as reported by the Shropshire Star, he was appointed Knight Commander of the Royal Victorian Order. This order comes directly from the queen herself, separate from the British government, and recognizes people who have served the royal family personally. 
Sir Edward Young has been in the news in 2022 due to Prince Harry's ongoing legal battle with the U.K. Home Office concerning the government's decision to cut down on the amount of security allotted to Harry, his wife Meghan, and their children, Archie and Lilibet, as reported by Newsweek. Prince Harry was sixth in line for the throne, following his father Charles, his brother William, his nephew George, his niece Charlotte, and his nephew Louis, despite stepping back from his royal duties, making Archie and Lilibet seventh and eighth, respectively. (With the death of Queen Elizabeth II, they all move up a spot to fifth, sixth, and seventh.)
Did Edward Young fail Meghan?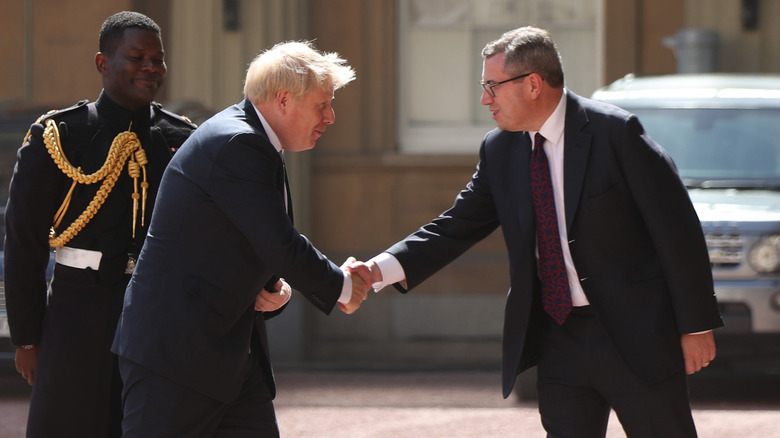 Wpa Pool/Getty Images
Per Newsweek, Harry's lawyer Shaheed Fatima said in a High Court hearing that "There were significant tensions between the claimant [Prince Harry] and certain people" on the consulting committee that made this decision, and went on to name Sir Edward Young as one of the people. Young was promoted to his position while Harry and Meghan were planning their wedding. In the couple's 2021 interview with Oprah Winfrey, Meghan noted that members of the royal household told her to "lie low" rather than begin reaching out and starting doing the public works and taking up causes, as expected by the royal family. 
Writer Robert Lacey, whose book "Battle of Brothers" details the feud between Prince Harry and Prince William, noted that Young had particularly let down Meghan, noting "The queen had evidently noted the failure of Sir Edward Young and his staff to come up with a satisfactory role for the American newcomer's strongly defined talents." Newsweek also pointed out a comment Harry made to journalist Hoda Kotb after visiting with his grandmother Queen Elizabeth, in which he said, "She's always got a great sense of humor with me and I'm just making sure that she's, you know, protected and got the right people around her." Some speculated that it's possible this was a dig at Young and other close members of the queen's circle.