The Queen's Funeral Has London Cleaner Than It's Been In Decades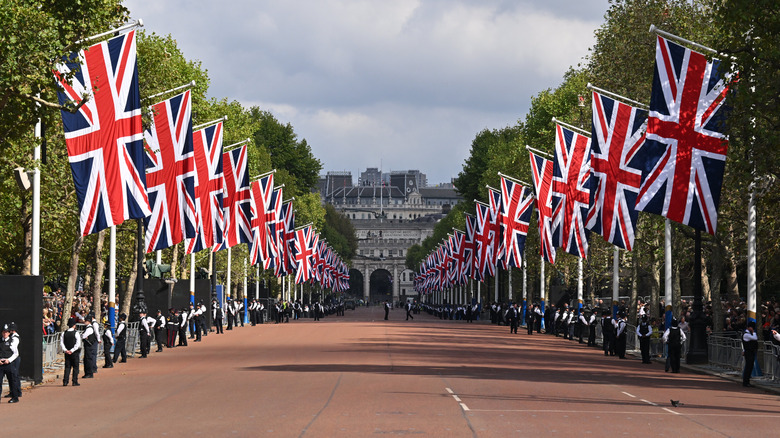 Leon Neal/Getty Images
London, England has a long and storied history on many fronts and its relationship with cleanliness is just one of them. Per a 2015 NPR interview with writer Lee Jackson, author of the book "Dirty Old London: The Victorian Fight Against Filth," the city was nicknamed "Dirty Old London" in the 19th century for all sorts of filthy reasons. Streets were full of horse excrement thanks to the 300,000 horses that walked its streets every day, cesspools collecting human waste filled backyards until 1855, and soot and smoke was so thick in the air that people quipped you could tell how long the sheep grazing in Regent's Park had been there by looking at the color and cleanliness level of their coats. The London County Council was eventually established in 1889, which centralized the city's governance, including in matters of cleanliness.
The funeral of Queen Elizabeth II has been a catalyst for a modern day clean sweep of the city of London. As reported by the BBC, the Westminster City Council has dispatched a "Clean Streets" team, the members of which are performing tasks like power washing statues and other surfaces to free them of grime and graffiti and removing stickers from lampposts in preparation for the queen's lying in state at the Palace of Westminster from September 14 until September 19, 2022 (via the official United Kingdom government website.)
Cleaning for the queen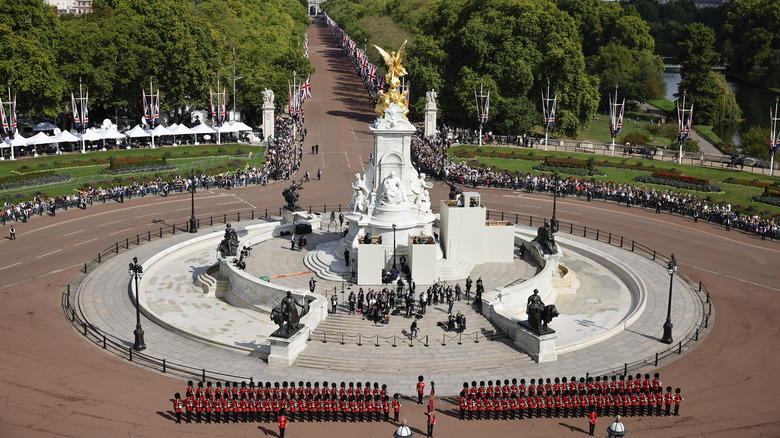 Chip Somodevilla/Getty Images
The BBC spoke with one of the men participating in the massive cleaning job in the London neighborhoods of Whitehall and Park Lane, who preferred to remain anonymous. He had been working for several hours, telling the reporter he was "cleaning up the city for the queen." When asked if he was proud of his work, he replied "Of course I do — we all have to do our bit." The worker was cleaning a statue of a different British queen, Boudiccca, who per Britannica led a rebellion against Roman rule in the year 60, dying shortly after ultimately losing the battle for independence. Her statue now overlooks Parliament and stands clean ahead of the arrival of the coffin of Britain's most recent queen. 
According to the website of Westminster City Council Commercial Waste Services, they provide deep cleaning services as needed in addition to waste and recycling collection. Despite the considerable improvements since the Victorian era, the site notes that London's "intense environment" can still leave the streets and its many monuments and structures "grubby," and thus makes itself available for washing, disinfecting, and deep cleaning on an as-needed basis after an initial consultation.