This Fascinating History Of The Gun Carriage In Queen Elizabeth II's Funeral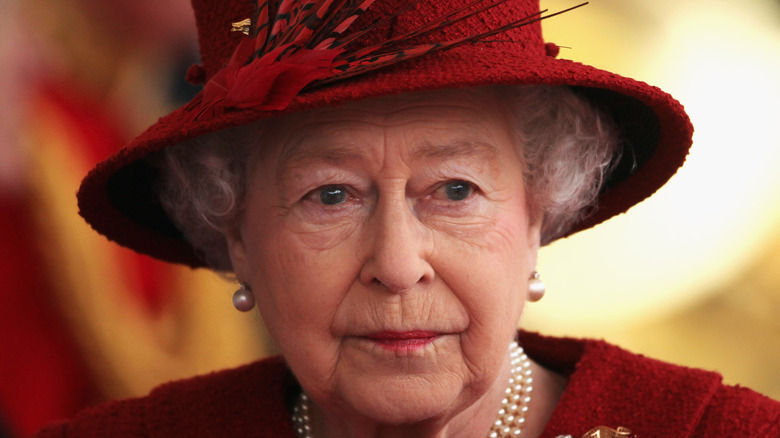 Dan Kitwood/Getty Images
With only days before her funeral, Queen Elizabeth II's coffin has been moved from Buckingham Palace to Westminster Hall (via CBS News). Here, NPR writes that the public will be able to say their final goodbyes as the queen will lie in state for a total of four days. NBC News explains that the coffin was led to Westminster Hall with a gun carriage procession. Several royals, including King Charles III and his children, Prince William and Prince Harry, followed behind as the coffin traveled through London. According to The Washington Post, the queen's procession, including the use of a gun carriage, was extremely symbolic.
ABC reports that this tradition goes back to 1901 when a gun carriage was first used for Queen Victoria's funeral. inews explains that Victoria chose to imbue her funeral with military elements. Her wish was to be buried as "a soldier's daughter." Britannica notes that her father, Edward Augustus, duke of Kent and Strathearn, was a successful British general. Since then, gun carriages have been used in the funerals for various prominent individuals including King Edward VII (Victoria's son), King George VI (father of Elizabeth's II) and Winston Churchill. A gun carriage was last used in 1979 for Lord Louis Mountbatten's funeral.
Queen Victoria's funeral did not go off without a hitch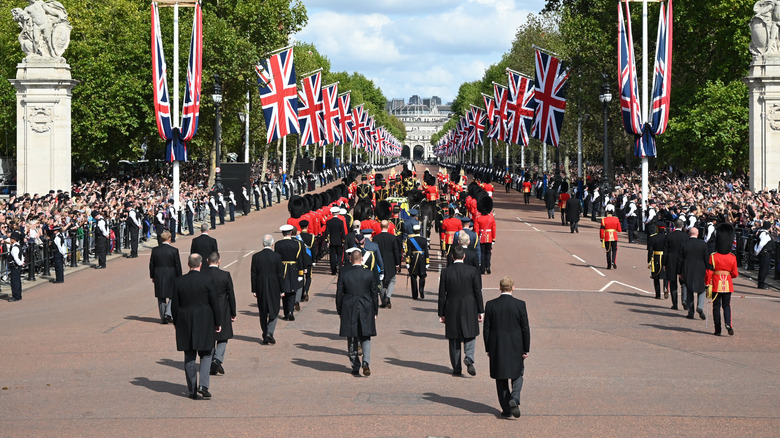 Leon Neal/Getty Images
According to inews, Queen Elizabeth II was carried to Westminster Hall on a gun carriage by the King's Troop Royal Horse Artillery. The procession lacked music and lasted around 38 minutes. The queen's coffin was pulled by horses, and The Washington Post explains that in 1901, the horses caused a ruckus at Queen Victoria's funeral. Per British Heritage, the horses pulling her carriage broke free. As a result, sailors quickly took over and carried her coffin. For the queen's procession, it was expected that the royal navy would also pull the carriage by foot as a nod to sailors who saved Victoria's funeral.
That said, Sgt. Major Kathryn Cooksley explained to the BBC (via inews) how it felt to be a part of the queen's procession. She stated, "It means the world to us because we're not only here on a professional level, we want to make Her Majesty still proud to lay her to rest for the final time, but we want to make all the soldiers of the unit's family proud because it is a huge responsibility for them and they're dealing with it incredibly well. I couldn't be more proud." The BBC notes that the queen's funeral is scheduled for September 19 at Westminster Abbey. It will be the first funeral held there for a monarch since 1760 (per The Independent).