The First Mourner At The Queen's Procession Has A Surprising Connection To The Royal Family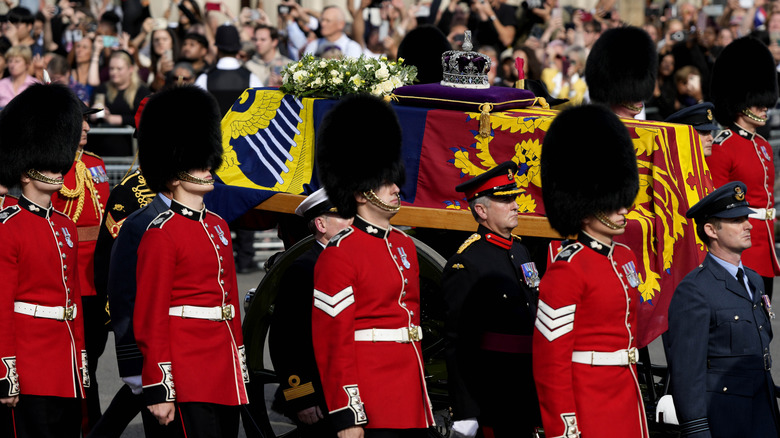 Wpa Pool/Getty Images
After spending one night at Buckingham Palace, the coffin of Queen Elizabeth II arrived on September 14 at Westminster Hall, where the late sovereign was expected to lay in state for four days. In the procession accompanying the queen via gun carriage were many members of the royal family, including the queen's grandson, Prince William, now the Prince of Wales, and his brother, Prince Harry, the Duke of Sussex, as NBC News explains. Also in attendance for the journey was Queen Elizabeth's son, Charles, now King Charles III.
Thousands of mourners are expected to pay their respect to the queen while she lay in state at Westminster Hall before her state funeral at Westminster Abbey. From there, she will be interred at St. George's Chapel on the grounds of Windsor Castle (per Bloomberg). Many mourners had already gathered at Westminster Hall in the days leading up to the queen's arrival. The first was a Sri-Lankan native who now lives in London, with a surprising connection to the royal family, as NBC News notes as well.
Her great-uncle was knighted by Queen Elizabeth's father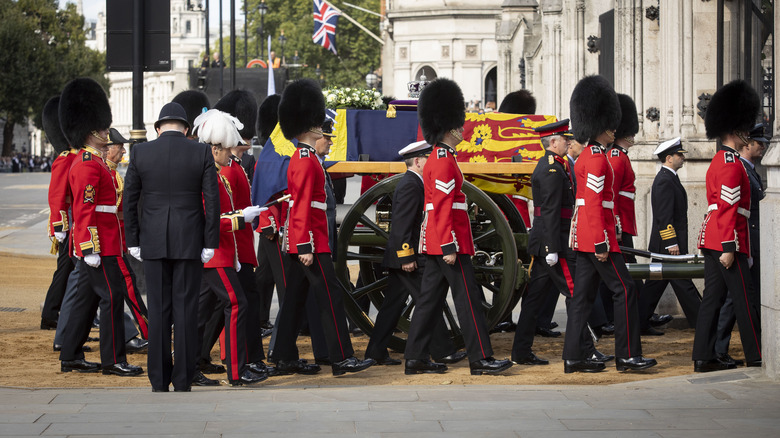 Wpa Pool/Getty Images
The first mourner to arrive at the Westminster Hall area to witness the arrival of Queen Elizabeth was 56-year-old Vanessa Nanthakumaran, as NBC News goes on to report. Though she never intended to be the first, it was important to her to pay her respects to the late sovereign and show her support for the royal family. Also motivating Nanthakumaran to attend was the fact her great-uncle was a notable Sri Lankan politician who was knighted by Elizabeth's father, King George VI. Sri Lanka was an English colony from 1815 through 1948, as Culture Trip explains.
For these reasons and more, Nanthakumaran went on to note her respect for the royal family, as she spoke with NBC News. "I know that when I get to the point where we say farewell, it will be overwhelming and I will thank God that I got the chance to say a last goodbye," she said. Some 320 members of the British military also accompanied the queen's coffin on its journey from Buckingham Palace to Westminster Hall. Military personnel will also keep watch on the queen for the four days she spends lying in state (via NBC News).