Last Veteran Of Band Of Brothers Dies At 101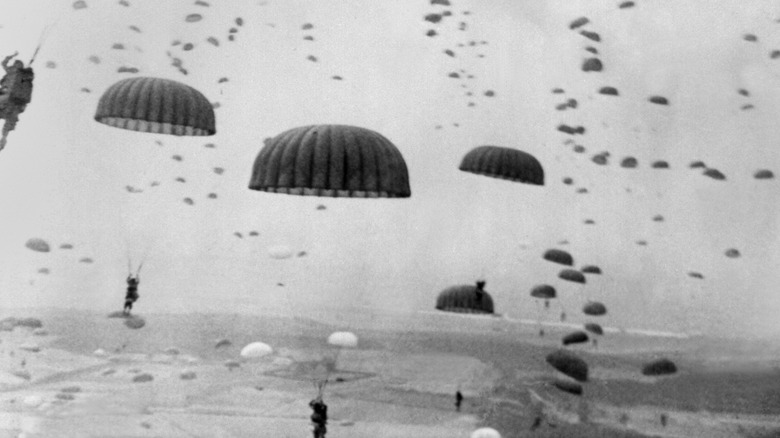 Everett Collection/Shutterstock
World War II veteran James Martin, otherwise known as Jim "Pee Wee" Martin, has died in his home in Sugarcreek Township, Ohio (via Military). According to WYSO, the 101-year-old was known for being a part of the 506th Parachute Infantry, 101st Airborne Division. This group of soldiers was chronicled in Stephen E. Ambrose's 1992 book "Band of Brothers," which in turn inspired the HBO hit miniseries of the same name. Martin also served as an adviser for the show (via We Are The Mighty). In 1942, Martin joined the army and trained as a paratrooper at Camp Toccoa, Georgia. It's here where his small size earned him the nickname "Pee Wee." During his military service, Martin went on to survive D-Day and aid in the liberation of Europe.
Despite his accomplishments, he previously explained to WYSO why he didn't feel like a hero. Martin stated, "I am a representative of our unit. I feel it was an obligation to go. I do not consider it a sacrifice. I considered it an honor and a privilege to have been a part of history. Look what I've gained and where I've been, what I have done. It's just phenomenal." His granddaughter, Jodi Martin, echoed this sentiment. She told Dayton 24/7 Now, "He said he signed up to do a job and he was paid to do that job and that's what he did."
Martin's impressive military service
Per WYSO, Martin (above, in 2020) and the rest of the 101st Airborne Division later became known as the "Toccoa Originals." The Dayton Daily News reports that they have also been referred to as the "Screaming Eagles." In June 1944, they parachuted into Normandy on D-Day. Martin also fought in the Battle of the Bulge, where he almost froze to death (via Dayton 24/7 Now). We Are The Mighty adds that he was involved in Operation Market Garden in Holland. According to the U.S. Army Airborne & Special Operations Museum, the 101st Airborne Division liberated the Kaufering IV concentration camp. Furthermore, he also assisted in capturing Berghof, Hitler's home, in 1945.
Martin often spoke candidly about his time as a paratrooper. He stated, per Dayton 24/7 Now, "We were the first people, in fact, we went in, paratroopers went in the night before D-Day and we knew, we were told the likelihood of most of us not coming back we still went and I'm glad I did."
Military states that the 101st was set to return to the United States before deploying to Japan. However, Japan surrendered before this could happen. For his military service, Martin earned a Purple Heart, a Bronze Star medal for heroism (We Are the Mighty says "several Bronze Star medals"), and the European African Middle Eastern Service Medal (via the Dayton Daily News).
Jim Martin sought a quiet life after the war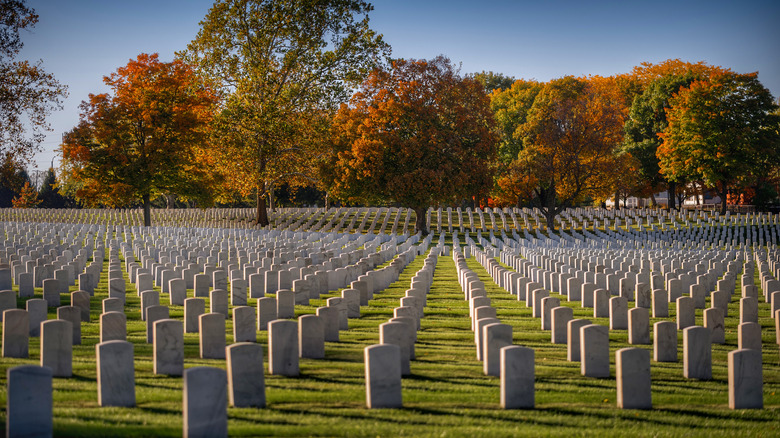 Martin Wheeler III/Shutterstock
When the war ended, We Are The Mighty states, Martin returned home to Sugarcreek Township and married his wife, Donna. In 2014, he told the Dayton Daily News that all he desired was a simple life. Martin said, "I've been there and I've done that." He added, "All I cared about was getting a job to take care of my family and building a house on 50 acres and forgetting the world." He remained married to Donna for 73 years, until her death in 2019. On his 101st birthday, Martin expressed his surprise at living so long (via WHIO).
He went on to say that he often thought of his fellow comrades from "Toccoa Originals." Martin stated, "I miss them and for 50 years after the war or longer we kept friendships. Now I'm probably one of the very last originals" (per WHIO). According to Dayton 24/7 Now Jim "Pee Wee" Martin died in his sleep on September 11. Soon after, Mike DeWine, the governor of Ohio, Tweeted a statement that read, "We have lost a great American and friend with the passing of Jim Martin." Dayton 24/7 Now reports that Martin will be buried next to his late wife at Dayton National Cemetery.