Here's Why 38 Rounds Were Fired During The Queen's Funeral Procession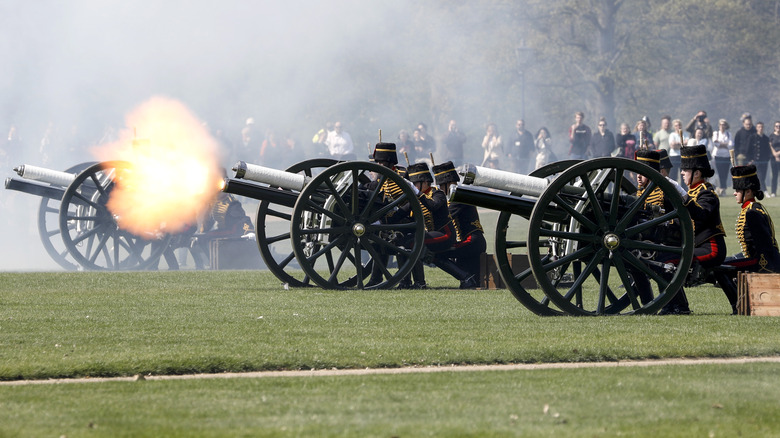 Tristan Fewings/Getty Images
Just as Queen Elizabeth's funeral procession left Buckingham Palace on September 14 at 2:22 p.m. to start its journey to Westminster Hall, a thundering blast from a field gun went off a mile and a half away in Hyde Park, according to the Evening Standard. The shot echoed through the streets of Westminster in honor of the queen who died at 96 on September 8. The King's Troop Royal Horse Artillery, in full dress uniform of black, red, and gold, stood by their vintage 13-pounder field guns, at the ready to fire round after round.
Meanwhile, the somber procession snaked its way through London's streets as Queen Elizabeth's son, King Charles III, and other royals followed behind the flag-draped coffin carried by a horse-drawn gun carriage. Nearly 4,500 members of the military accompanied them during the ceremony, according to The Guardian. Big Ben tolled once a minute during the procession, per the BBC. A different sound, one that was much louder, also kept a schedule measured in 60-second intervals.
Why 38 blasts? 
Richard Heathcote/Getty Images
Back at Hyde Park, the guns continued their noisy, smoke-filled salute to the late queen. The men and women in charge of the field guns dating back to World War I, per the Royal Canadian Artillery Museum, had a special relationship to the queen through her father, King George VI. Just after World War II, King George requested a mainly ceremonial artillery battery dressed in traditional style, according to The Lady. Their inaugural use was on October 24, 1947, in honor of the king's birthday, per The Lady.
Since then, the troop has fired their field guns for state visits, the opening of Parliament, the queen's birthday, and many other events, per The Royal Parks. But on September 14, the occasion was much more somber. Throughout the funeral procession, the King's Troop Royal Horse Artillery continued to fire their field guns once a minute, until the queen's coffin arrived at Westminster Hall at precisely 3 p.m., according to Evening Standard.