Why A 2015 Statement From The Queen Had Twitter Making Some Truly Morbid Jokes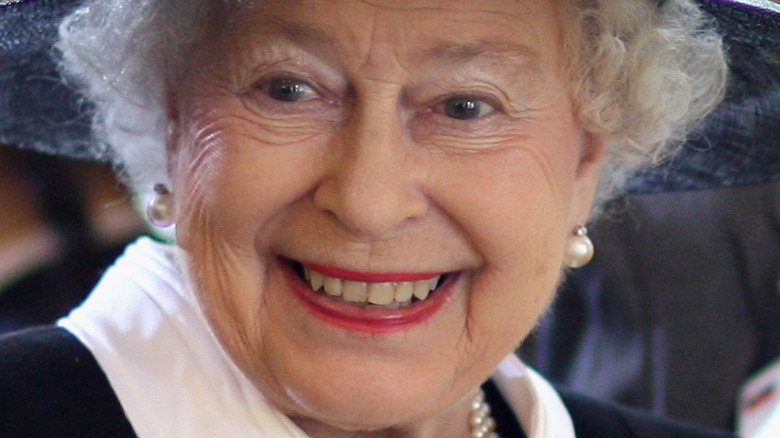 Chris Jackson/Getty Images
Over the course of her 70-year reign, Queen Elizabeth II became known for many things, not least of which was her love of horseback riding and for dogs, especially the corgi breed. "My corgis are family," the queen was known to say (via Vanity Fair). In 2015, though, the late sovereign, who died at age 96 at Balmoral Castle in Scotland, announced she would no longer breed her favorite dog, for fear that they might outlive her. (The last of Queen Elizabeth's purebred corgis died in 2018, as ABC News goes on to note.)
Despite the pronouncement that she would no longer breed corgis, in 2021, after the hospitalization of Elizabeth's husband, Prince Philip, corgis were given to the queen by members of the royal family. Those corgis have survived the longest-reigning monarch in British history, and some commenters have taken to Twitter to joke about what might now lie in store for the animals.
The queen's current corgis were gifts from Prince Andrew and Sarah Ferguson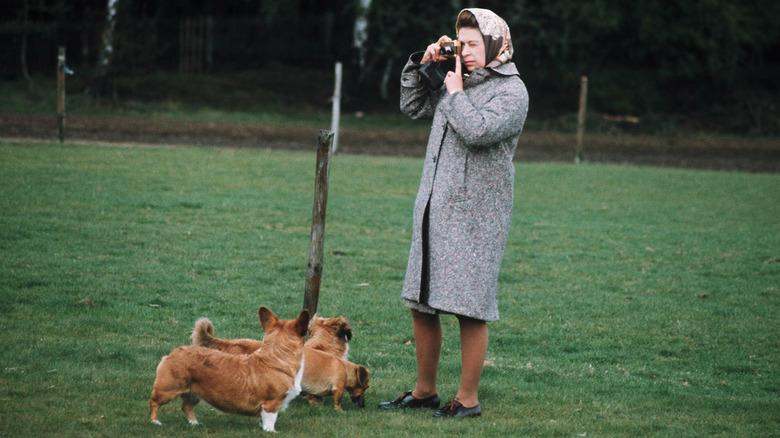 Anwar Hussein/Getty Images
Though Elizabeth announced she would no longer breed corgis, the corgis the queen had when she died were given to her by her son, Prince Andrew, and his former wife, Sarah Ferguson, with whom Elizabeth maintained a relationship after Ferguson divorced her son, according to ABC News reporting. Elizabeth reportedly first fell in love with the corgi dog breed when she was a child in the 1930s, and from there, she became a reputable breeder and high-profile lover of the animals.
Elizabeth was often photographed with the animals. Her first corgi was named Susan, to whom many of the queen's subsequent pet corgis were related. Susan accompanied the late queen and her husband, Prince Philip, on their honeymoon, as Vanity Fair explains. Up until the final few years of her life, she was known to walk the corgis herself as well as feed them personally whenever she could. For that reason, some wondered, what might become of those royal animals now that the queen has died?
Sarah Ferguson and Prince Andrew will co-parent the queen's corgis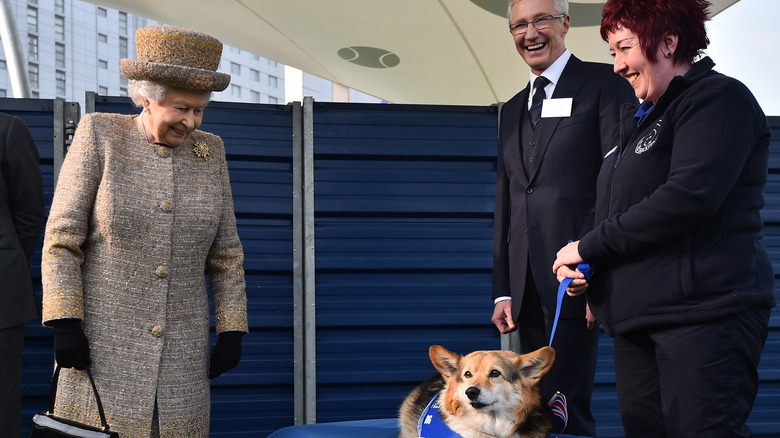 Wpa Pool/Getty Images
Though she stopped breeding purebred corgis in 2018, the queen still had dogs known as dorgis, a dachshund and corgi crossbreed. According to Independent, the two corgis she was given by Andrew and Ferguson when Prince Philip was hospitalized were named Fergus and Muick. Fergus died as a pup, but another corgi puppy was given to the queen by Andrew and Andrew's daughters. At the time of her death, Elizabeth left behind three dogs in total.
It was announced shortly after her death that her son, Prince Andrew, the Duke of York, and his ex-wife, Sarah Ferguson, the Duchess of York, would adopt the corgis, (via Independent), though there's no news yet about the fate of the queen's third dog, a dorgi. Still, the plans for the corgis didn't stop some dark humor from emerging on Twitter regarding those animals, as the queen made it clear in 2015, she didn't want them to outlive her. In response, @binchcity tweeted, "I just watched them take all of Queen Elizabeth's corgis out of Buckingham Palace and shoot them execution style out back." And elsewhere, the satire site Reductress tweeted, "Cute! Queen Elizabeth's Corgis Prepare to Be Buried Alive With Her."