The Special Significance Behind Queen Elizabeth II's Funeral Music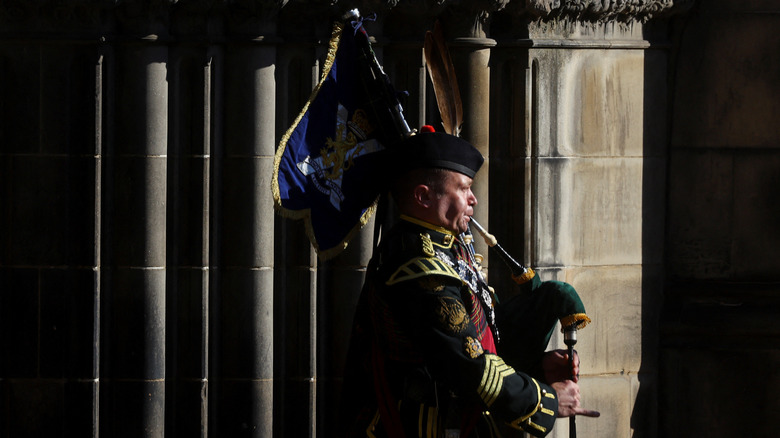 Wpa Pool/Getty Images
Among the muffled tolls of the bells in Elizabeth Tower, each ring meant to represent each year of Queen Elizabeth II's life, the other tones of her funeral have been carefully curated to match tradition as well as the taste of the queen. Queen Elizabeth had a more traditional taste in music (via Financial Times). Unlike the royal funeral for Princess Diana, no famous pop music artists like Elton John will be contributing (via Us Weekly). Instead, special pieces have been crafted specifically for this event to fit into the traditional format of British royal funerals; traditions that have remained consistent since 1603 (via The New York Times). She was a regular attendee of festivals and fundraisers for orchestras, and symphonies, enjoyed the bands of the Majesty's Armed Forces (via Classic FM), and woke each morning to the royal bagpiper playing outside her window (per Town & Country).
The sounds of trumpets, bagpipes, organs, and the choir of Westminster Abbey sing throughout Queen Elizabeth II's funeral. It's only fitting for a woman with two honorary degrees in music to have two new choir compositions playing during her funeral (as reported in a separate article from Classic FM). Both of these new compositions are derived from text found in the New Testament.
The songs of the queen's funeral have special importance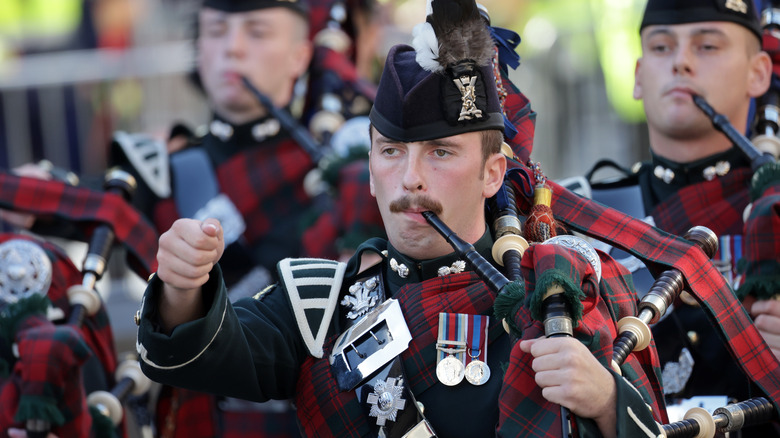 Chris Jackson/Getty Images
According to Classic FM, the promise of composer Judith Weir CBE was that the performance of her piece, which is based on Psalm 42, will be " ... a beautifully performed occasion ... even as a musical experience." Sir James MacMillan of Scotland also composed a piece, which was based on  "Epistle to the Romans." Some of the program's songs call back to major moments in royal history. The hymn "Love Divine: All Loves Excelling," with lyrics written by Charles Wesley in 1747 (per Classic FM), was previously played in 2011 during the wedding of William, Prince of Wales, to his wife, Catherine, Princess of Wales (via CNN).
Upon the ending of the funeral ceremony, "The Last Post" was played by a bugler and then two minutes of silence were observed. The funeral's attendees then sang the British national anthem, "God Save the King," before the queen's coffin was transitioned out of the abbey.  As she was being placed into her funeral carriage, Queen Elizabeth II's royal bagpiper played a very personal piece of music (per The New York Times). The song, "Sleep, Dearie, Sleep," was heard by the queen throughout her reign. Her bagpiper played it within earshot of her bedroom window at her Balmoral Castle residence each morning, regardless of whether she was there. At Westminster Abbey, this song was piped in her presence for the last time (per CNN). 
As the procession and choir left Westminster Abbey, Johann Sebastian Bach's "Fantasia in C minor" was played (per Classic FM)