The Disgusting Truth About The Queen's Funeral That Had The Internet Obsessed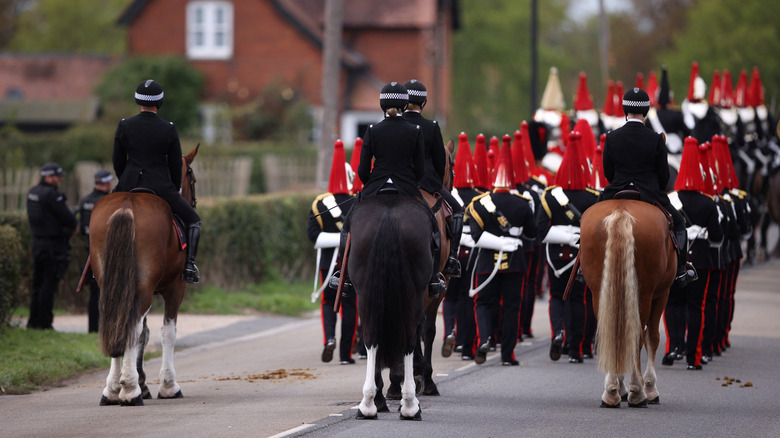 Wpa Pool/Getty Images
Queen Elizabeth II, who died on September 8, 2022, at Balmoral Castle in Aberdeenshire, Scotland, was honored with an elaborate and somber funeral in London and was laid to rest on September 19, 2022, in the King George VI Memorial Chapel.
Details of the queen's death, the public viewing of her coffin, and the funeral itself were followed closely and shared via countless news outlets and social media. Although a vast majority of the news focused on the attendees, logistics, ceremony, and even the length of the queue lines, some of the reports and comments were critical and focused on the condition of the streets during the funeral procession.
In anticipation of Queen Elizabeth's funeral procession, BBC reports the Westminster City Council assembled a team to conduct a deep cleaning along the planned route of the procession. In addition to washing the roadway, the team removed graffiti, stickers, and layers of dirt from lamposts, statues, and other objects along the route.
As reported by The U.S. Sun, the freshly washed streets were also covered in sand. The sand was meant to prevent the horses in the procession from losing their footing and slipping on the road. It was also expected to dampen the sound of the horses' hooves and make it easier to clean up after the animals as they traveled along the route.
Unfortunately, as reported by Mirror, the preparations did not prevent a messy situation involving horse poop.
Participants in Queen Elizabeth II's funeral procession were stepping in horse poop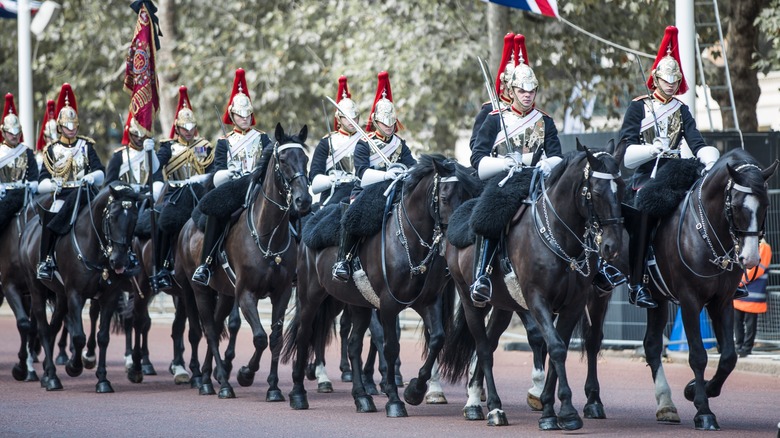 IR Stone/Shutterstock
As reported by the Mirror, participants in the procession could not avoid marching through horse poop along the route. The official procession, which included The Commonwealth, the RAF, the Army, the Navy, the Marines, and the Gun Carriage, was followed by a large group of civilians.
As millions viewed the procession to Wellington Arch in person, on the internet, and on television, several people noted the participants were literally walking through horse poop, which was present throughout the entire route. Some observers discussed the unexpected, and unfortunate, mess via social media. One Twitter user said, "That's a lot of horse poop to clean off those streets in London." Another Twitter user said, "I thought they had poop bags for the horses didn't realise it was a free fall into the streets kinda vibe."
The Guardian reporter John Crace said, "The Heralds and the Pursuivants, looking like extras from a Disney theme park, tried to march in time while not stepping in the horse poo ... " It is unclear why the horses in the procession were not fitted with poop bags. However, Queen Elizabeth II's funeral procession was not the first royal event to draw attention to the horse poop issue. Two reporters with Business Insider, who attended Queen Elizabeth II's Platinum Jubilee in June 2022, noted, "There was horse dung everywhere, leaving a distinct smell in the air."