The Touching Way Queen Elizabeth's Horses Played A Part In Her Funeral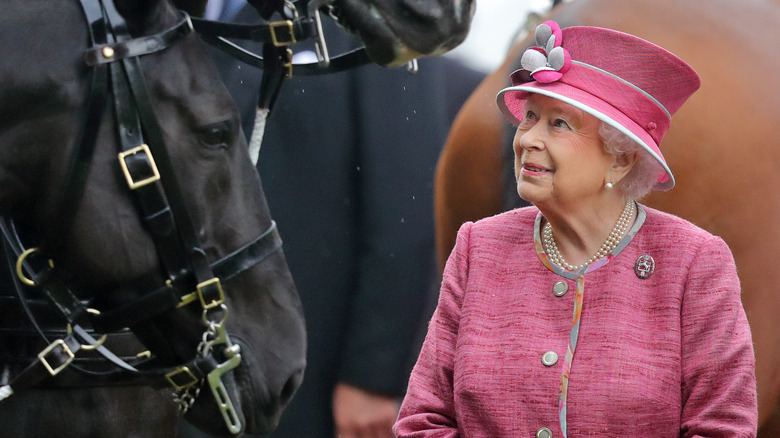 Max Mumby/indigo/Getty Images
As royal fans mourn the heart-wrenching death of Queen Elizabeth II, many remember the monarch's life. The queen was known for her corgis and her love of horses. NBC News reported that when the queen was a little girl, she was asked what she wanted to be when she grew up. The future queen answered, "I should like to be a horse." Elizabeth's devotion to her horses lasted her entire life. Royal expert Clare Balding told the BBC (via Hello!), "The Queen's passions were horses and dogs. Racing was the passion she shared with the public. The Queen loved to go to the stables to see horses on gallops in the morning and talk to all the grooms." Balding revealed why the queen loved horse racing: "Racing was such a wonderful thing for her to be able to enjoy, she liked the attention to be on others, and that was the case at the races."
According to Metro, Elizabeth's great-grandaughter, Princess Charlotte of Wales, wore a special brooch that honored the queen's love of horses. The seven-year-old daughter of the Prince and Princess of Wales wore a horseshoe brooch to remember her beloved great-grandmother.
Queen Elizabeth II's funeral procession led by four horses of the Royal Canadian Mounted Police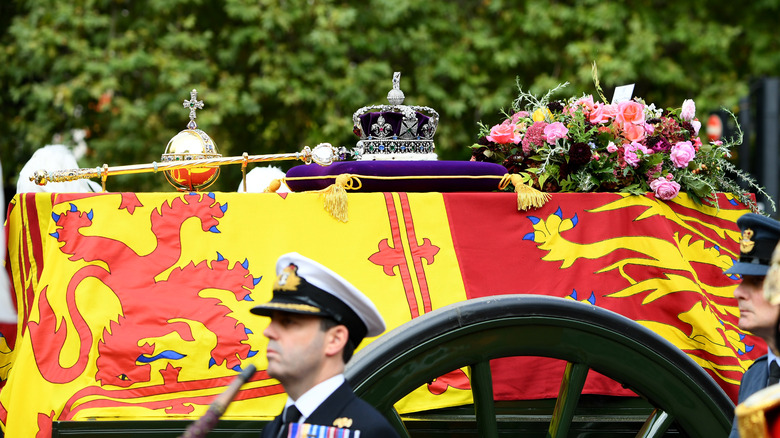 Joe Maher/Getty Images
Four Royal Canadian Mounted Police (RCMP) road on horses, leading Queen Elizabeth II's funeral procession on September 19, 2022. According to News18, the four horses were specially trained for the monarch's funeral, with "crying" soldiers throwing flowers at them during rehearsals to prepare the animals for the sounds of sobbing. The four horses, named George, Elizabeth, Darby, and Sir John, were ridden by the senior royals for the Trooping the Color ceremony. "The relationship with Her Majesty is quite personal," the RCMP's Sergeant Major Scott Williamson explained to the news outlet. "We are on a no-fail mission."
The National News reported that the queen's love of the RCMP horses spanned over 50 years. The beloved monarch was first given a horse from the Royal Canadian Mounted Police in 1969, a mare named Burmese. The outlet noted Elizabeth road Burmese during the Trooping the Colour parades for 18 years. Per People, the horses road by the RCMP, named George, Darby, Sir John, and Elizabeth, were gifted to Queen Elizabeth II by the RCMP.