What Really Ended Sidney Poitier And Diahann Carroll's Relationship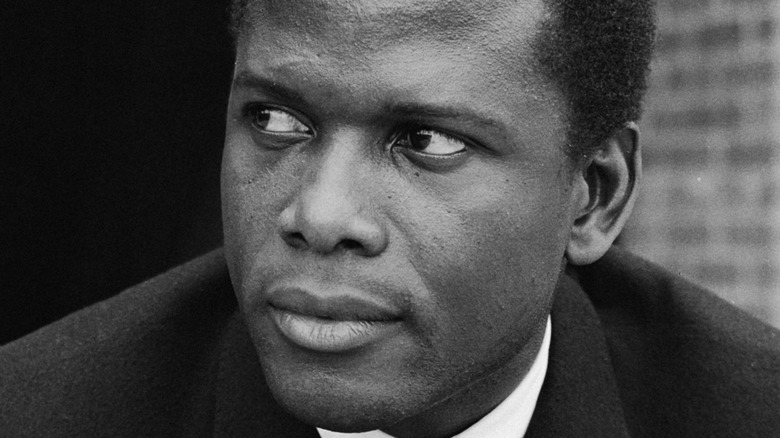 The Graham Stark Photographic Library/Getty Images
Sidney Poitier, who died in January of this year, was a Bahamian and American actor who spearheaded progress for Black entertainers. He acted in such notable films as "A Raisin in the Sun," "In the Heat of the Night," and "Guess Who's Coming to Dinner?" alongside other important actors of the time, including Katharine Hepburn and Spencer Tracy. He earned a breakthrough accolade in 1963 when he became the first Black actor to win best actor, for his performance in "Lilies of the Field." Previously, Hattie McDaniel was the only Black Oscar winner for her supporting role in "Gone with the Wind" (via Britannica). From the beginning, he selected roles that defied stereotypes and paved the way for other actors to attain similar feats.
Born in 1927, Poitier grew up on Cat Island, Bahamas, although he was born in Florida while his parents were on vacation. In his teens, Poitier decided to go back to the U.S., where he served in a medical unit during WWII. He then tried to join the American Negro Theatre but was rejected because of his accent. When he mastered a U.S. dialect, he returned to acting, ultimately rising to Broadway in 1946 (via Britannica). But even with his auspicious start and steady ascent, Poitier's life was not without real-life drama, especially when the married actor started a passionate affair with a fellow trailblazer, per Show Biz Corner.
Sidney Poitier's marriage and affair with Diahann Carroll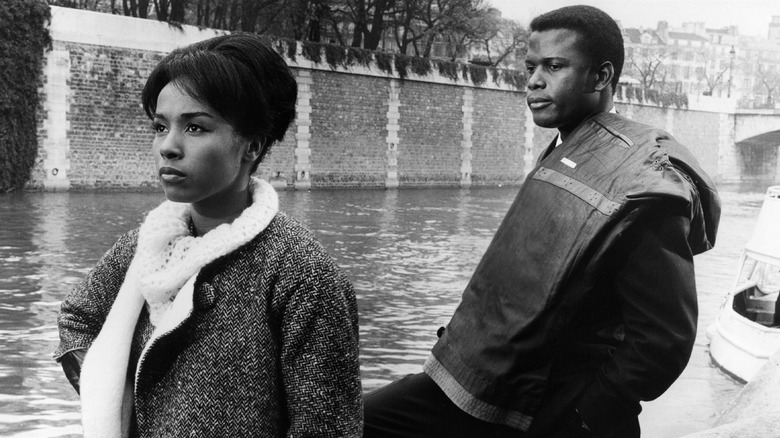 United Archives/Getty Images
In 1950, Sidney Poitier tied the knot with model Juanita Hardy. The couple settled in Stuyvesant, New York, and had four daughters. By 1959, the strength of their family life was strained when he met actress Diahann Carroll on the set of "Porgy and Bess" (via Stylecaster). In a 1980 interview with People Magazine, Poitier told reporters that their attraction was practically instant as they "had not been on the set (of Porgy and Bess) more than a few days when I realized she was unique." He noted her confidence and sensuality, and it wasn't long before he invited her to dinner so they could chat about their absent spouses, since Carroll was also married (via People).
Carroll matched Poitier's interest in carving new paths in entertainment for African Americans. She eventually became the first Black woman to star in her own TV show where she wasn't playing a servant or another domestic role. Her role in "Julia" won her a Golden Globe and an Emmy nomination in 1969 (via Biography). Poitier was awed by her intelligence as he spent time talking with her and this budding relationship transformed into a nine-year affair (via Show Biz Corner).
What finally ended the affair?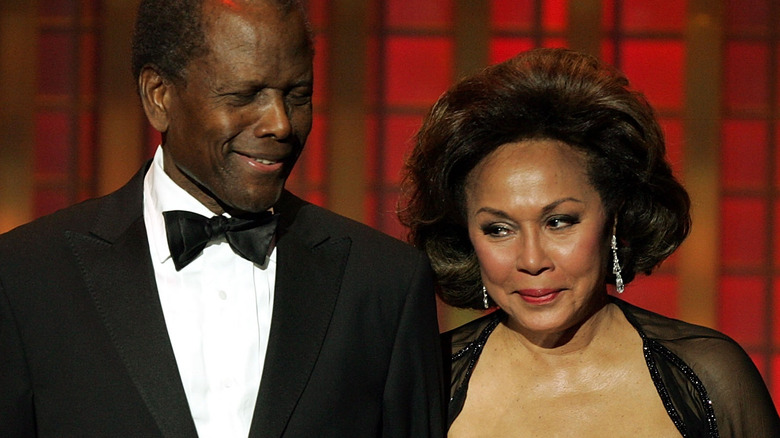 Kevin Winter/Getty Images
Poitier's affair with Carroll wasn't enough to end his marriage. He told his wife about the affair, but the two stayed together for the sake of their children (via People). While Carroll had decided to leave her husband for Poitier — according to an agreement they made — Poitier was reluctant to follow through with his end of the deal. Further drama ensued when a newly single Carroll decided to date other men. An incensed Poitier met her in a hotel room and insisted he wouldn't stand for her seeing other guys (via the Irish Mirror).
He bought her a ring as a future promise and by 1965, he finally did divorce his wife (via the Irish Mirror). This didn't result in a happy ending for Carroll and Poitier, however. Poitier bought the pair an apartment with the intention of living with Carroll for six months after his divorce, since he didn't want to be seen as a guy who marriage-hopped too quickly. Carroll wanted to continue living with her daughter and this didn't sit well with Poitier (via People). Carroll wouldn't give in to Poitier's wishes and their relationship eventually collapsed. Despite the romance's volatile end, the two became friends in their latter years and left the past behind them (via the Irish Mirror).