Sidney Poitier Turned An Early Career Rejection Into A Life-Changing Educational Journey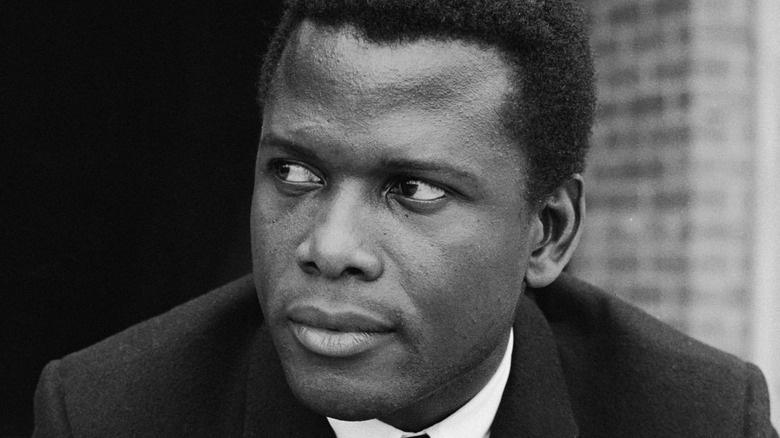 The Graham Stark Photographic Library/Getty Images
Sidney Poitier was one of the most respected and beloved actors of all time. Born on February 20, 1927, in Miami, he spent the majority of his childhood growing up in the Bahamas, according to Brittanica. By his young adulthood he had made his way to New York where he got his showbiz start in early African American theater. His first major Broadway part was in the play "Lysistrata" in 1946. 
Poitier eventually transitioned into film, with his first big film role being in the 1950 film "No Way Out," which was about a racist white criminal going to a Black doctor for medical help. This helped launched Poitier's film career significantly, pushing him into other movies like "Cry, the Beloved Country," "Edge of the City," "Guess Who's Coming to Dinner," and more. 
Poitier made a point to turn down roles that were often stereotypical for Black actors, which helped distinguish him from many other contemporaries. And while Poitier's acting and directing legacies were both impressive, he actually struggled for a while to get there, as he didn't know how to read when he started pursuing acting, per the Independent. 
Sidney Poitier overcame obstacles all his life
Sidney Poitier's road to stardom was very informal but he was a self-starter. Not only could he not read well, he also had a Bahamian accent. What's more, as the Academy of Achievement says, Poitier grew up poor with very few educational opportunities in the islands where he lived. He was born premature and not expected to survive but he grew tall and strong. By the time he was 12, his schooling ended so he could take on work. At 15 he was sent to Miami to live with a brother, but soon after went to New York, where he lied about his age in order to enlist in the Army. He was stationed in a Long Island military mental hospital for 10 months before faking mental illness himself in order to get discharged, per The Washington Post.  
Next, Poitier turned his attention to acting. As the Independent says, he arrived at the American Negro Theater in 1945 and told Frederick O'Neal, the co-founder of the theater, that he had years of acting experience. Even though this was a lie, Poitier still attempted to sell himself to O'Neal, but ultimately failed. O'Neal issued a scathing rejection: "You can hardly talk. You've got an accent. You can't be an actor with an accent like that. And you can hardly read. You can't be an actor and not be able to read" (via the Independent).
Poitier credits a waiter for helping him learn to read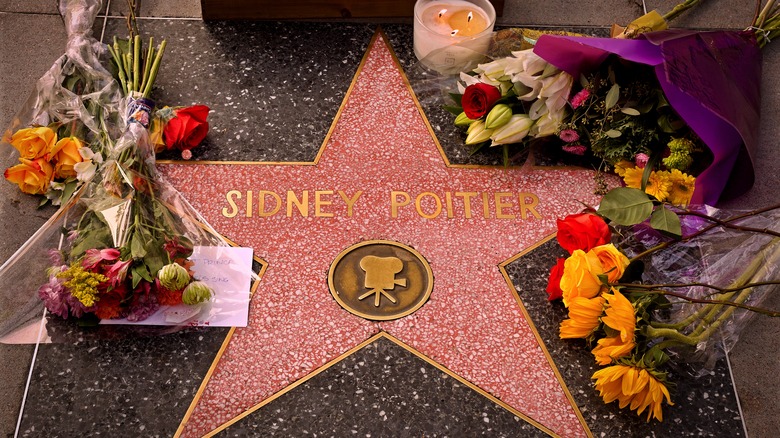 Wirestock Creators/Shutterstock
For some people, a rejection like that might turn them off from acting altogether, but for Poitier, it only made his resolve that much stronger. As the Independent notes, after being turned down by Frederick O'Neal, Poitier quickly got to work learning to read and act. He used funds from working as a dishwasher to afford a new radio. Radio shows, advertisements, and soap operas were good learning materials for him to imitate to get rid of his accent. As the Academy of Achievement says, there was a Jewish waiter at the restaurant where he worked who was profoundly instrumental to Poitier's success. This person would help Poitier read newspapers every day, teach him grammar, and how to properly speak American English.  
Poitier was incredibly thankful to this man but never got to properly thank him for his success, as the waiter had passed away before he could. "One of my great regrets in life is that I never had the opportunity to really thank him," Poitier said in an interview with the Academy of Achievement. As Aram Goudsouzian, author of "Sidney Poitier: Man, Actor, Icon" explains, Poitier eventually came back to the American Negro Theatre half a year later for a second audition. "He felt like a rank amateur ... The other students read scenes from actual plays," Goudsouzian says. Still, after a successful improv scene, the theater finally accepted Poitier, which began the start of an incredible acting career.