What Larry Ray's Daughter Talia Ray Is Doing Today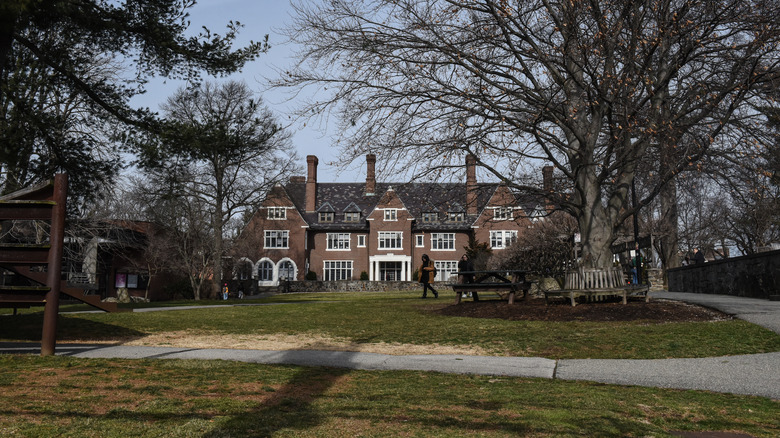 Stephanie Keith/Getty Images
In April 2022, Larry Ray was convicted of 15 crimes including sex trafficking, violent assault, and more (via Fox News). The New York Post writes that the 62-year-old was the leader of a sex cult that he started in a dorm room at Sarah Lawrence College. In 2010, Ray, who was in prison due to a custody dispute, was freed ( per The New York Times). He then moved into to his daughter Talia Ray's dorm room at the esteemed institution in New York. According to The Cut, Talia and Ray were incredibly close and none of her roommates were concerned when she disclosed that he was going to stay with them.
Talia's ex-boyfriend, Santos Rosario, later told The New York Times that at first, Ray was charming and "inspirational." The Washington Post adds that Ray became a father-like figure to Talia's roommates. However, things quickly turned dark. People reports that Ray began giving the group of young college students "therapy sessions" to psychologically manipulate them. Eventually, the New York Post explains that Ray physically, sexually, and emotionally abused these individuals. When Ray and his "followers" moved into an Upper East Side apartment in New York, the abuse only worsened.
Per The New York Post, Ray tortured one victim, extorted others, and forced another into sex work, among other things. After 10 years of this, he was finally arrested in 2020. Despite his horrific actions, The Cut states that Talia and Ray still talk almost every day.
Talia Ray lied for her father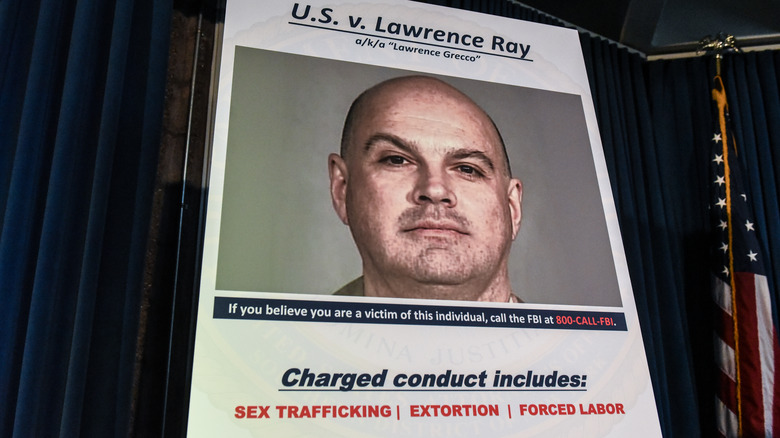 Stephanie Keith/Getty Images
At the time of her father's arrest, Talia was no longer living with Ray (per The New York Post). The publication states that in 2020, she was working as a paralegal in Durham, North Carolina. Prior to this, she worked at The Country Bookshop in Southern Pines, North Carolina. There, a coworker said that she was "pretty smart." Per Distractify, she was also a campaign manager for Lowell Simon. The Cut reports that Ray's stepfather lives in North Carolina and Talia moved in with him. That said, some believe that Talia has suffered greatly at the hands of her father.
The Cut explains that in 2004, Ray's wife, Teresa, filed for divorce. Talia, who was then 15, revealed that Teresa, her mother, was abusing her and her younger sister. Ray backed up his daughter's allegations. However, an investigation concluded that Teresa had not abused the children and that Ray had manipulated Talia into making these false accusations. When asked if her mother had hit her, Talia's 4-year-old sister said, "That's what Daddy tells me to say." In the end, Ray went to jail and Talia chose to live in shelters instead of living with her mother.
In a video that was posted on Vimeo, Talia revealed that she had not seen her sister, whose name is Ava, since 2005 (per Distractify). In the now-deleted clip, she also revealed that her mother had prohibited her from seeing Ava. The New York Post states that it's unknown if Talia and her sister currently have a relationship.
She has not been charged with any crimes
Stephanie Keith/Getty Images
In a 2019 interview with The Cut, an unnamed source told the publication that Talia, like the cult's victims, was under his spell. They stated, "She was his soldier." They went on to say, "Talia is a really loving person, and she is the biggest victim of all." The Evening Standard agrees with this sentiment and notes that Ray influenced and controlled both his daughter and her roommates. However, Law & Crime has a different stance on this. Assistant U.S. Attorney Mollie Bracewell has said that Talia "got rich" and "treated her roommates as if they existed for her profit."
The New York Post explains that one of Ray's victims was Claudia Drury, who worked as an escort and made $2.5 million for Ray. The publication adds that he also blackmailed his victims and laundered money. However, Talia's role in her father's sex cult, besides introducing him to her friends, is not widely known. In 2022, the Daily Mail reported Talia as a co-conspirator. Even so, Law & Crime explains that Talia is currently not facing any legal charges. As for her father, Larry Ray is facing life in prison (via Fox News).