What Was Likely The Last Song Avicii Worked On Before He Died?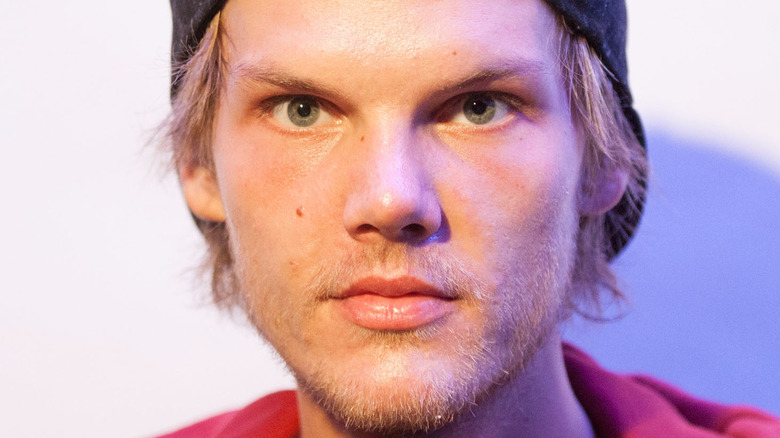 Gabriel Olsen/Getty Images
Swedish DJ, songwriter, and producer Tim Bergling, best known to the music world as Avicii, was renowned for his EDM tracks and his role in revitalizing the dance-pop genre. Starting his music career as a teenager, Avicii quickly made a name for himself and released a succession of albums. Over the years, the quality of his work matured. After cultivating success at a young age, the Grammy-nominated Avicii seemed to be slowing down in his last years, moving away from a manic touring schedule to focus on traveling, writing, and recording, according to The New York Times.
Avicii died by suicide in April 2018 while on vacation in Muscat, Oman, leaving what would become his final album, the eponymously-titled album "Tim," around two-thirds complete. After Avicii's father, Klas Bergling — who controls his son's estate — gave the green light, Avicii's close friends and musical collaborators banded together to make sure that his final artistic effort was completed as he intended and released. "Now, when I listen, I hear a lonely person with a lot of big emotions that he didn't have enough people to talk to about. I feel this music was his way of getting some of that out. That makes this a really important record. Whatever Tim wanted to say is here," Avicii's friend and musical collaborator Carl Falk told The New York Times.
If you or anyone you know is having suicidal thoughts, please call the National Suicide Prevention Lifeline​ by dialing 988 or by calling 1-800-273-TALK (8255)​.
The last song Avicii likely worked on before he died was Never Leave Me
The last song Avicii is known to have collaborated on was "Never Leave Me." In the YouTube documentary "Avicii — The Story Behind 'Never Leave Me' ft. Joe Janiak, Avicii's friends and musical collaborators Kristoffer Fogelmark and Albin Nedler said they worked on the song with Avicii two days before he left for Oman. The duo surmises that due to those circumstances, it was likely the last song the artist ever worked on.
In the documentary, Fogelmark said that he and Nedler had dinner with Avicii before working on the music. "On our way back to the bedrooms I sat down at the piano, just playing, and we just started singing more melodies. We just had one more song in us, I think," he said. The group quickly called singer Joe Janiak, bringing him in as another collaborator on the piece.
Janiak recounted that Avicii was struggling with the pressure of a successful music career in his final months. Speaking to the Los Angeles Times, Janiak said: "All of our friends are under so much pressure. You forget to just be a human. I remember Tim asked me, 'What do you do?' 'Well, I write songs.' 'No, what do you actually do?' I said, 'Well, I like digging holes and gardening and stuff,' And he was like, 'Yeah! Yeah!' He was still trying to figure that out. If you can't exist as a human, it doesn't mean anything."
Avicii's close friends and fellow producers finished his last album
As a final act of love, Avicii's father approached his son's friends and collaborators to help finish the nearly-complete final album. The group ultimately completed the last six songs by using notes Avicii had compiled on his devices about how he wanted the music to sound, according to The New York Times. Carl Falk, for example, worked with a string arranger to alter the synth riffs into orchestral sounds, which Avicii reportedly imagined for the instrumentation of the final song, "Fades Away." Falk told The Guardian, "He told me that this was the first time he'd enjoyed making music in years, so I had to make this as good as I possibly could to honor him and our friendship."
Falk had worked with Avicii since 2010 and was already a collaborator on the album that would become "Tim" even before Avicii died. Producer Salem Al Fakir, who originally began working with Avicii in 2012 on the albums "True" and "Stories," told The Guardian that Avicii "loved these songs, and wanted them to come out."
"That's the sad part," Al Fakir said. "He's not here, and I feel like he'd just started something."