Who Was Jesse Anderson, The Man Who Was Murdered Along With Jeffrey Dahmer?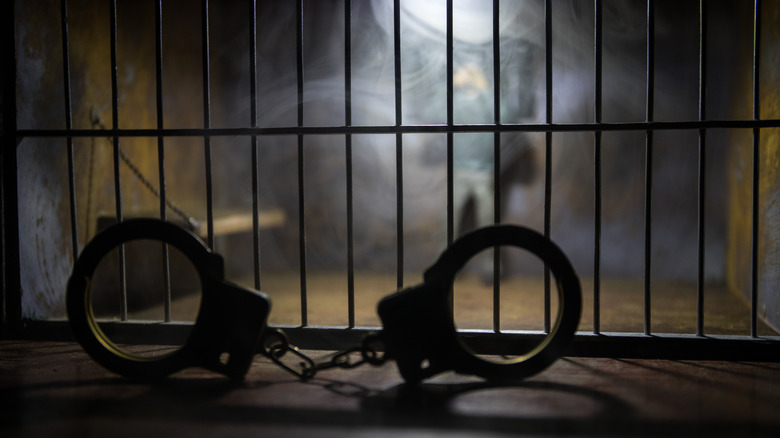 zef art/Shutterstock
Between 1978 and 1991, serial killer Jeffrey Dahmer murdered 17 people — both grown men and teen boys (per Biography). As Britannica explains, he primarily targeted gay minorities including African Americans, in the city of Milwaukee. That being said, Dahmer gained infamy for his post-mortem activities on his victim's corpses. The Crime Museum states that he practiced necrophilia and cannibalism. He also performed horrific science experiments on his victims. History writes that Dahmer was eventually arrested and by February 1992, he had received 15 consecutive life sentences. However, Dahmer's time in prison was short-lived. On November 28, 1994, he was murdered at the Columbia Correctional Institute by another inmate, Christopher Scarver.
According to Radio Times, Scarver was incarcerated for killing his work supervisor, Steve Lohman, at the Wisconsin Conservation Corps in 1990. Scarver, who was training as a carpenter, held Lohman at gunpoint as he was reportedly unhappy that he was unable to work full-time after his old supervisor left. Scarver then shot Lohman to death. For his murder, Scarver was sentenced to life in prison. Although it's not widely known, Scarver also murdered fellow inmate Jesse Anderson moments after he killed Dahmer (via the New York Post). 
Per The U.S. Sun, Anderson was an Illinois native who was in prison for murdering his second wife, Barbara Anderson. The New York Times adds that he was a businessman. The Cinemaholic reports that he married Barbara in 1985 and the couple went on to have three children. They lived a quiet life in Cedarburg, Wisconsin until the Andersons were attacked after leaving dinner in April, 1992. 
Jesse Anderson blamed his crimes on two Black men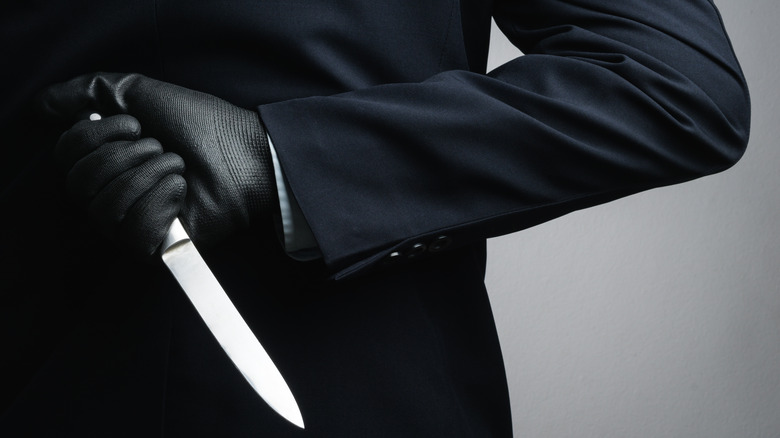 BonNontawat/Shutterstock
According to AP News, Anderson claimed that two Black men randomly attacked him and his wife in a restaurant parking lot on April 21, 1992. While Anderson was stabbed in the chest four times, UPI reports that Barbara had been stabbed a total of 21 times. Then 33, Barbara ultimately died from her injuries. Per The New York Times, Anderson told investigators that he had tried to defend his wife to no avail. However, there were no witnesses to the attack, and only a Los Angeles Clippers hat was left on the scene. Soon after, a young man came forward to say that Anderson had bought the cap off of him.
UPI adds that a red-handled fishing knife was used to stab Barbara. It was later discovered that Anderson had bought a knife with this same description prior to the attack. Days later, Anderson was released from the hospital and was subsequently arrested (via AP News). He was then charged with Barbara Anderson's murder. The New York Times reports that police never bought Anderson's story about the Black men. In fact, they believed that he had stabbed himself intentionally to cover his crime.
The U.S. Sun states that Anderson was convicted and sentenced to life in prison. No motive was given during the trial (per The New York Times). However, AP News explains that it's thought that Anderson murdered his wife for her life insurance policy. He had adjusted her claim only days before murdering her.
He was targeted for allegedly being racist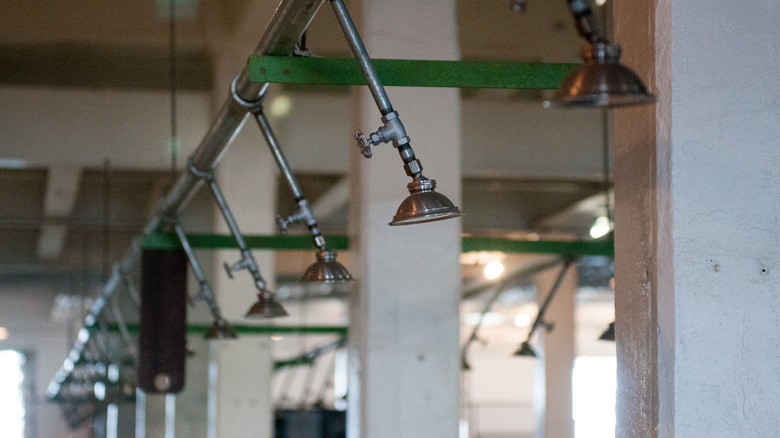 Hayk_Shalunts/Shutterstock
Like Dahmer, History reports that Anderson ended up incarcerated at the Columbia Correctional Institute in Portage, Wisconsin. On the day of their death, Dahmer, Anderson, and Scarver were ordered to clean a bathroom in the prison's gymnasium. Radio Times states that the three men were left unsupervised. Scarver took this opportunity to beat both Dahmer and Anderson to death with a 20-inch iron bar. Per the Associated Press (via Virginia Tech), Scarver then went back to his cell but was spotted by a guard who asked him why he was back so early. He replied "God told me to do it. You will hear about it on the 6 o'clock news. Jesse Anderson and Jeffrey Dahmer are dead."
According to the Associated Press, both Dahmer and Anderson were taken to the hospital. Dahmer, however, died on his way there. Radio Times writes that Anderson was put on life support but died two days later. Scarver later explained that he had taken the iron bar from the gym and hidden it in his leg before attacking the two murderers.
In a 2015 interview with the New York Post, Scarver divulged his reason for killing Anderson. He told the publication that he was enraged that Anderson had lied that his wife was murdered by two Black men. Moreover, Scarver claims that Anderson vandalized a painting of Martin Luther King Jr. Similarly, Scarver told the New York Post in another interview that he had killed Dahmer because his crimes repulsed him. For killing Dahmer and Anderson, History writes that Scarver was given an additional life sentence.