The Childhood Surgery Jeffrey Dahmer's Father Claimed Changed Him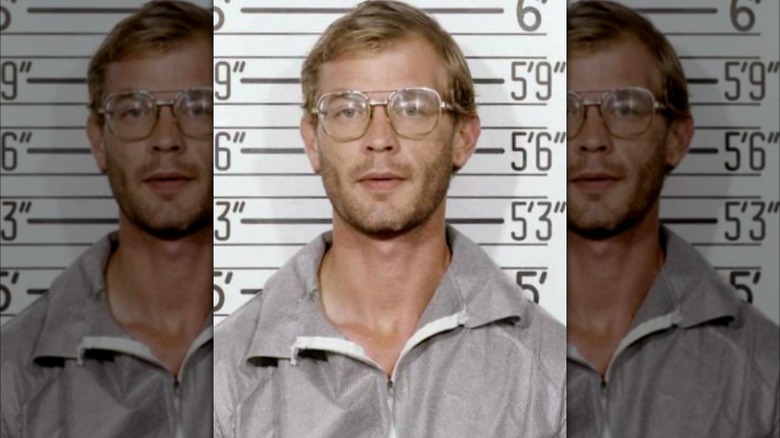 One of the most notorious serial killers in American history is (was) Jeffrey Dahmer. He wasn't the most prolific; that would almost certainly be Samuel Little, who confessed to murdering over 90 women (via NPR). But Dahmer's story may be the most salacious of those attributed to American serial killers. Dahmer's crimes extended beyond just the 17 victims he killed (per Yahoo Life) — he also sexually assaulted his victims, dismembered them, and engaged in cannibalism and necrophilia.
The American Academy of Experts in Traumatic Stress posits that serial killers such as Dahmer are made, not born. Or put another way, while the typical murderer acts out of, say, family conflict or gang violence or to gain money (such as in a violent robbery), a serial killer acts from some psychological issue inside them. "The main focus of many criminologists and psychologists are the origins and the surroundings of these killers' childhood," the organization notes. It then underlines a study by Lonnie Athens — "The Creation of Dangerous Violent Criminals" — which claims that geneticists of the modern age focus not on the nature-nurture debate but on the many "complex interactions" that take place between people and their environments over the course of their lives.
Jeffrey Dahmer's father, for his part, believed that there was one particular point in his childhood that set him on the path to becoming a serial killer (though it wasn't the only event in his life that Dahmer's father pointed to). And that point was when, at the age of 4, he underwent a routine operation.
The Sexual Nature of Dahmer's Crimes
Jeffrey Dahmer wasn't the first serial killer whose crimes included a sexual component (such as sexual assault) and/or "trophies" taken from the victims, nor would he be the last. But they have certainly been among the most headline-generating aspects of a serial killer's crimes in recent decades.
Dahmer had committed sexual assault before his murder spree began, according to Marie Claire. He went on on to commit other murders, including sexually assaulting at least some of them. However, it's what he did after the murders that's particularly shocking. He committed necrophilic acts on the corpses and dismembered the bodies — some parts he would eat, others he would preserve for display. Dahmer also drilled holes into the skulls of some living victims and poured acid within, attempt at creating "sex zombies." "I tried to keep the person alive by inducing a zombie-like state by injecting first a dilute acid solution into their brain, or hot water. It never did completely work," he told Nancy Glass in an interview with "Inside Edition" (via The Baltimore Sun).
Dahmer's father posited that his son may have been compelled to such sexual deviance due to a childhood surgery that took place near his own sex organs.
If you or anyone you know has been a victim of sexual assault, help is available. Visit the Rape, Abuse & Incest National Network website or contact RAINN's National Helpline at 1-800-656-HOPE (4673).
Was It Routine Hernia Surgery?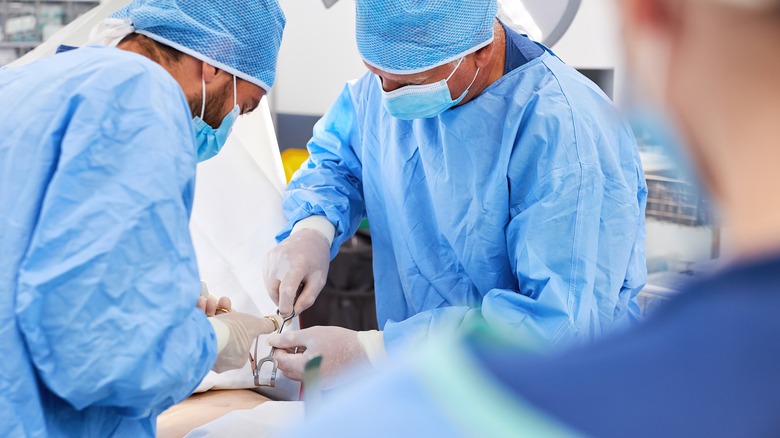 Robert Kneschke/Shutterstock
Though major surgery is nothing to sneeze at, hernia operations are routine, even in children, according to My Health Alberta. Jeffrey Dahmer underwent such a procedure as a 4-year-old boy, and his father believes that this routine surgery was the starting point of his son's gradual transition into a murderer. "I think there were several events in his life starting with the hernia operation," Lionel Dahmer said while noting that his son had also experienced other traumas as a child as well (via Yahoo Life). But Lionel believes that operation was a particularly important catalyst. "All these things came to a cumulative ending, and it hooked on, I firmly believe it hooked into his sexuality at age 14 or 15," he said.
The authors of the book "Mythologies of Violence in Postmodern Media" repeated a similar conclusion. "The operation may have been necessary to cure a birth defect, but the experience was so painful for the child that he 'asked Joyce [his mother] if the doctors had cut off his penis,'" the book posits. As possible evidence that he was obsessed with having his penis cut off, Yahoo Life points to the fact that Dahmer preserved at least one penis from one of his victims.
It bears noting that this sort of retroactive diagnosis of a psychiatric problem is a fool's game under the best of circumstances. As Yahoo Life writer Jacqueline Tempera notes, there is zero evidence that the elder Mr. Dahmer's theory is true.