Why Ernest Hemingway's Key West House Is Actually Home To 59 Furry Friends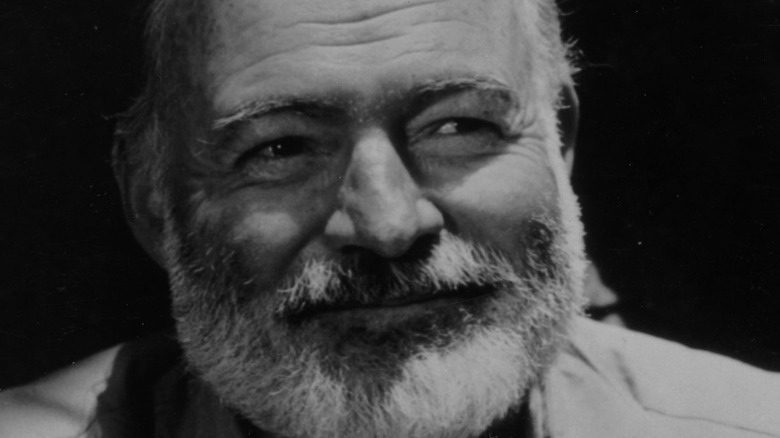 Hulton Archive/Getty Images
The late great Ernest Hemingway, in addition to being one of the greatest writers of all time, was famous for his deep and abiding love of hunting. Beasts of the baked African planes and dense North American wilderness who found themselves on the wrong end of Hemingway's gun rarely lived to tell the tale to their furry friends. The "Farewell to Arms" author entertained a life that was equal parts adventure and introspection, always returning to his trusty old typewriter to chronicle his riveting experiences in the vast crucible of Mother Nature's playground. According to MPR News, he once spent three months on safari in Kenya and Tanzania hunting lions. 
Ironically enough, his former estate in Key West, Florida became a safe haven for a large group of peculiar felines after his death. Of course, these were house cats, not lions, as TMZ reports. Luckily, the furry little creatures had somewhere to take refuge after Hurricane Ian struck.
59 cats were saved by Hemingway's home
Robert Hoetink/Shutterstock
"If any of his houses were destroyed the pain and sorrow would be palpable," Mariel Hemingway, the novelist's granddaughter, told the Daily Mail as Hurricane Ian turned its threatening gaze toward Key West. According to TMZ, the Florida estate was where Hemingway wrote nearly 70% of his published novels and memoirs, so there's a lot of archaic and sentimental value there. Luckily, the tempest didn't inflict any sort of notable damage on the house, which was fortunate as well for its 59 four-legged residents. 
TMZ reports that the 59 cats who live there managed to safely wait out the storm behind those thick concrete walls that have stood strong since the 1930s. Thankfully, none of them had to waste any of their nine lives on the hurricane that caused havoc along the Florida coast and beyond. But how, you might be asking, did 59 cats come to call the former residence of one of America's most cherished writers home? 
The Hemingway Home & Museum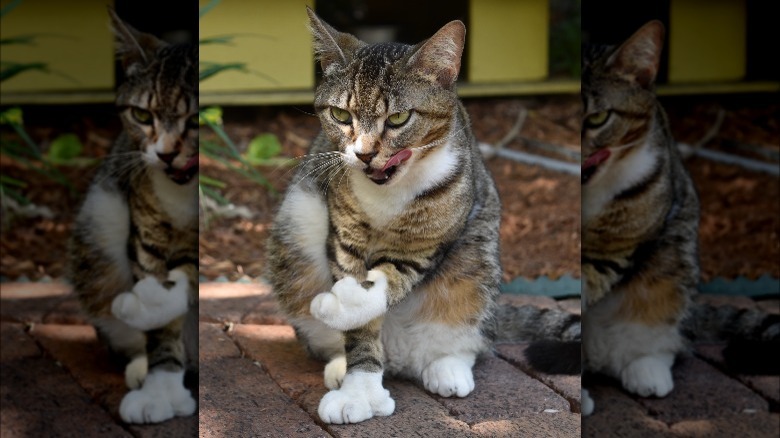 Dianapardave/Shutterstock
On their website, the Hemingway Home & Museum writes, "Ernest Hemingway was given a white six-toed cat by a ship's captain and some of the cats who live on the museum grounds are descendants of that original cat, named Snow White." While it was his custom to hunt animals on the fields and in the forests, Hemingway was exceptionally accommodating of them in his own home and warmly welcomed their company. His Key West home later became a sanctuary for them. 
According to TMZ, every cat that lives on the premises bears six toes on one or all of its paws. Apparently, they all carry what's called the polydactyl gene in their DNA and can thus continue to produce offspring with an extra digit on each paw. The Hemingway Home & Museum offers various tours of its property to curious literature-lovers who also enjoy the company of cats — all 59 of them.