The Real Reason Coolio's Juggalo Tattoo Is Misspelled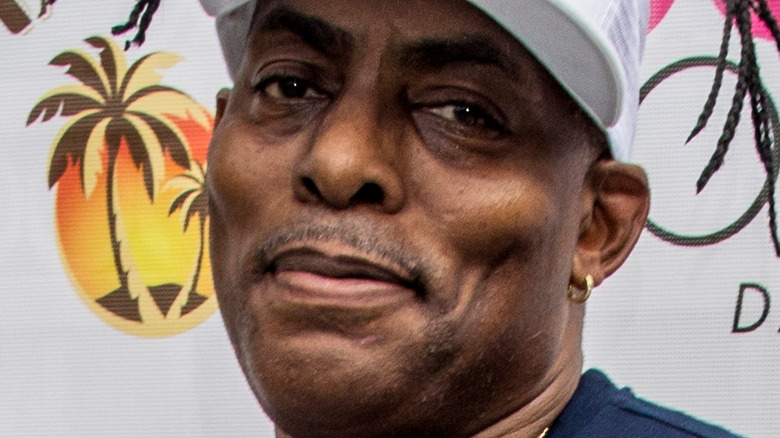 Joe Buglewicz/Getty Images
One is a Grammy award-winning West Coast rapper named Coolio, who died on September 28 at the age of 59 in Los Angeles, according to NBC News reporting. The other is a Midwest hip hop duo, Insane Clown Posse (ICP), known for wearing black and white clown makeup, with fans known as Juggalos, a social and cultural movement all their own (via AllMusic). In 2010, Coolio and ICP performed on stage together, as Consequence notes. And around that same time, the "Gangsta's Paradise" rapper also got the word Juggalo tattooed on his body.
Sort of. That word, Juggalo, was misspelled in Coolio's tattoo, a fact ridiculed on sites like TMZ. In 2014, though, the late rap star sat down with Vice, and in that interview, Coolio, who also performed twice at the so-called annual "Gathering of the Juggalos" music festival, said he was drawn to ICP's independent spirit. Also according to the rapper, that misspelled tattoo wasn't a mistake. It went exactly as planned all along.
In hip hop, creative spelling is part of the art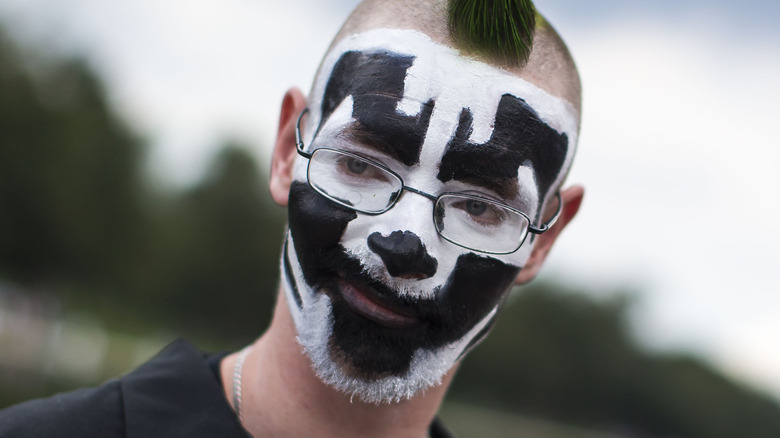 Al Drago/Getty Images
In the 2014 interview with Vice, Coolio explained that his Juggalo tattoo was not misspelled at all: The spelling is just how he intended it, and inventive spellings such as his tattoo are just part of how hip hop culture works. Coolio said (via Vice), "Instead of putting s's on the end of something, we put z's. Instead of spelling something with a 'k,' we spell it with a 'c.' If it's supposed to be spelled with a 'c,' we spell it with a 'k.'"
In 2016, hip hop news outlet XXL backed up Coolio's assertion, noting frequent instances of creatively spelled words in hip hop songs and titles, such as tru instead of true and muzik instead of music, among others. As Coolio went on to add (via Vice), news outlets like TMZ are simply misinformed about hip hop culture. "[T]hey don't know s*** about my culture and about my art and about where I'm coming from."
Coolio's Juggalo tattoo had only one 'g'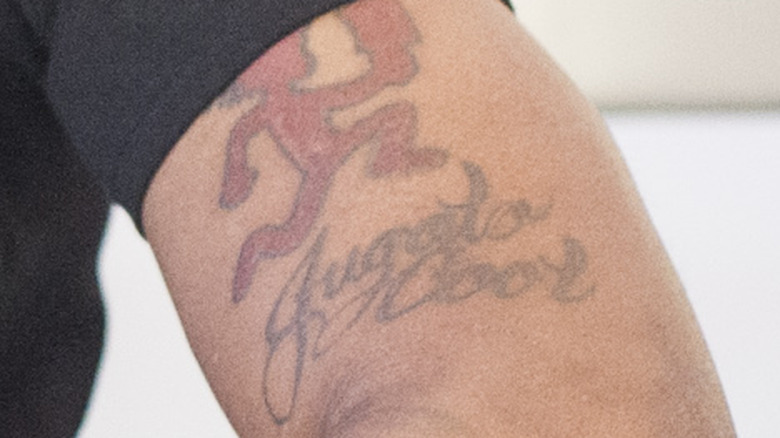 Kris Connor/Getty Images
The Coolio tattoo misspelling that outlets like TMZ latched onto was that there was only one "g" in the word, when Juggalo is correctly spelled with two. The entire tattoo reads "Jugalo Cool," as TMZ also notes. In response to TMZ's ridicule, Coolio later said (via Vice), "I took the 'g' out of 'Juggalo' because there's only one motherf****** G, and that's me. I didn't need two g's to describe my Juggalo." Coolio's tattoo also features a rendering of the ICP mascot known as "hatchetman" (via Detroit Metro Times).
This wasn't the only time an ICP-inspired Juggalo tattoo was misspelled, creating controversy. In 2012, the Massachusetts newspaper Telegram & Gazette reported that George Doyle, a 22-year-old man, was arrested and charged with assault for a nonconsensual Juggalo tattoo job performed on an inebriated teen boy. In this case, the word was spelled with two "l's" rather than one. It was alleged that Doyle later demanded payment from the teen, to whom he had supplied alcohol. Doyle was arrested and charged with illegal tattooing, among other things.