How LeBron James Really Felt After Kobe Bryant Died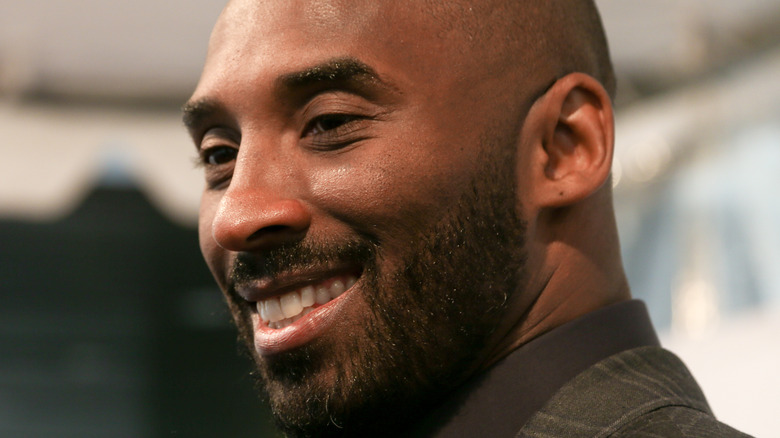 Debby Wong/Shutterstock
Kobe Bryant and LeBron James. Both are NBA legends known worldwide for their incredible athletic abilities and accomplishments. They are arguably the two greatest players in NBA since 2000 and have defined the sport for multiple generations of fans. The two have combined for over 70,000 career points (via Basketball Reference) and nine NBA Championships, with LeBron still playing and looking to add to those numbers. They played against each other in All-Star games, and played with each other in the Olympics.
The fact that the two were competing against each other at the highest level would lead you to believe they would have developed a rivalry. However, instead of this, they developed a bond born out of mutual respect for each other. When Bryant, along with his daughter Gianna and seven others, tragically died in a helicopter crash in January 2020, James was one of millions around the world stunned by the news. When asked about the memorial service held for Bryant following his death, James said, "It was [a] very emotional, very emotional day, very tough day for myself, for my family, for everyone involved" (via Essence).
Missed opportunity
Ronald Martinez/Getty Images
Just one day before Bryant's death, James passed him on the all-time scoring list after eclipsing his career total of 33,643 points (via Basketball Reference) in a game against the Philadelphia 76ers. That night Bryant tweeted out his congratulations. "Continuing to move the game forward @KingJames. Much respect my brother #33644" (via Twitter). That would turn out to be Bryant's final tweet before his death the next day. Their careers had been intertwined since James joined the league straight out of high school in 2003, yet there was one thing they didn't get to do against each other.
Despite the fact that James and Bryant consistently led their teams deep into the playoffs, combining for 17 finals appearances (via Sporting News), the two never faced off against each other on the game's biggest stage. When speaking to People, shortly after Bryant's death, James said that this is one of his regrets, and if he could speak to Bryant again he would bring it up. "And then probably talk about us never meeting in the Finals. Just apologizing to him. In f***ing '09 when I lost to Dwight [Howard], that would have been a great conversation for sure. You know, just to be like, we didn't give the people what they wanted. We didn't give them what they wanted."
Lasting advice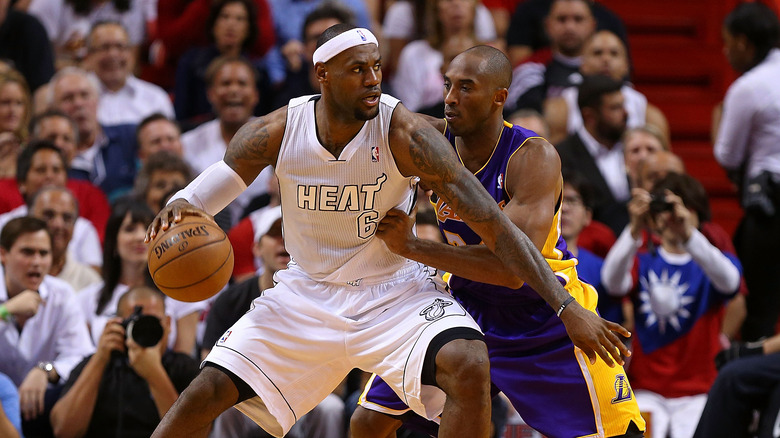 Mike Ehrmann/Getty Images
The pressure on world-class athletes to perform their best and bring their fan bases a championship can be immense. Few people understood that pressure better than Bryant, who had played under the bright lights of Los Angeles for his entire career. In "Can't Knock the Hustle: Inside the Season of Protest, Pandemic, and Progress with the Brooklyn Nets' Superstars of Tomorrow" by Matt Sullivan, James recalled the advice that Bryant had given to him on how to live his life despite the weight on those expectations, "Don't rely on basketball for happiness because it's not gonna happen. Make sure you balance your life out, you have something there for yourself in life, so when the game is over, you know exactly what you want to do" (via Sportcasting). The tragedy of Bryant's early death only reinforces that advice.
Legacy is a word thrown around often in basketball circles when debating which players are better all-time. From the outside it is easy to see how the legacies of Bryant and James are connected, and that is not lost on James. In an Instagram post the day after Bryant's death, James referred to their intertwined legacies. James wrote, "I promise you I'll continue your legacy man! You mean so much to us all here especially #LakerNation and it's my responsibility to put this s— on my back and keep it going!!" Since Bryant's death, James, now a member of Bryant's Lakers, has brought the NBA Championship back to Los Angeles and lived up to his promise to continue the legacy left by Bryant.