What Did Bob Dylan Really Think About The Band Kiss?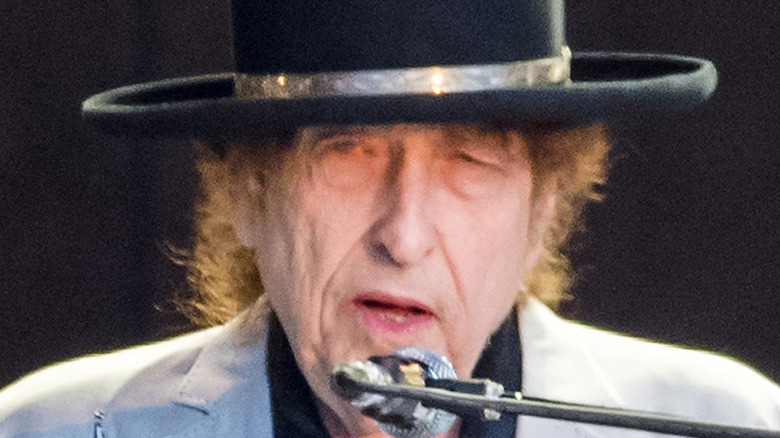 Dave J Hogan/Getty Images
It's hard to imagine two more different musical acts than Bob Dylan and KISS. One is a singular legend of folk whose rustic aura and traditional grace is like something out of a Steinbeck novel, and the other is a group of decadent, painted glamour lords who like to glorify sex, opportunism, and partying every day. Naturally, you're not likely to see both of their names together on the same concert ticket, and their fans generally don't intermingle on an artistic level, but once upon a time, Dylan reportedly admired the group's theatrical stage presentation and even worked with bassist Gene Simmons on a record in later years (via Far Out magazine). 
However, Far Out magazine reports that Bob Dylan harbored certain grievances toward KISS once upon a time and had a hard time keeping them to himself. While Mick Mars of Mötley Crüe has been wildly transparent about his contempt for KISS because of their general artistic demeanor, Dylan's reasons for disliking the band were far from what you ever expect. 
Bob Dylan though KISS was going to Hell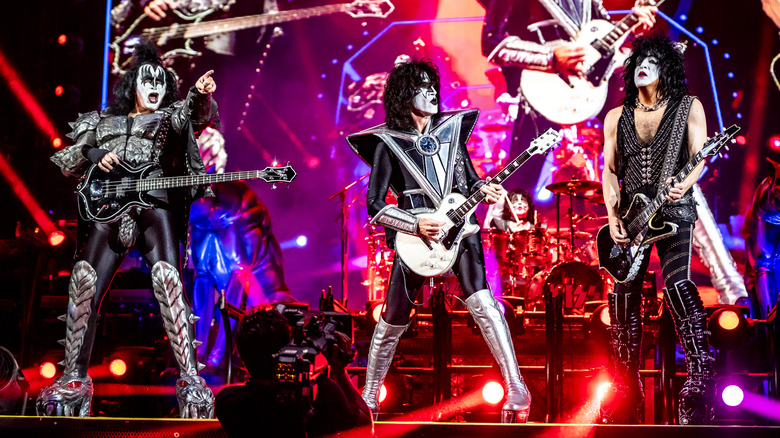 Francesco Prandoni/Getty Images
"[M]isinformation about the band began to spread in the southern Bible Belt states, including a rumor that the name KISS stood for Knights in Satan's Service, and that the four of us were devil worshipers," bassist Gene Simmons shared in his autobiography (per Snopes). While the rumor was really nothing more than a manifestation of widespread parental paranoia, Bob Dylan reportedly didn't need an acronym to believe that the four boys from New York were destined for damnation. 
It was in 1979 that Dylan, to many fans' dismay, converted to Christianity and adopted a deep and abiding reverence for scripture. Far Out magazine reports that it was his newly acquired theological sentiments that convinced the "Blowin' in the Wind" singer that KISS was nothing more than a group of demonic manifestations of the devil's will, and that they were on a mission to destroy the world through their music. Dylan felt that their songs were toxic and destructive to the soul, and he vowed to combat decadent art like theirs through his own, which spoke of enlightenment and spiritual redemption. 
Bob Dylan's spiritual journey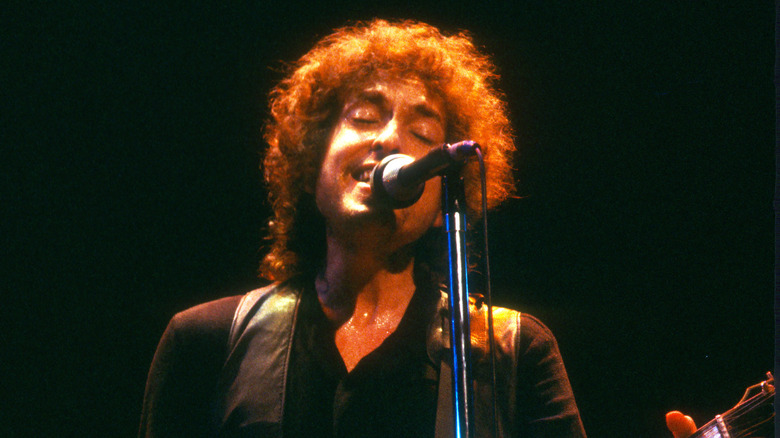 Larry Hulst/Getty Images
"There was a presence in the room that couldn't have been anybody but Jesus," Bob Dylan later shared about his spiritual epiphany in 1979. "Jesus put his hand on me. It was a physical thing. I felt it. I felt it all over me. I felt my whole body tremble. The glory of the Lord knocked me down and picked me up." According to My Jewish Library, Dylan was born to a midwestern Jewish family in 1941, and while he never really exhibited any public religious persuasions throughout his career, his supposed over-correction into the realm of Christendom came as a shock to everyone who knew him. 
For a time, Dylan ever refused to perform a good number of his songs live because they didn't hold a religious message at their core, and people were entirely unsure of what his music would look like in coming years. However, his trial run with Christianity ended in 1981 as the Independent U.K. reports, and thus KISS became absolved of all suspected demonic affiliations in his mind.