Loretta Lynn's When You're Poor Is More Biographical Than You Think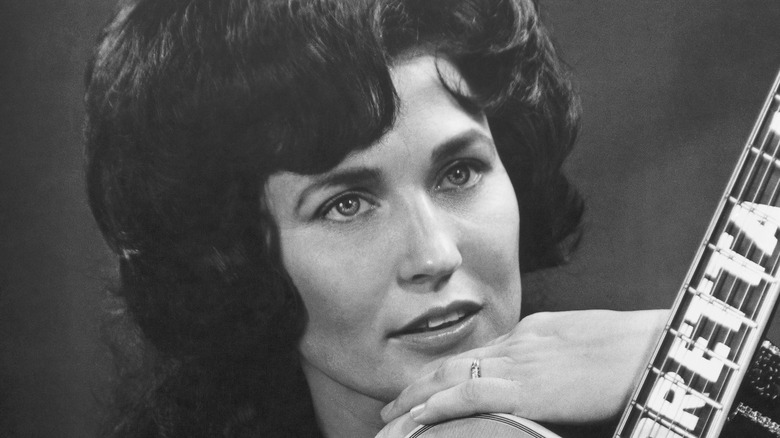 Michael Ochs Archives/Getty Images
One of the most important and influential country music stars in the genre, Loretta Lynn, died on October 4, 2022. She was 90 years old. Former president Barack Obama once said the musician "gave voice to a generation," per The Guardian. That might have to do something with the fact that much of Loretta Lynn's music swelled with the heartache and misery of being poor. 
Her 1980 song "Coal Miner's Daughter," perhaps summarized these lived experiences best. It is both a crushing autobiographical tale of Loretta's family barely making ends meet, not always knowing where food or money would come from next, but also a celebration of her past and the love she felt within her family. She fully embraced being the daughter of a coal miner, taking exuberant pride in her father's hard work and grit. And while country music's blue-collar Appalachian image sometimes rings as manufactured or even stereotypical, Loretta's storytelling was uniquely authentic and cut deep into the collective melancholy of the American working class. And one song that exemplified this was "When You're Poor," which is more biographical than people think. 
From a dirt road to the road to stardom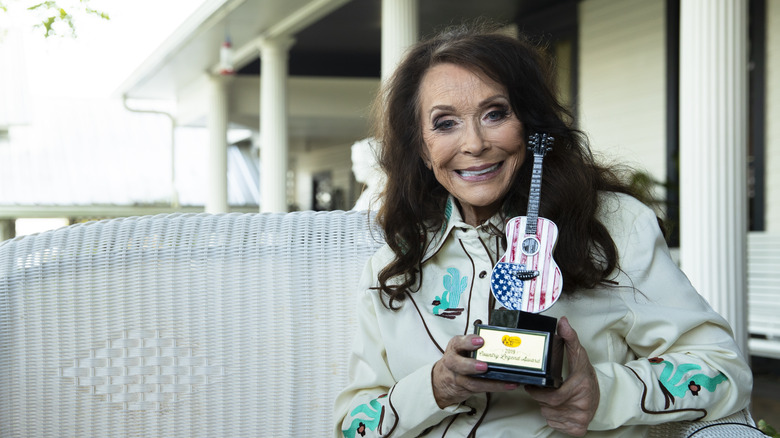 Brett Carlsen/Getty Images
The prolific country star Loretta Lynn was born on April 14, 1932, in Butcher Hollow, Kentucky. As Biography says, Lynn was one of eight children living in a very poor coal-mining neighborhood. She developed an interest in music early on and participated in her church's choir, alongside Brenda Gail Webb, her sister who eventually went on to form her own singing career under the name Crystal Gayle. After marrying Oliver Lynn in 1948, the couple moved to Washington where Lynn went from job to job to support themselves and their kids. 
Lynn bought Loretta a guitar and she started playing out locally, releasing her first single "Honky Tonk Woman" in 1960. According to Biography, the couple drove around to radio stations and asked them to play her song, which got her some traction on the country music scene. In 1962, she released the song "Success," which was her first major hit on the country music charts. Lynn also had a very close friendship with fellow country musician Patsy Cline, who helped her get into the industry. As the Loretta Lynn website explains, Loretta soon blew up into a mega country music star, and in the 1970s and 80s she dropped hits such as "Somebody Somewhere," "I Lie," "I've Got a Picture of Us on My Mind," and many more. 
Loretta Lynn's When You're Poor is autobiographical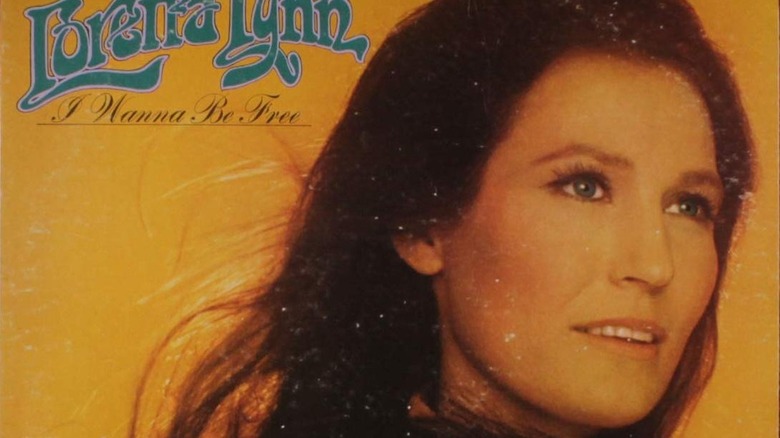 Decca Records
Loretta Lynn's 1971 song "When You're Poor" off the album "I Wanna Be Free" bleeds profusely with much of Lynn's lived experiences being poor. Much of the lyrics are fairly candid and portray a painstaking portrait of poverty. Some of the verses are as follows, "Hungry little baby on a cold hard floor / Cryin' for milk, but there ain't no more / We can't get credit at the grocery store / But that's how it is when you're poor." 
As Lynn told Country Living, growing up in a small cabin as a family of 10, they had so little money that her mother resorted to gluing newspapers and Sears Roebuck catalog pages on their walls just to keep the brutal winter cold out, adding, "but my mommy made that old house stay warm and beautiful." More lyrics from the song include "Gotta work hard / for there's bills to be paid / sixteen hours / there's a livin' to be made," which probably references the fact that Lynn and her family had to work long hours just to keep the family afloat. 
The song is a disheartening reminder that the working class, especially those in the Appalachian regions that Lynn grew up in, often still struggle to afford basic needs. Lynn's legacy will live on as both a reflection and tribute to those working paycheck to paycheck.