Elvis Presley's Obsession With James Dean Explained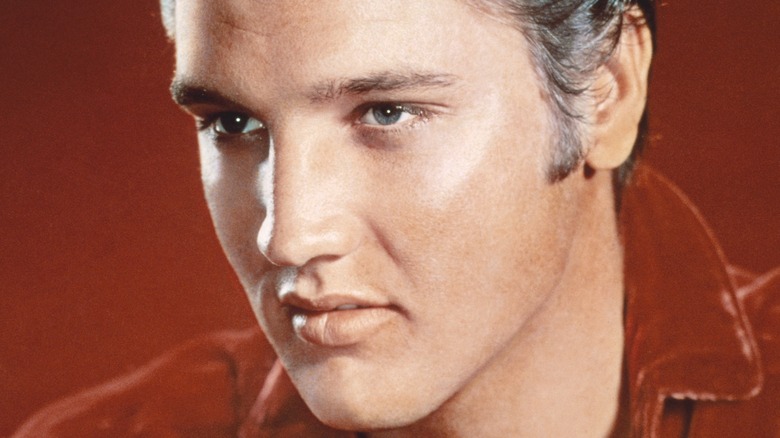 Michael Ochs Archives/Getty Images
In 1954, a young greaser-type teen boy named Elvis Aaron Presley was busy starting his rock n' roll career by recording with Sun Records out of Memphis, Tennessee (via Graceland). Late in 1947, Hollywood studios were screen testing one of young Elvis' favorite actors, Marlon Brando from "A Streetcar Named Desire," for the lead role in "Rebel Without a Cause" (via Mental Floss). The role of a rebellious and stylish kid who goes against the grain of everything his parents set out for him ultimately went to James Dean, an actor already known for portraying nonconformist types in such films as "Has Anyone Seen My Gal?" and "East of Eden" (via Britannica). Released in 1954, "Rebel Without a Cause" would solidify Elvis' early look and commitment to aloofness.
As demonstrated in Chris Miskiewciz's "Elvis: The Graphic Novel," the soft-spoken Tennessee musician modeled his looks after rebellious types like Dean, dying his hair jet black and wearing unconventional clothing (via Rolling Stone). While Elvis the crooner enjoyed a relatively long and storied career, Dean died tragically in a car accident in 1955, leaving his iconic, enigmatic status behind. Elvis aspired early on to have a career in film, in addition to his music work, and he hoped to channel the legendary actor as much as possible. However, the worlds of Elvis and his hero, James Dean, would collide by 1957.
With a rebel yell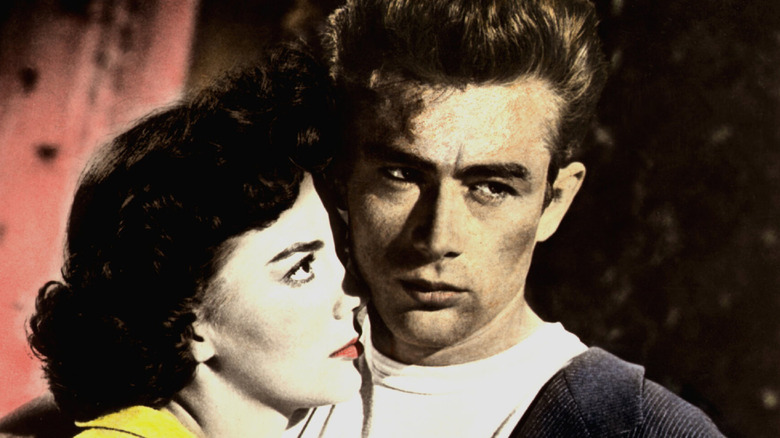 United Archives/Getty Images
Arguably, the film career of Marlon Brando, another of Elvis' heroes, catapulted after he played opposite Vivien Leigh in the New Orleans-set film adaptation of Tennessee Williams' "A Streetcar Named Desire" (via Britannica). Although the film is considered one of cinema history's most vivid depictions of life in the "Big Easy," it was actually filmed mostly on a lot in Burbank, California (via New Orleans Historical Society).
New Orleans wasn't exactly what screenwriters and agents had in mind for James Dean when they penned an adaptation of a 1952 best-selling novel about a Brooklyn teenager who boxes to support his family when his father is unable to do so. The lead would need to be hotheaded and unable to heed his ailing father's advice (via AV Club). When Dean died tragically in 1955, the film was rewritten, set in New Orleans, and the lead role would be a singer making it big, as opposed to a boxer. Elvis Presley seemed like a good fit.
Director Michael Curtiz was 69 years old at the time young Presley was cast in the newly titled "King Creole" and laughed at the idea (via 64 Parishes). However, he told his producers the fact that Elvis had little to no acting experience actually helped him to portray his character quite well. Paramount Pictures allocated $350,000 to shoot on location in the French Quarter. Alongside co-stars Carolyn Jones (who would star as Morticia in TV's "The Addams Family") and Walter Matthau, Elvis showed up for work on time, polite, sharp, and knowing his lines. Elvis considered "King Creole" to be his acting masterpiece, and critics agreed.
A king without a rebel?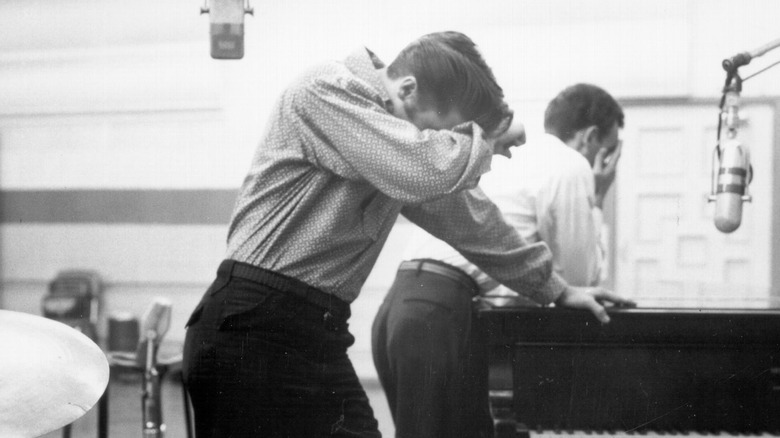 Michael Ochs Archives/Getty Images
Elvis' manager, Colonel Tom Parker, had a similar view of the young James Dean: He was iconic, and Parker's rock star protege had to emulate him (via Biography). Elvis emulated Dean so much that at one point, he even went on a date with Dean's "Rebel Without a Cause" co-star, Natalie Wood. According to Nick Adams in his book "The Rebel and The King," Presley memorized the entire script of the ominous film in order to be more believable in the antagonist anarchist role.
When Elvis accepted the role in "King Creole," he was adamant, as was Parker, that he should not be portrayed as a fool. Parker did allow his new client to take on parts as corny as the one he would play in "Clam Bake," a forgettable 1967 romp about ... well, going to a clambake and singing about it (via IMDb). It's important to remember that MTV and music videos did not exist in the '50s and '60s for burgeoning rockstars like Elvis Presley who wanted to show their abilities on camera. Presley would then go on to advise new stars and starlets like a young Cassandra Peterson, better known as the voluptuous horror personality Elvira. Peterson wrote about a "kind of date" with Presley in her autobiography, saying he told her to get out of Vegas, where she had been working as a show girl, and to start singing (via Fox News). Now, if only James Dean had done the same...