The Story Of Bill Haast, Who Lived To 100 Despite His Extensive Snake Venom Habit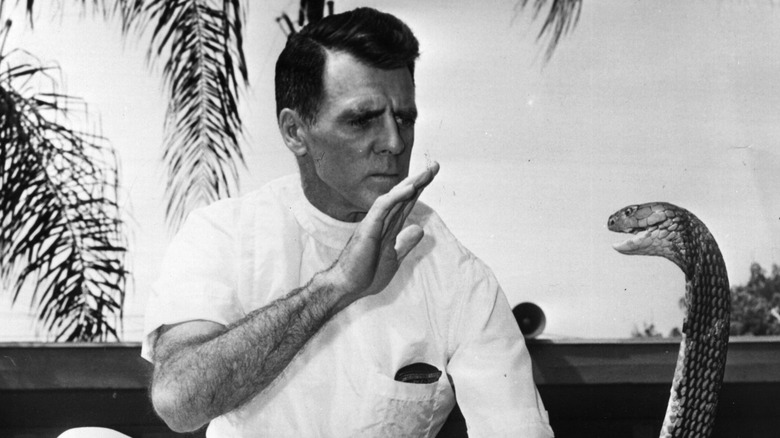 Avalon/Getty Images
It really is shocking what some people will do for a decent thrill. We've all seen those videos of adrenaline junkies hanging off skyscraper ledges by the tips of their fingers or riding bikes along the edge of a mountain's towering precipice with little or no fear of the fickle divide between life and death in that moment. It's difficult to place a definitive finger on why we get our kicks from dueling with the grim reaper, but one thing's certain: people are constantly finding new ways to risk their lives for fun.
When you consider the late Bill Haast, you can't help but wonder if it was really a case of mere thrill-seeking that prompted him to keep the company of deadly snakes throughout his entire life or something else entirely. According to The New York Times, Haast was the founder of the iconic Miami Serpentarium that entertained 5,000 annual spectators between 1947 and 1984. As a professional snake handler, he reportedly survived 173 bites and nearly died 20 of those times. All the same, Haast's deep and abiding fascination with the devious little creatures was never hindered by his numerous brushes with death, which he may have survived because he would inject snake venom into his own veins on a daily basis for most of his life. Perhaps there was some medicinal merit to the practice, because Bill Haast actually lived to be 100 years old. 
Bill Haast, the ultimate snake charmer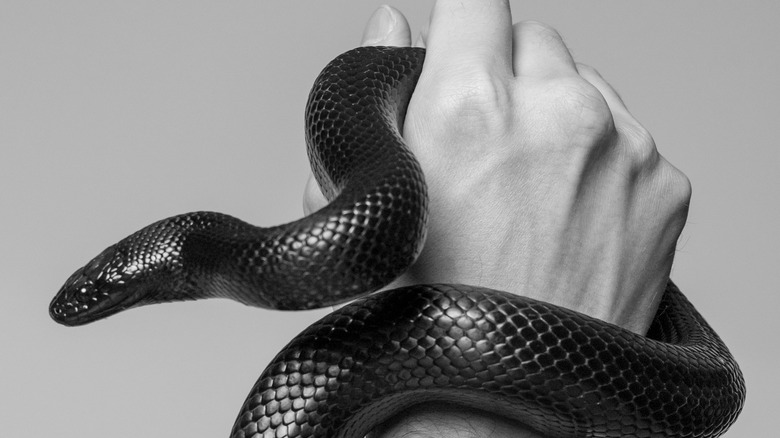 Dimmo/Shutterstock
The New York Times reports that at the age of 12, Bill Haast was at Boy Scout camp when a timber rattlesnake buried its teeth into his tender flesh. He survived, of course, but just a few months later, Haast wound up in the hospital after another rattlesnake inserted its fangs into him. Rotten luck, eh? Still, the snake bites only compounded his serpentine infatuation, and instead of steering clear of them, Haast reportedly started bringing venomous snakes into his home to keep as pets. "The snake would bite the mouse, the mouse would die. I found it intriguing," he once said in a 1984 interview with the Miami Herald (quoted by The New York Times).
In years to come, Haast would dedicate his life to learning about snakes and seeking them out in their natural habitats. According to the Official Website of W.E. "Bill" Haast, his experiments with snake venom made him something of an asset to both the medical and scientific communities. Many of his findings reportedly contributed to treating various diseases like polio, multiple sclerosis, and arthritis, and the abundance of venom he collected over the years provided different labs with the necessary materials to concoct antidotes and serums against fatal snake bites. 
Bill Haast used to inject snake venom
"A secret of his success was the immunity he had built up by injecting himself every day for more than 60 years with a mix of venoms from 32 snake species," The New York Times wrote following Haast's death in 2011. It's mostly speculative, but many do in fact attribute Bill's considerably long life — he's pictured above at around age 85 — to the myriad of times he fused his own blood with the deadly tincture of viper juice. 
His audacious and terrifying custom of injecting snake venom into his veins was hardly just experimental. The antibodies that arose in his body as a result made his blood an incredibly sought-after substance for snake bite emergencies, and according to The New York Times, some 21 lives were saved as a result. He even traveled into the heart of the Venezuelan jungle once upon a time to donate a pint of his blood to a boy who'd been bitten by a venomous snake. "I have no proof, but I'm active from morning 'til night, seven days a week. So when I'm 100, if I'm doing just what I'm doing now, then I'll say, yes, it's the venom," Haast once shared, when asked about his bizarre daily routine. As it turned out, he got the chance to say "yes" to the venom question before he died on June 15, 2011 at the ripe age of 100 (per NPR).