The Strict California City Law That Required A Permit To Wear A Mask On Halloween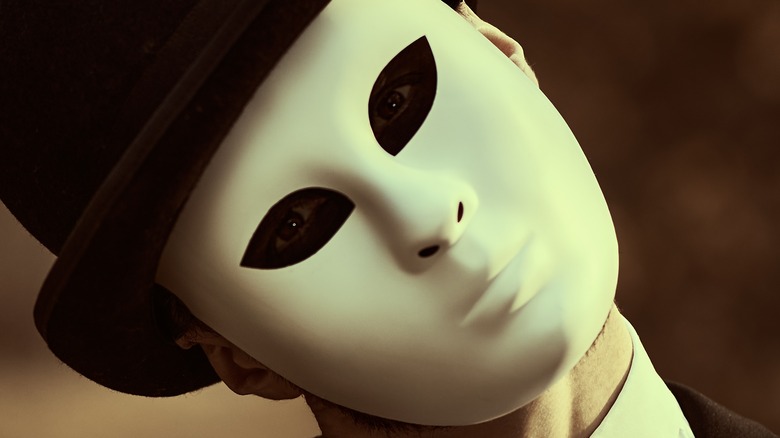 Kiselev Andrey Valerevich/Shutterstock
It's open season for ghosts, ghouls, goblins, and grumpkins. There are still a few weeks standing between us and All Hallow's Eve, but nothing stops people from getting a head start on the spookiest day of the year. Halloween festivities can get lavish, even extravagant. After all, what other time of year can you drive by your neighbor's house and see human limbs strewn across the lawn and skulls hanging from the porch railing? (In a good way, that is.)
However, according to a 2019 post by the law firm Lessem Newstat & Tooson, there's a city in California that took issue with one crucial Halloween tradition: the wearing of masks. Of course, we're not talking about the anti-COVID surgical masks that have been virtually glued to people's faces for the past three years now. We're talking about those good old-fashioned Michael Myers-style freak show faces that adorn the shelves of your local seasonal costume store. 
Walnut, California doesn't like your mask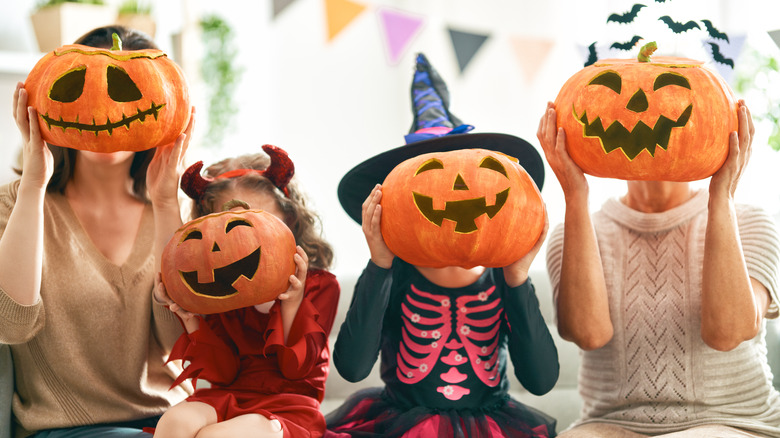 Yuganov Konstantin/Shutterstock
According to a 2018 CBC Kids article, the city of Walnut, California made it a violation of the municipal code to sport a mask in public at any time of the year, with no exceptions listed — not even Halloween night. Therefore, if you were a Walnut resident and had been gearing up to hit the streets with your favorite monster's face covering your own, you might have wanted to start brainstorming ideas for another costume. 
The Walnut, California Municipal Code 3.48.200 states that "no person shall wear a mask or disguise on a public street without a permit from the sheriff." Apparently, the seemingly harsh regulation was designed to stop people from causing trouble throughout the year, but if you obtained a permit from the sheriff prior to, you were allowed to walk out your front door dressed as Freddy Krueger without the looming threat of legal repercussions. However, local businesses like restaurants, bars, and supermarkets retained the right to deny service to anyone wearing a mask if they choose to (via Lessem Newstat & Tooson). 
Silly String is also (sort of) illegal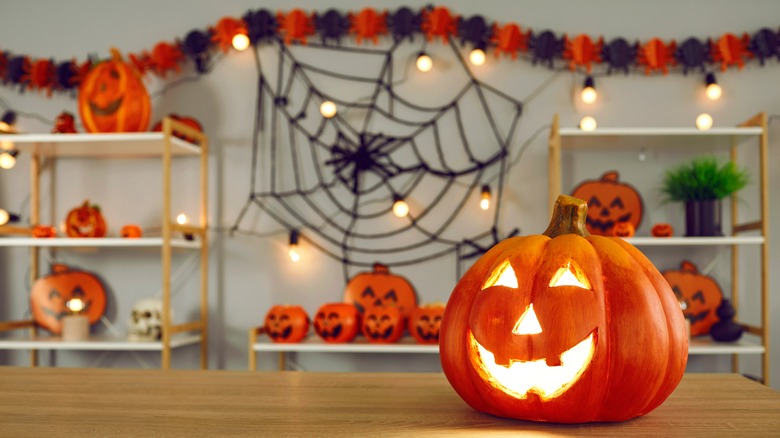 Studio Romantic/Shutterstock
Walnut, California wasn't the only place in the state that might throw the book at you during Halloween season. Hollywood has also been a town with a legal code worth consulting before embarking upon your annual spooky adventure. According to the same 2018 CBC Kids article, the rampant use of Silly String on Halloween got so out of control, city officials outlawed its use between the hours of 12 a.m. on October 31 and 12 p.m. on November 1. If you've ever used Silly String, you know how obnoxious and tedious the cleanup can be after the fact, so there probably weren't too many people protesting this particular law. 
If you were caught using Silly String in Tinseltown on Halloween, you could face up to a $1,000 fine, as NBC Los Angeles reported in 2016. There was actually a plausible reason for this law, as police on horseback are at risk of slipping on the stringy substance as they patrol the streets. It also started clogging city sewers, and the bulk of what wasn't caught in the public drainage system started to reach the ocean and damage the ecosystem.