Judy Tenuta's Amazing New Year's Times Square Stunt Formally Launched Comedy Central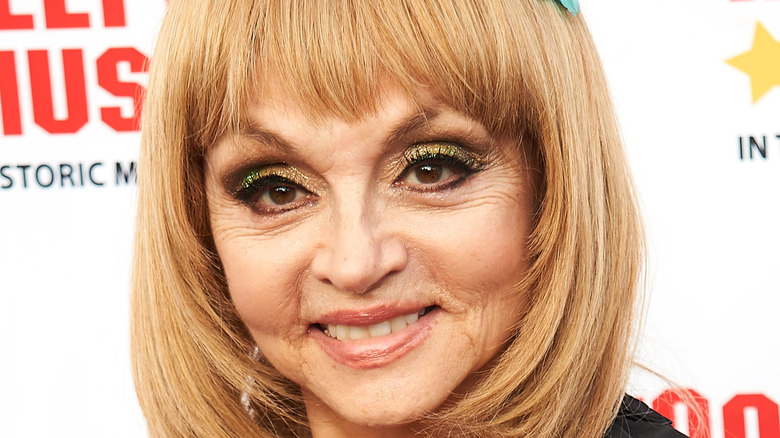 Unique Nicole/Getty Images
Judy Tenuta died Thursday, October 6, at the age of 72, as The New York Times reported. The self-proclaimed "Love Goddess" and "Aphrodite of the Accordion" died of ovarian cancer, but her legacy lives on every time you tune in to Comedy Central. That's because the pioneering female comedian helped launch the cable channel in New York City's Times Square in July 1991, as The Comic's Comic recollected. The comedienne performed a stunt that saw her ride the flagpole that the ball is famously dropped from on New Year's Eve as her less daring male colleagues Jon Stewart and Paul Provenza remained safely below. 
For her death-defying feat, Tenuta wore a shiny gold dress with a frilly neckline and a train that trailed behind her as she sat on the harness that would carry her up the pole (via YouTube). She carried her characteristic accordion and told jokes as she was first hoisted up and then lowered down the pole, with a New Year's Eve-style countdown marking the last 10 seconds of her descent. "Judy, this is how we want to remember you," Provenza said as she was being lowered from the pole.  
New Year's Eve in July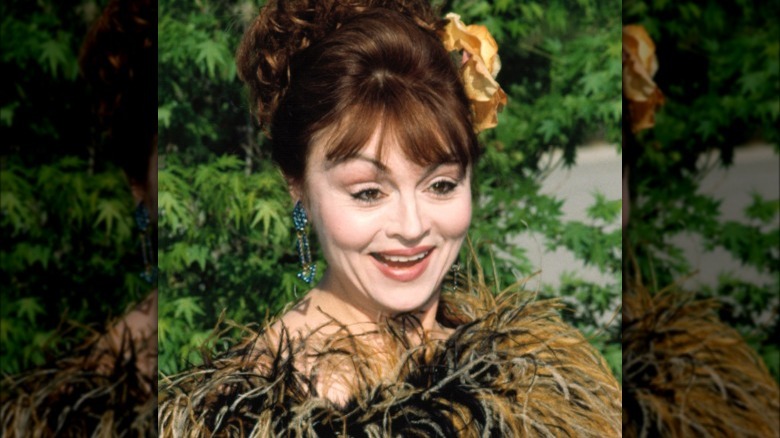 Everett Collection/Shutterstock
Judy Tenuta's Times Square flagpole drop was in keeping with her comic persona. She liked to play up the contrast between her wide-eyed, girlish appearance and her throaty voice and irreverent jokes, a USA Today obituary pointed out. In a clip of the stunt shared on YouTube, she first appeared on the rooftop of 1 Times Square, giving Paul Provenza a high-pitched, trilled laugh followed by the greeting, "Hello pigs!" When Provenza asked her how she prepared to ride the flagpole, she answered, "I spent a year in Bellevue." Tenuta didn't stop joking when she was attached to a harness and winched up and down the pole. Mostly, her jokes revolved around the pole's sexual prowess and various celebrities she pretended she could see from such great heights. 
Footage of her feat was alternated with reactions from the street as Jon Stewart interviewed the crowds watching below. "This is amazing. It's like New Year's Eve in July!" said one viewer. At the end of the act, Stewart asked an actor playing "psychologist Ernest Blakemailer" why anyone would do what Tenuta had done, but he could only rhapsodize about her beauty. "She just appeared like a heavenly bubble filled with peace and joy," he said.   
'The Love Goddess'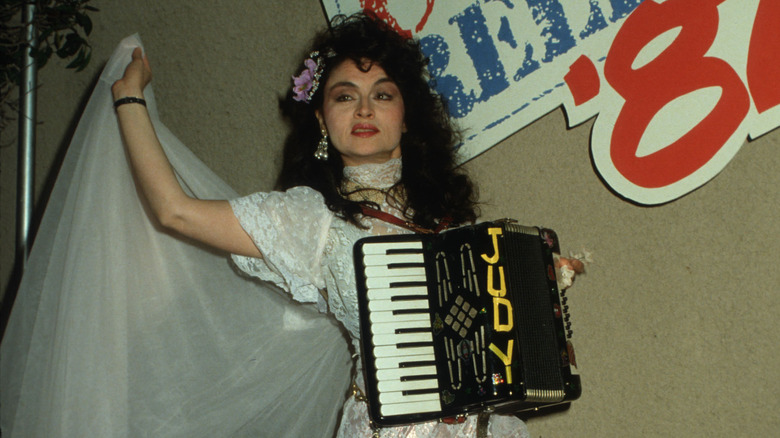 Laura Luongo/Getty Images
Judy Tenuta was already a famous comic by the time of her flagpole stunt. She was born in 1949, but used to say her birthday was in 1956 in order to disguise her age, according to USA Today. She was born outside the city of Chicago, and she trained there by majoring in theater at the University of Illinois-Chicago and then taking classes at Second City, according to The Comic's Comic. She began her stand-up routine in the 1970s but rose to prominence in the 1980s. In 1988, she won "comedy club female comic of the year" at the American Comedy Awards, according to The New York Times. 
During her career, she performed alongside many comedy greats. At one point, she toured with George Carlin, according to USA Today. She also appeared in the 1987 HBO special "Women of the Night" with Ellen DeGeneres, Paula Poundstone, and Rita Rudner. She created a religion around her persona known as "Judyism," according to her website, and tried to maintain an air of mystery appropriate for her Love Goddess moniker. This was partly why she was cagey about her age. "When you're a goddess, you're eternal," she told the Chicago Tribune in 1992. Watching her ascend that flagpole more than 20 years ago, it's hard to disagree.