Elvis Had More Drugs In His System When He Died Than You Probably Thought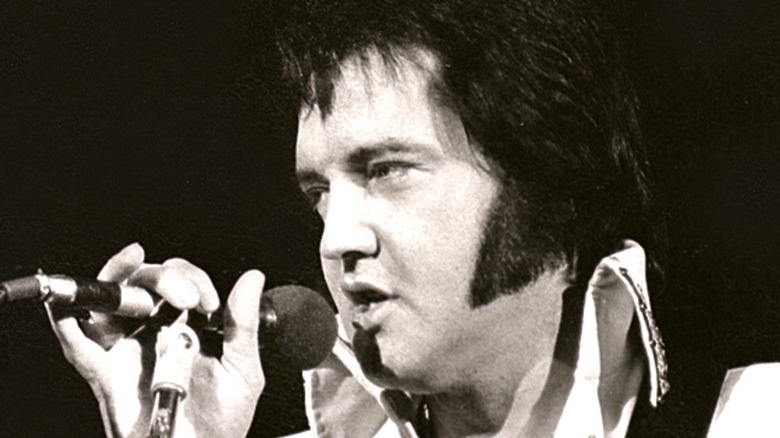 Ronald C. Modra/Getty Images
When you hear the name 'Elvis Presley,' what image pops into your head? Is it that of an impossibly magnetic young performer, whose interpretations of both ballads and rock 'n' roll made him the star of the Sun and RCA Victor record labels, and whose provocative TV performances throughout the 1950s made him one of the most talked about people in the United States?
Or do you think of what we could describe as the 'Las Vegas Elvis,' a rotund figure whose rock 'n' roll image has been replaced by a caricature synonymous with 1970s hedonism — perhaps through pop culture parody and legions of impersonators either sincere or ironic, accurate or wildly off-the-mark — regardless, this version of Elvis is a shadow of his former self.
The disparity between the two halves of Presley's short life is succinctly reflected in the titles of the two volumes of his biography written by the esteemed music critic Peter Guralnick, the first of which is titled "Last Train to Memphis: The Rise of Elvis Presley," while the second is ominously titled "Careless Love: The Unmaking of Elvis Presley." Today, Presley's cause of death is widely listed as heart failure — however, his death was certainly precipitated by a tragic drug addiction that a number of those close to him were willing to enable.
Elvis Presley's fatal drug addiction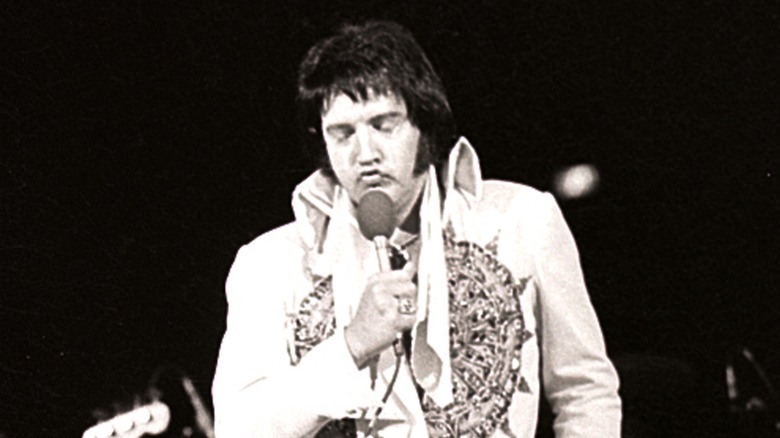 Ronald C. Modra/Getty Images
Elvis Presley was just 42 years old when he died at his home, Graceland, in Memphis, Tennessee on August 16, 1977. Though he had been ill for many months, he was due to fly out with his entourage within days to embark on yet another lucrative tour; what only a few people in his inner circle knew, however, was that for many months Presley had relied on a combination of prescription drugs, to which he had become addicted, to allow him to continue performing in public.
According to a case study published by the Manitoba government website, Presley's physician, Dr. George Nichopoulos, admitted to prescribing the singer a wide range of drugs to get him through the day; in any one week prior to a concert, the King would be administered a "protocol program" of around 680 pills and a range of liquid medicines including "amphetamines, depressants, and painkillers" to get him through rehearsals and the show itself.
Shockingly, Dr. Nichopoulos is estimated to have supplied Presley with a drug supply that amounted to around 10,000 pills in the eight months prior to his untimely death, according to The Guardian. And decades later, Nichopoulos remained adamant that Presley was ultimately responsible for his own death, telling the same source: "Elvis' problem was that he didn't see the wrong in it. He felt that by getting it from a doctor, he wasn't the common everyday junkie getting something off the street. He was a person who thought that as far as medications and drugs went, there was something for everything."
A cocktail of drugs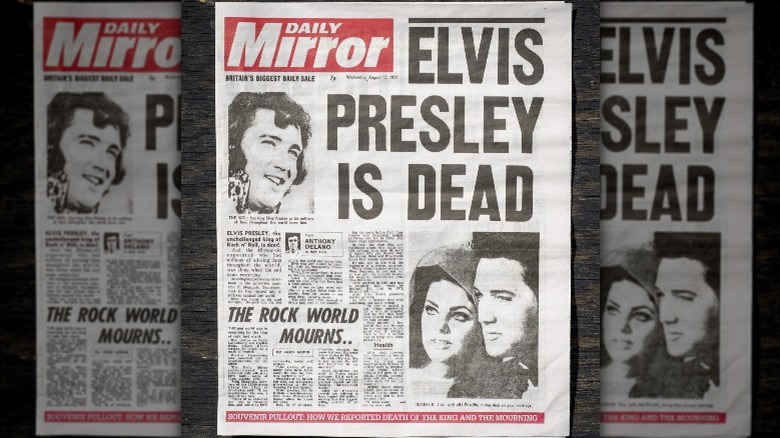 Lenscap Photography/Shutterstock
Though drug taking was rife in the music and entertainment industries of the 1970s — with many artists being given narcotics by management and private doctors to help them work through exhausting schedules and endless travel — that Elvis Presley himself had been found to have died with 10 legal drugs in his system was deeply shocking to his legions of devoted fans.
As reported by The New York Times prior to the full findings of an autopsy, Presley was found to have been on a cocktail of prescription drugs that included otherwise harmless amounts of the anti-allergy antihistamine, the opioid painkiller codeine, and several sedatives and tranquilizers including Demerol and Valium, and that the combination had contributed to the dramatic swelling of his heart — which was 50% larger than usual — leading to his death.
Though Dr. Nichopoulos stood trial for his role in Presley's death, he was acquitted. Per Metro, he lost his medical license in 1995 after another incident of overprescription of one of his patients.
If you or anyone you know is struggling with addiction issues, help is available. Visit the Substance Abuse and Mental Health Services Administration website or contact SAMHSA's National Helpline at 1-800-662-HELP (4357).