Who Was Angela Lansbury's Mother, Actress Moyna Macgill?
Actress Angela Lansbury appeared in a number of TV shows, movies, and theater productions. She was an award-winning actress most known for her role as Jessica Fletcher in the TV series "Murder, She Wrote" which aired from 1984 until 1996. Lansbury was born in London in 1925 to politician Edward Lansbury and Moyna MacGill (via Biography). Her father died when she was just 9 years old, leaving her mother to care for her and her other siblings alone.
Acting ran in Lansbury's family. Her mother, Moyna, was a stage actress, too. She was born Charlotte Lillian McIldowie in Belfast, Ireland, in 1895. According to News Letter, her father worked in theater, which most likely influenced the young Charlotte. She changed her name to Moyna MacGill and moved to London where she started her career in theater. In 1919, MacGill married Reginald Denham, and she gave birth to a daughter. However, the union didn't last, and they divorced in 1924. MacGill married Edgar Isaac Lansbury that same year, and they had three children together.
Moyna MacGill's move to the United States
Moyna MacGill's career began in theater, but she also appeared in movies. She made her movie debut in the 1920 silent film titled "Garryowen," and appeared in more silent films thereafter. During World War II, MacGill and her four children left London to start a new life in the U.S. Angela Lansbury revealed the reasons behind the move in an interview with WJCT News. According to Lansbury, MacGill wanted to leave Britain to get away from the devastation brought by the war. Another reason was to get away from a bad relationship that she had.
When MacGill and her children arrived in the U.S., she wanted to continue her career as an actress. Lansbury said that she and her mother did readings for roles together. "She was a great recitalist . . . And so I would go along with her in some instances, and many times she went alone. But that was the beginning of her career in the States and mine, too," Lansbury recalled.
Moyna MacGill's acting career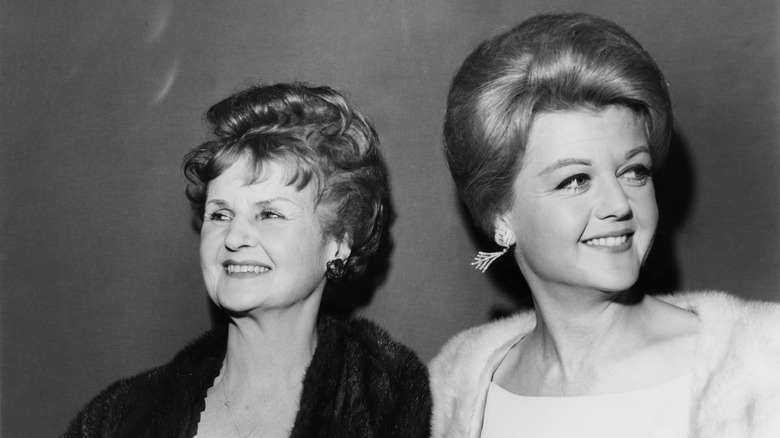 Keystone/Getty Images
In 1943, Moyna MacGill played a small role in the film "Forever and a Day," which restarted her acting career. Afterward, she landed a few roles in movies and TV shows, and she was also able to share the screen with her daughter, Anglea Lansbury. MacGill and Lansbury worked together in "National Velvet," "The Picture of Dorian Gray," and "Kind Lady," as reported by News Letter. MacGill appeared in small roles on TV shows, including "The Twilight Zone," "My Favorite Martian," and "Mister Ed" just to name a few, until the 1960s.
In November 1975, MacGill died of cancer at the age of 79 in California. Lansbury had a close relationship with her mother and said that she was the reason she was able to explore her talents when she was young. "She gave me the opportunity to realise my talents at a very young age. She gave me tremendous self-confidence," Lansbury said.