How Angela Lansbury Was The Secret To Murder, She Wrote's Success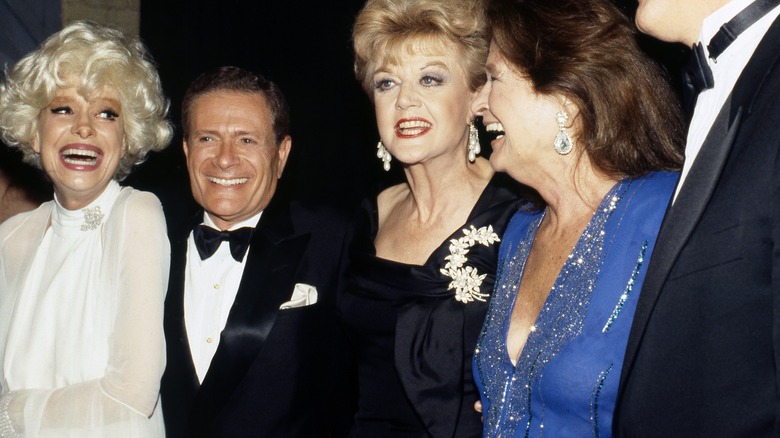 Catherine Mcgann/Getty Images
While some speculate we're currently experiencing the "Golden Age" of television, others point to another decade of TV: the 1980s (via Vulture). This decade saw the rise of dramas like "Hill Street Blues" and "St. Elsewhere," sitcoms like "The Golden Girls," and mystery series like "Murder, She Wrote," starring Angela Lansbury.
"Murder, She Wrote," a CBS series centered on a character named Jessica Fletcher  — an amateur sleuth and successful mystery writer, a widow, and former English teacher who called Cabot Cove, Maine, her home  — ran for 12 seasons on the network. According to Biography, the show, which aired on Sunday evenings, had a viewership of 30 million per week at the height of its success.
Although the show was both popular and successful, Lansbury, a former Broadway star and film actor, never received Emmy award recognition for her starring role in the series. Per the Television Academy, "Murder, She Wrote" was nominated for 41 Emmys during its run, winning only twice. Lansbury herself was nominated 12 times for lead actress in a drama series, from 1985 to 1996. Despite her lack of wins, however, it's a fact that Angela Lansbury was the secret to the show's success.
Lansbury made script suggestions from the start
Angela Lansbury, who starred on the silver screen in films like "Gaslight," "The Picture of Dorian Gray," and "The Manchurian Candidate" (and received Oscar nominations for all three performances, per the Academy of Motion Picture Arts and Sciences), was 58 years old when "Murder, She Wrote" premiered in the fall of 1984. Originally, casting directors and producers sought out Doris Day and Jean Stapleton (of "All in the Family") for the role of the amateur sleuth (via Trivia Genius).
But producers maintain this was because they knew Lansbury would need to be convinced to take on the role of Jessica Fletcher. In 2018, at the age of 93, Lansbury told Star2.com (via VisionTV) that her reason for joining the series was "financially motivated," admitting that a career in theater and film didn't pay the bills.
When Angela Lansbury originally sat down with producers to discuss the "Murder, She Wrote" script, she told them the Fletcher character had to get out of Cabot Cove, Maine, on a regular basis. "I wanted to get her to New York and open up her horizon ... let's get her out into the world," she recalled in a 1988 interview with author Morrie Gelman (via the Television Academy Foundation). Fletcher did so regularly with panache, with episodes taking place everywhere from New Orleans to Hawaii to London. Lansbury's character solved murders all over the world and did it without driving a car but the late actor had a theory about why the show's plot made it such a hit with viewers.
Lansbury saw Jessica Fletcher as an 'every woman'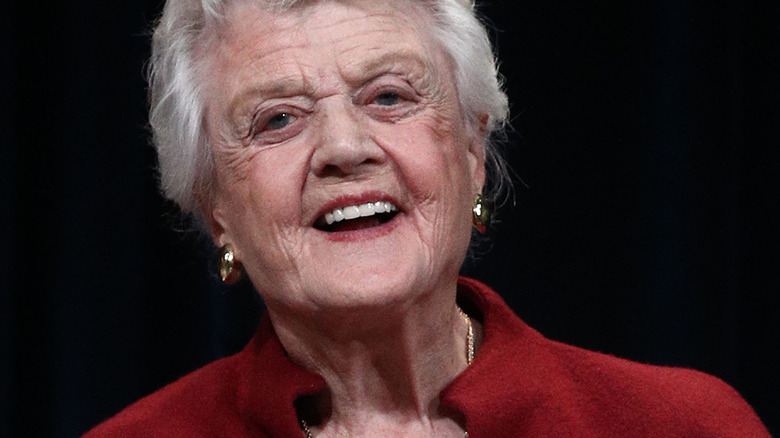 Frederick M. Brown/Getty Images
In 2014, Angela Lansbury told the Daily Mail what she felt was the secret to the success of "Murder, She Wrote." In her own words, Lansbury said, "There was never any blood, never any violence. And there was always a satisfying conclusion to the whodunit. The jigsaw was complete." Lansbury also credited her straight-laced, polished, and relatable character Jessica as to why audiences took to — and stuck with — the series. "I loved Jessica's every woman character," she shared. "I think that's what made her so acceptable to an across-the-board audience."
And let's face it: Part of the success, if not all of the success, of "Murder, She Wrote" can be attributed to Lansbury's sheer acting talent. According to The Associated Press, Lansbury held the record for the most Golden Globe nominations and wins for best actress in a television drama series and most Emmy nods for lead actress in a drama series.
Not bad for an actor who was especially disgusted when she found out her days on a television series set, filming in northern California, would be 12-15 hours long each day. In the 1990s, the then-septuagenarian was asked how she would like to be remembered by the Television Academy and she quipped immediately, "Just for being there" (via the AP).