How Truly Massive Is The World's Heaviest Pumpkin?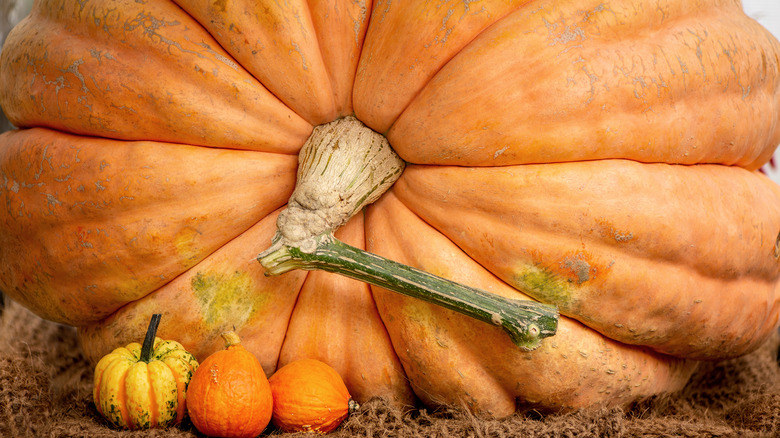 GIOIA PHOTO/Shutterstock
In the fairy tale "Cinderella," the titular heroine rides to the ball in a pumpkin turned into a carriage. Looking at most pumpkins sold at the grocery store or placed on porch stoops for Halloween, that transformation seems hard to fathom. But it might be a little more believable if you were looking at the world's heaviest pumpkin on record. This orange blimp weighed a total of 2,702 pounds and 13.9 ounces, according to Guinness World Records.
To put that into perspective, the average carving pumpkin weighs a total of 12 to 18 pounds, according to Dan Schantz Farms, so the record-breaking pumpkin was around 150 to 225 times heavier than its smaller cousins. In fact, it weighed about as much as a compact car like a Toyota Corolla, which can net between 2,600 and 3,000 pounds, according to Bankrate. The average horse-drawn carriage, on the other hand, is around 1,800 pounds, according to carriage company consortium Charleston CARES. Therefore, it's far easier to believe this portly pumpkin as a vehicle. It weighed the same as 17.5 adult men, Guinness World Records calculated at the time of its triumph, so it could definitely take the weight of a few passengers. 
A history-making pumpkin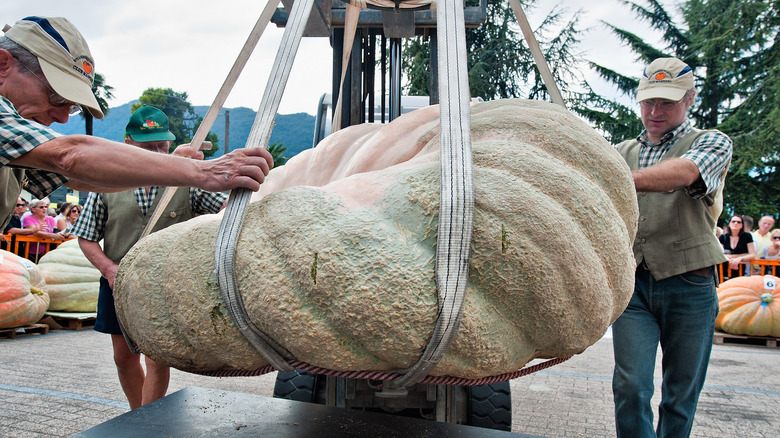 Marco Secchi/Getty Images
How did this absolute unit of a pumpkin come to be? The pumpkin was grown from the seed of a type of Atlantic Giant pumpkin known as an 1885.5 Werner seed, according to Guinness World Records. It was planted by Stefano Cutrupi, who lives and farms in the Tuscany region of Italy. The future leviathan germinated on March 23, 2021. Around six months later, it had ballooned to its historic weight. 
The great pumpkin weighed in on September 26, 2021 at the 10th Campionato della Zuccone pumpkin festival in Peccioli, Italy, after being checked by competition quality control body the Great Pumpkin Commonwealth. Cutrupi suspected he could win, but wasn't sure, he further told Guinness World Records. He wasn't looking in the direction of the scale when the pumpkin was finally weighed, so learned of his success when friends began to cheer around him. "At that moment I knew I had made it. I screamed until I lost my voice," he recounted. One of the judges, Emanuele Garofano, said he also suspected the pumpkin would win as soon as he laid eyes on it. "I immediately felt a shiver inside me," he said. To make Cutrupi's victory even more complete, two of his other pumpkins came in second and third place at the festival as well. These pumpkins also were no slouches, with the second place winner weighing 2,158 pounds and 4.8 ounces and the third place winner totaling 1,751 pounds and 9.5 ounces.
Bigger and bigger
Stefano Cutrupi's history-making pumpkin was not the first pumpkin to rival a car's weight. His surplus squash defeated a previous record held by Mathias Willemijns of Belgium, whose vegetable weighed 2,624 pounds and 9.3 ounces on October 9, 2016, according to Guinness World Records. Giant pumpkin competitions have become something of an arms race in the last half-century. In 1900, a pumpkin won the Paris World's Fair competition for weighing in at only 400 pounds, according to Time. A 1904 record for a 403-pound pumpkin then held for 75 years, according to Oregon Live. 
It was finally broken in 1978 by Howard Dill of Nova Scotia, with a 438.5-pound pumpkin. He spent three decades trying to breed for size, and came up with the Dill's Atlantic Giant variety. As of 2017, all world record breakers sprouted from his seeds. By 2012, the first pumpkin weighing more than a ton had been grown by Ron Wallace of Rhode Island, according to Time. Anyone can grow a pumpkin from Dill's Atlantic Giant seeds, but competitive growers will pay as much as $1,600 for the auctioned seeds of championship winners, Oregon Live reported. These growers are still trying to push the limit on pumpkin plump. "I hope I can see 3,000. Maybe 3,500. Heck, we might have the first two-ton pumpkin out there. It could happen," Great Pumpkin Commonwealth president Dave Stelts told Time.