Why Blink-182's Reunion With Tom DeLonge Has Been A Long Time Coming For Fans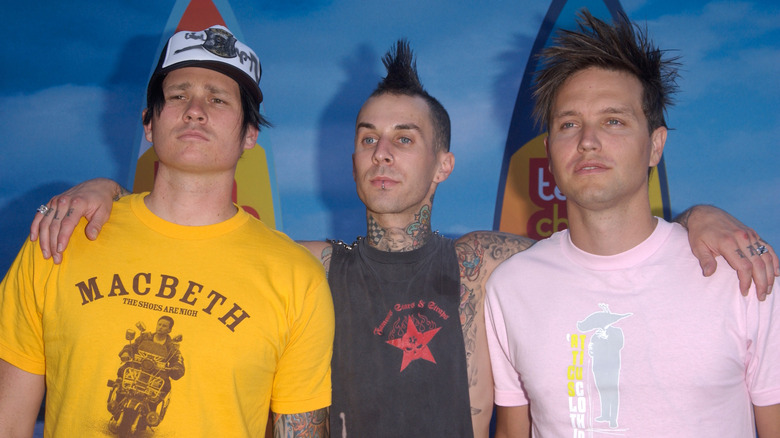 Featureflash Photo Agency/Shutterstock
Formed in San Diego in 1992, Blink-182 changed the game in the pop-punk genre (per All Music) . According to Planet Radio, their third and the now famed album "Enema of State" later went platinum in the US five times. Although the original lineup consisted of Tom DeLonge, Mark Hoppus, and Scott Raynor, drummer Travis Barker took over for Raynor in 1998. Despite their fame and widespread popularity, Blink-182 has had its ups and downs. In 2005, DeLonge quit and left the band. In 2008, Barker barely survived a plane crash that killed four out of six passengers (via Today).
Per Reuters, Blink-182 reunited in 2009, but the reunion was short-lived as DeLonge decided to once again depart from the group in 2015. Variety states that Matt Skiba, from Alkaline Trio, subsequently replaced DeLonge as the lead guitarist. The new trio later released two albums together, "California" and "Nine".
Per NPR, Blink-182 has recently announced that DeLonge has returned to the band. Beginning in March 2023, they are also going on a world tour. This news comes as Hoppus opened up about being diagnosed with stage 4 diffuse large B-cell lymphoma (via People). Now cancer-free, Hoppus, DeLonge, and Barker decided it was time to get the band back together.
DeLonge and Blink-182 recorded their first single together in 10 years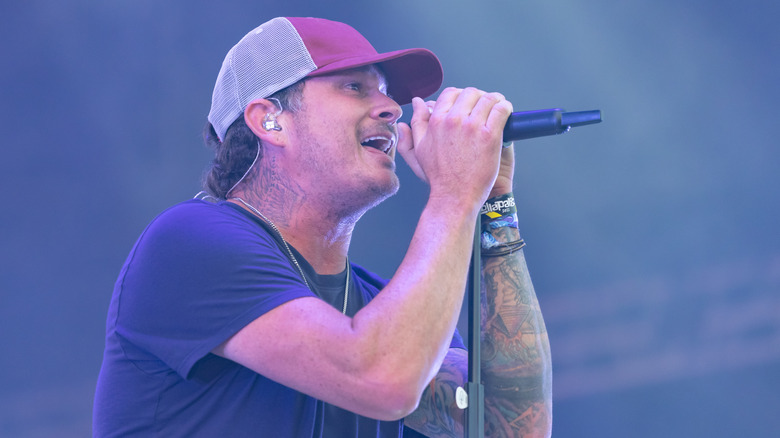 Michael Hickey/Getty Images
In an interview with People that was published before Blink-182 announced their reunion, Hoppus told the publication that his cancer diagnosis changed the trio's relationship for the better. He stated, "It was the first time that all three of us were in the same room in like five years." Hoppus added, "It's actually better than it used to be. There was no agenda. There were no lingering grudges. It felt very back to what it should be: three friends sitting in a room." Soon after, Blink-182 revealed their new tour and first single together with DeLonge in a decade (via Pitchfork).
Billboard writes that their new song titled "Edging" (which can be viewed on YouTube) has been described by DeLonge as "fun." In addition, Blink-182 is planning to release a new unnamed studio album in 2023 (via NME). DeLonge teased this news on Twitter and posted "The new blink182 album has some of the most progressive, and elevated music we'be [sic] ever had." As for their world tour, NME states that it will start in Latin America in 2023 and will end in New Zealand in 2024. Variety adds that opening acts include Turnstile, Rise Against, The Story So Far, and Wallows.
Tom DeLonge's sweet message to Matt Skiba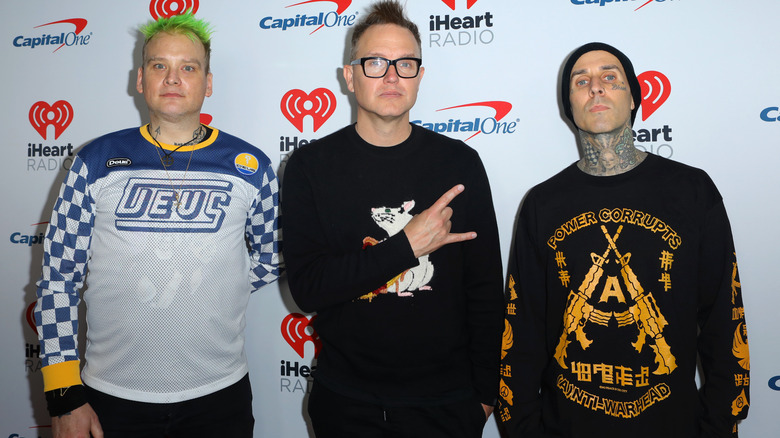 Jc Olivera/Getty Images
While Blink-182 was touring and releasing music with Matt Skiba, Pitchfork explains that Tom DeLonge delved into other interests including UFOs and aliens. Previously, DeLonge said that he decided to leave Blink-182 because he wanted to "change the world for my kids and everybody else's" (via NME). In 2015, DeLonge founded To the Stars Academy of Arts & Sciences to research extraterrestrial life. Spin adds that he was also part of another band called Angels & Airwaves. With DeLonge's return to Blink-182, Variety states that he has expressed his gratitude to Skiba for all that he has done. In a message posted on Instagram, DeLonge said "I wanted to take a minute and say thank you for all that you have done to keep the band alive and thriving in my absence."
Per Variety, DeLonge went on to mention Hoppus' cancer and how it affected Blink-182. He also added, "But to be honest, the band would not even be here today if it were not for your ability to jump in and save the day. So from my heart to yours, thank you for being a member of our band." Although Skiba remained silent at first, he also posted his own message on Instagram (via Spin). Skiba stated, "I'm sure there's a joke in here about releases and happy endings I'm missing but I am truly grateful for my time with blink and I am truly happy you guys are a band and a family again" (per another article from NME). Blink-182's Instagram account replied to Skiba's kind words with a simple heart emoji.