What Jeffrey Epstein's Life In Jail Was Like
In 2019, disgraced New York financier Jeffrey Epstein died by suicide in a New York jail cell while awaiting trial on charges of sex trafficking and conspiracy, based on Insider reporting. As many as 80 women and girls alleged they were molested and trafficked by Epstein a number of years earlier. A number of high-profile individuals, such as Prince Andrew of the English royal family, among others, were implicated in Epstein's circle, according to Reuters. Epstein was arrested once before in Florida in 2008 for solicitation of prostitution involving a minor, among other charges. Facing life in prison, Epstein served only 13 months in jail in that case as part of a plea deal, as Insider notes.
In 2019, Epstein's fall from the highest levels of New York society seemed complete. He died while in custody at the Metropolitan Correctional Center (M.C.C.), and because he denied he was suicidal in the days leading up to his death, among other irregularities, some remain skeptical that Epstein died by his own hand. Some also speculate he may have had help in the act, as The New York Times reports. Conditions at the M.C.C. — reportedly closed down in 2021 over poor conditions, based on The Times reporting — were a far cry from the lifestyle Epstein was used, filled with private jets and other luxuries. Though the state of the M.C.C. should garner no sympathy for Epstein or cast doubt on the crimes he is alleged to have committed, here's what Epstein's final few days in jail were like.
If you or anyone you know is having suicidal thoughts, please call the National Suicide Prevention Lifeline​ by dialing 988 or by calling 1-800-273-TALK (8255)​.
Epstein entered the M.C.C. part of the general jail population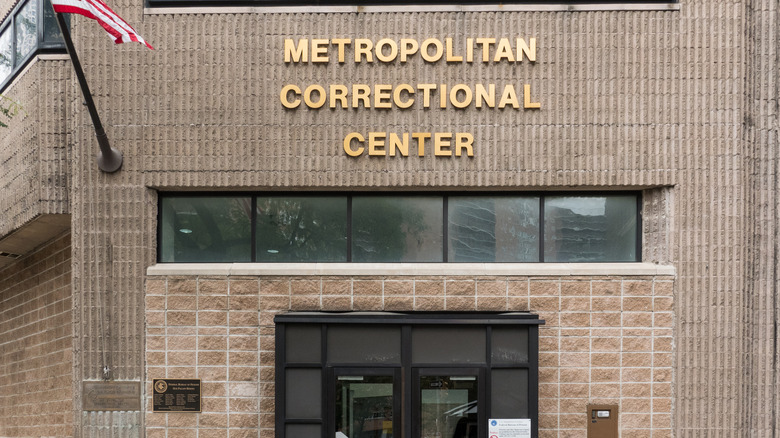 Isabelle OHara/Shutterstock
As The New York Times reported, Jeffrey Epstein was arrested in July 2019 at Teterboro Airport in New Jersey. At that point, a justice department indictment had implicated him in dozens of sex acts with minors, among other charges, as The Times notes. If convicted of those crimes, Epstein could spend 45 years in prison. Despite the high-profile nature of his case, Epstein first entered the M.C.C. (pictured) as part of the jail's general population, and as a result, restrictions on his life were relatively light. The fact that Epstein was not placed in a more restrictive circumstance was later attributed to an oversight — just one of many that would turn up in the days leading to and after Epstein's death.
Once Epstein's status at the M.C.C was discovered, he was moved from the general jail population to the Special Housing Unit (S.H.U.). From the time that he first arrived, Epstein was described as looking sad, dazed, confused, and withdrawn, based on Federal Bureau of Prison records obtained by The New York Times. Concern for Epstein's mental well-being worsened after his move to the S.H.U. Expected he would be denied bail, Epstein underwent and passed several psychological evaluations and was put under "psychological observation," described by The Times as one step away from suicide watch. While under psychological observation, specially designated inmates filed reports every 15 minutes on Epstein's status.
Epstein's first suicide attempt was unsuccessful
Though Jeffrey Epstein continued to tell jailhouse staff that he would never attempt suicide, some who filed reports on his activities while under "psychological observation" provided a different picture, such as when he sat for a prolonged period with his head in his hands, according to The New York Times. Still, Epstein reportedly remained talkative and continued to state that he had much to live for. The Federal Bureau of Prison records indicate he did not sleep well, though, and he lodged complaints over the noisy conditions in the jail and the quality of the food.
Epstein also continued to receive visits from his defense attorneys and continued to deny any wrongdoing related to the sex abuse charges. Despite those protestations, Epstein reportedly did unsuccessfully attempt suicide while in jail, per CNBC. After the denial of a second bail attempt, it reportedly seemed clear to Epstein and his defense team that his case would likely go to trial and that further bail requests would be denied. An inmate was placed in Epstein's cell but that inmate disrupted Epstein's sleep, and he was once more left alone. After a social phone call he claimed to be to his mother, who had died, which was later revealed to be to his girlfriend, Karyna Shuliak, Epstein returned to his jail cell. He was found the next morning with a bedsheet around his neck and declared dead a short time later.