How Mishandled Evidence In Tiffany Valiante's Case Helped Lead To Inconclusive Results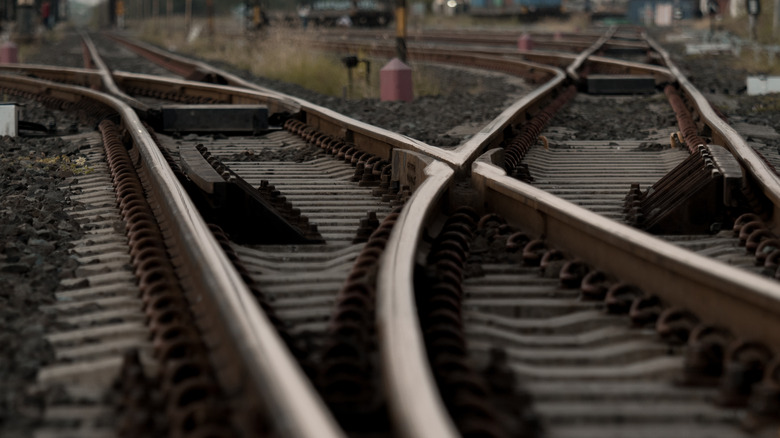 Ben Kc/Shutterstock
The first episode of the Netflix series "Unsolved Mysteries Volume 3," titled "Mystery at Mile Marker 45," tells the true story of Tiffany Valiante, a New Jersey teen who in 2015 disappeared from her family home after an argument with her parents (via Newsweek). Tiffany's body was found early the next morning on nearby train tracks in what was ruled to be a suicide. She was hit by a train, according to the official report, but Tiffany's parents, Dianne and Stephen Valiante, dispute the claim their daughter died by her own hand.
Evidence recovered at the scene suggests there had been a sexual assault, though no rape test was administered, among other irregularities, as Newsweek notes. Other evidence, including a possible murder weapon found nearby, an ax with red markings, went missing in police custody. Tiffany's parents won court approval to get two other remaining pieces of evidence in the case tested for DNA, hoping to finally answer with certainly what had happened to their daughter and whether foul play was involved. Those items were so mishandled by authorities, though, the DNA test results were inconclusive, according to D'Amato Law Firm, which represents the Valiante family (via PR Newswire).
If you or anyone you know has been a victim of sexual assault, help is available. Visit the Rape, Abuse & Incest National Network website or contact RAINN's National Helpline at 1-800-656-HOPE (4673).
Valiente had a lot to live for, her mother said
Speaking on the "Unsolved Mysteries" episode, Tiffany's mother, Dianne Valiante, said it was unlike her daughter to walk away from home in the dark (via Newsweek). It's also unlikely Tiffany killed herself: Her daughter wasn't depressed, Dianne said. "She wasn't suicidal. Tiffany was happy! She was making plans to go to college, she was making plans with her roommate, and she was making plans to play softball that Wednesday. She had plans to go to Great Adventure," a New Jersey Six Flags theme park (via Six Flags), "the next morning with friends," Dianne added.
The two items Tiffany's parents won a court order to have tested for DNA evidence were a bloody towel and T-shirt, according to their attorney (via PR Newswire). The lab that would conduct the test was the highly-regarded DNA Diagnostics Center (DDC) in Ohio. In March 2022, the DDC released a statement explaining that while evidence of male DNA in Tiffany's blood samples had been found, the condition of the evidence tested was such that those results could not definitively conclude that the DNA came from a possible perpetrator of a crime, or if the items were contaminated in police custody instead.
If you or anyone you know is having suicidal thoughts, please call the National Suicide Prevention Lifeline​ by dialing 988 or by calling 1-800-273-TALK (8255)​.
The evidence was improperly stored and it was damaged
The bloody t-shirt Tiffany was wearing the night that she died and that was tested by the DDC lab had not been properly dried when it was stored, and as a result, it had grown moldy. Possibly because of this fact, the tests run on the T-shirt had no "probative value," according to the DDC statement. There was also inadequate evidence handling in other areas, including Tiffany's own blood samples. The stained white towel was simply placed in a plastic bag which was never sealed. Other items were outdoors for weeks before they were collected, and as a result were too degraded to test properly.
On the disappointing update from the DDC, Valiante family attorney Paul R. D'Amato said (via PR Newswire), "This report by DDC reinforces our view that there was a gross rush to judgement by investigators, who hastily determined Tiffany's death was a suicide; they never treated the scene like a crime scene and, clearly, mishandled key evidence that we now conclusively learn was useless when finally subjected to DNA testing." At minimum, the Valiantes believe the cause of death in Tiffany's case should be changed from suicide and ruled "undetermined," he also added. A trailer for "Unsolved Mysteries Volume 3" is available to watch now on YouTube.