This Is Where Milton Hershey Is Buried
In 1894, Milton Hershey established The Hershey Chocolate Company. The business was inspired by Hershey's love of sweets which started at a young age. Hershey was born in Derry Church, Pennsylvania, in 1857 and started working at just 14 years old. He dropped out of school and became a master confectioner's apprentice to learn the ropes of the craft, as noted by Biography. After a few years, he set out and attempted to establish his own business a few times, but they all failed. Hershey worked with a confectioner afterward, where he learned how to make caramel. Hershey had another go at setting up a business, and within a few years, he was able to establish himself as a caramel supplier in the U.S.
It was in 1893 at an exposition in Chicago that Hershey discovered his love for chocolates. He worked toward mass-producing milk chocolate bars. Hershey sold his caramel company, established a chocolate company, and soon, his business boomed. Today, the Hershey's Company remains one of the leading chocolate manufacturers in the world (via Statista). As Hershey's business grew, he wanted to provide employees at his factory living facilities that would make them happy and boost productivity. He built a small community around the Hershey's factory that had houses, schools, parks, and recreational facilities.
The Hershey model town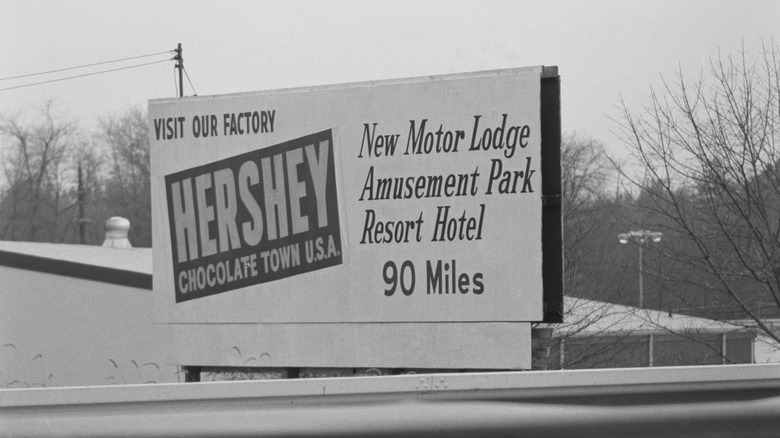 Michael Ochs Archives/Getty Images
Milton Hershey chose his birthplace of Derry Township as the location of his chocolate business. The model town he created for employees consisted of affordable houses, educational facilities, a general store, a bank, and its own transportation system. According to Hershey Story, Hershey added more facilities to the model town as the years passed. In 1933, the Community Building was completed. It consisted of a bowling alley, a library, a gym, a pool, and a men's club. For a time, the town's hospital and junior college were also part of the building.
As more facilities were added, the Hershey model town became a popular tourist attraction. Holiday excursions, annual picnics, and dances were held there. When the model town was built, a cemetery wasn't immediately added, as there was little need for it. Derry Township had churches that had their own graveyards, which was enough for the community. Meanwhile, the people who lived in Hershey's model town were mostly young, and the town was described as a healthy community (per Hershey Cemetery). The architect who designed the town had plans for a cemetery, but it wasn't immediately constructed with the other buildings.
The Hershey Cemetery
Milton Hershey decided to have a cemetery built in the Hershey model town when his wife, Catherine, died in 1915. As noted by Hershey Cemetery, she was buried in Philadelphia. Construction for the cemetery soon began, as Hershey wanted a place where he could have all his departed loved ones together. A marble monument that read "Hershey" was erected, and four grave markers were added for his parents, his wife, and himself. The Hershey Cemetery wasn't officially opened until 1923, but there were burials that took place in 1918 when there was a flu epidemic. Catherine Hershey's body was transferred from Philadelphia to the cemetery in 1919, and his mother was buried at the reserved plot when she died in 1920. Hershey's father, who died in 1904, was also transferred to the Hershey Cemetery in 1920.
Hershey and his wife didn't have children, and after Catherine's death, Hershey never remarried. He focused on expanding his business and worked until late into his senior years. He died at the Hershey Hospital on October 13, 1945, at 88 years old. According to Admired Life, plenty of people from the Hershey community paid their final respects and shared stories about the beloved businessman. Eight male students from the Hershey Industrial School served as his pallbearers, and he was buried at his dedicated plot at the Hershey Cemetery alongside his wife and his parents.