This Is The Oldest Cemetery In America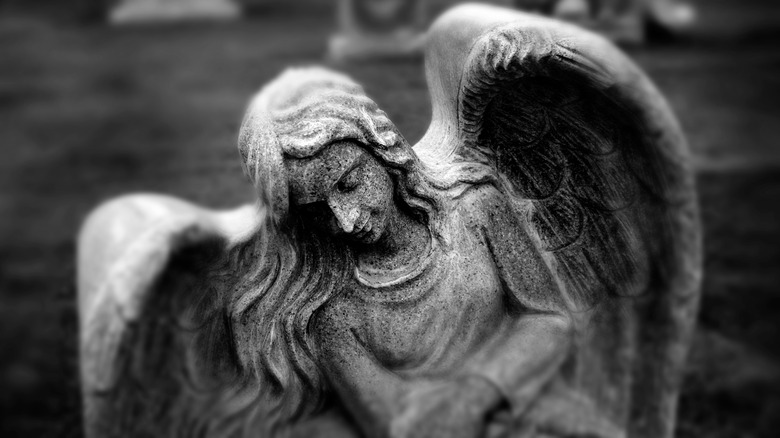 Lane V. Erickson/Shutterstock
According to visual communicator Joshua Stevens, there are no less than 144,000 cemeteries in the United States alone. The soil upon which we tread is something of a solemn catacomb of American history that stretches back hundreds of years, and each body is like its very own time capsule that represents a different story from the past. If you've ever strolled through an old cemetery and beheld the eroded headstones and archaic tableau stretching in all directions, you know full well what it feels like to be entranced by the dead as they hold silent vigil over the sacred land. 
With the long-await arrival of spooky season comes the widespread desire to engage in all things ghostly and chilling. If you're somebody who loves to explore old cemeteries, you should probably plan a trip out east this October to visit America's oldest graveyard to date, the Myles Standish Burial Ground in Duxbury, Massachusetts (via Find a Grave).
Myles Standish Burial Ground
On their homepage, the town of Duxbury, Massachusetts, writes, "There in lay the honor bestowed to the Town of Duxbury by the American Cemetery Association in 1977 as naming the Standish Burial Grounds the oldest maintained cemetery in the country. A bronze plaque set in a natural granite stone is placed within the cemetery grounds as commemoration to this." For years, America's oldest burial ground could be found in Saint Augustine, Florida — a town that's famous for its haunted reputation and supposed ghostly inhabitants. However, the plot of land slipped into the unknown alcoves of history some time ago, and its location remains a mystery to this day. 
If you're wondering just how old the Standish Burial Grounds really are, here's a little bit of context: According to New England Travel Today, some of the cemetery's deceased occupants allegedly arrived in this country on the Mayflower in 1620.
The pilgrims of Duxbury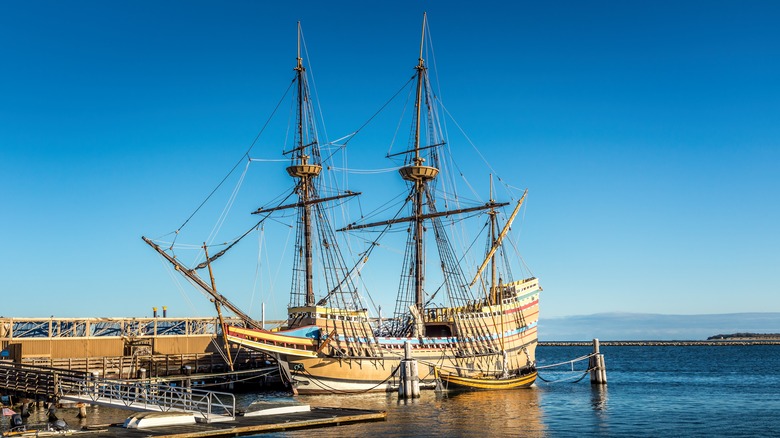 Martina Birnbaum/Shutterstock
The town of Duxbury, Massachusetts, reports names such as Priscilla Alden, Captain John Alden (her son), and other seamen of the iconic Mayflower occupy plots of land in the Myles Standish Burial Ground. Of course, the grandest and most illustrious sepulcher within the confines of the cemetery gates belongs to Captain Myles Standish himself (the man whose name inspired the graveyard's honorary moniker). According to New England Travel Today, Myles Standish's tomb is adorned with four separate cannons mounted atop a large rock structure along with an American flag and a wooden doggerel that reads, "Capt. Myles Standish, 1656."
Standish, a decorated English militant and one of the prime founders of the first colonial settlement, is said to have attended the very first Thanksgiving ceremony in 1621 (via FOCUS). According to Duxbury, Massachusetts, veterans of both the Revolutionary War and the War of 1812 also reside at the Myles Standish Burial Ground.