Leslie Jordan's Long History Of HIV/AIDS Advocacy Explained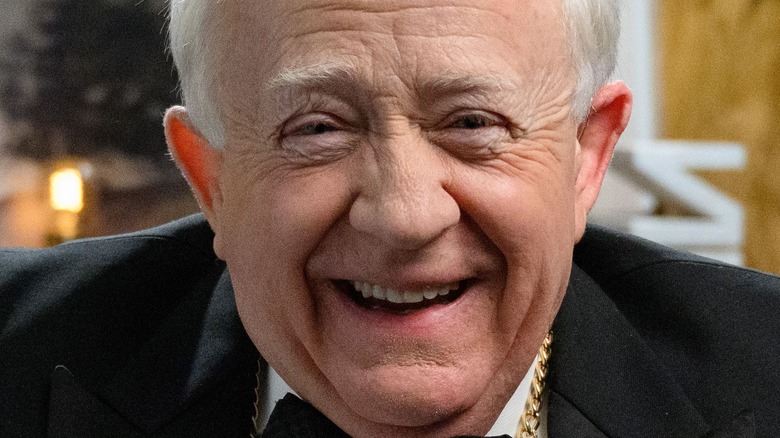 Handout/Getty Images
When actor Leslie Jordan died on Monday, October 24, he left behind not only a resonant legacy of comedic work, but a 4-foot, 11-inch absence that no one will be able to replace. His sweetness and boundless charisma brought him acclaim and success on shows like "Will & Grace," "Hearts Afire," and "The Cool Kids," all the way back to his TV debut on 1986's "The Fall Guy." He'd arrived in Hollywood in 1982 with nothing more than a dream and $1,200 sewn into his underwear, as The Gay & Lesbian Review recounts. The timing was critical. Even as he earned small roles, bit by bit, he endured the same horror as many other gay people of the time: The onset of the HIV/AIDS epidemic. 
On Huffpost, Jordan described the difficulties of the time, such as acquaintances showing up suddenly gaunt. "I can remember how shameful it was. Lovers turned their backs and left ... you know, family, friends ... people were dying all alone ... all alone ... and the only AIDS ward was L.A. County." He continued, "We attended memorial services and I marked names out of my phone book, and I buried an entire phone book ... I think there's a responsibility for those that are left, you know. There's nothing that they did that I didn't do! You know what I mean? And I'm healthy and I'm alive and so we have a responsibility." 
This sentiment drove Jordan to HIV/AIDS advocacy his entire life.
Volunteer worker in HIS/AIDS' early days
To say that Leslie Jordan was involved in issues related to gay rights and advocacy is a massive understatement. As he was fond of pointing out — like when he hosted "Ellen" in 2021 (per YouTube) — he grew up gay in the 1960s in Chattanooga, Tennessee, which was "an exercise in terror." He was immensely sympathetic to those suffering from AIDS, and in the epidemic's early days helped out at Project Angel Food, an L.A.-based nonprofit that delivered food to those affected. On the Guardian he says, "I was delivering meals, but I wasn't very good at it; I was too talkative. I remember once I showed up and it was just this guy sat in a diaper and it just broke my heart. So I sat with him all afternoon." 
Around that time, Jordan also got involved in the HIV/AIDS support and buddy program, Project Nightlife. As Visual Aids explains, escapism and fun were crucial for those suffering from HIV/AIDS in its early days, as well as an avenue to learn about safe sex practices. Jordan, cheeky as always, described his involvement in Project Nightlife by saying, "I still had a little bit of a drug problem back then. Me and my friends would do little bumps of crystal meth, then go dancing, so I'd be up all the next day and go sit with people. Smoke cigarettes and talk. At least they had company. I was wonderful company."
Grand Marshall in his home state
Mickey Bernal/Getty Images
Leslie Jordan remained involved in the gay community throughout his entire life. When Jordan died, GLAAD (Gay & Lesbian Alliance Against Defamation) President and CEO Sarah Kate Ellis spoke on Twitter, saying, "Leslie Jordan was a multi-talented entertainer who charmed audiences for decades with heartfelt characters on-screen and passionate LGBTQ advocacy off-screen," continuing, "He was a loyal friend to so many LGBTQ organizations including GLAAD, most recently hosting our San Francisco Gala in 2018 and was a true class act when it came to sharing his platform and celebrity to help raise awareness and funds for our work to accelerate acceptance."
As recently as 2021, Jordan was the Grand Marshall — host and MC — of the 30th annual Nashville AIDS Walk, as Focus LGBT describes. The Nashville AIDS walk is a fundraising event put on by Nashville CARES, a Tennessee-based healthcare clinic devoted to treatment and support of those with HIV/AIDS. The walk, which took place during the same COVID-19 lockdown that catapulted Jordan to Instagram fame, took him back to his home state. There, he got to head up events with, among others, TJ Osborn, the only openly gay musical artist in history signed to a major country label, as Time says. Jordan further strengthened ties between members of gay and non-gay communities alike through his 2021 gospel album, "Company's Comin'.