Comedian Rodney Dangerfield Has The Most Hilarious Message Written On His Gravestone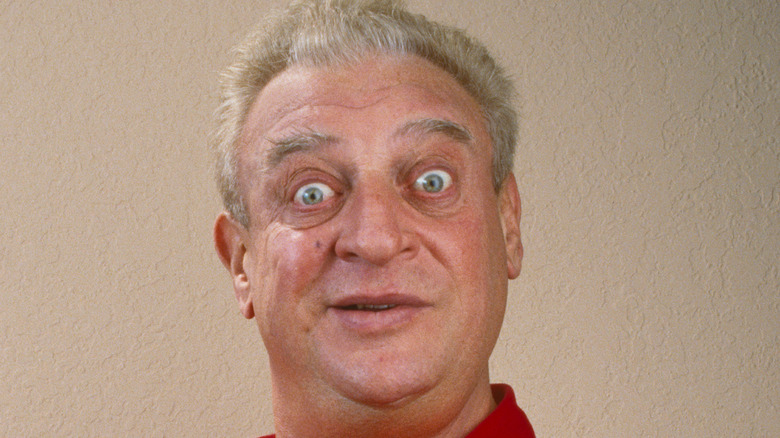 George Rose/Getty Images
Once upon a time, the Great Gods of Comedy came together for a small council meeting and decided that they were going to create the perfect comedian right then and there. Each one of those eternal beings placed a helping hand into the crucible of humanity and concocted a goofy little progeny who'd been sent down to earth to make people laugh for years to come — even after his death. True story.
Okay, so that's probably not how Rodney Dangerfield actually came into existence, but one can definitely be forgiven for believing it to be true. During his life, the foul-mouthed, slack-jawed New Yorker with eyeballs that practically jutted out past his nose was liable to put you into a coma from making you laugh so hard, sometimes with his appearance alone. "I was so ugly my mother used to feed me with a slingshot," he once said during a show. His audacity and crudeness truly knew no bounds. In a 2004 interview with Rolling Stone, he alleged that he smoked a joint while visiting the White House in the 1980s. 
Most of us have seen "Caddyshack," "Back to School," or "Easy Money" plenty of times and true Dangerfield fans could probably recite his iconic stand-up routines from front to back if they were asked to do so. No matter how many times he lamented that he couldn't "get no respect," the world of show business still remembers him as one of the greatest entities of comedy to ever live.
Who was Rodney Dangerfield?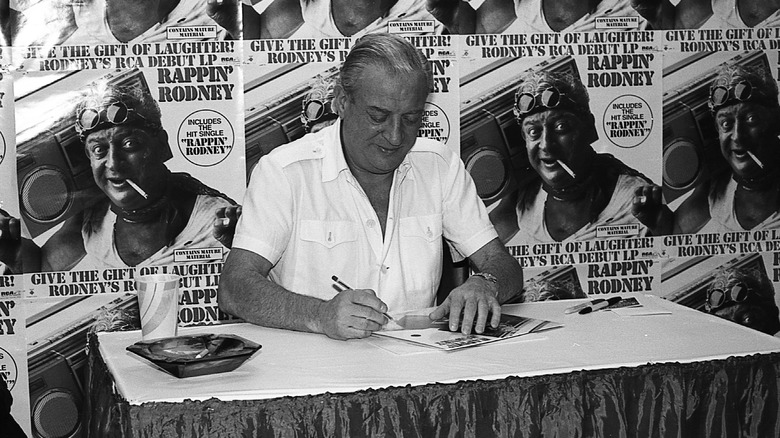 Raymond Boyd/Getty Images
According to Biography, Rodney Dangerfield — birth name Jacob Cohen — was born on November 22, 1921 in Babylon, New York. He took a vested interest in comedy at an early age and started performing stand-up bits during his teenage years. "Jack Roy" was the moniker he adopted back then, but he was forced to take a hiatus from comedy after his financial struggles started to pile up. By the 1950s, with a wife and family to support, he took on a career in sales instead. But by the mid-60s he started moonlighting as a stand-up comedian while still working in sales during the day. Finally, his seemingly long lost dream of becoming a working comedian started to gradually reappear in his life, and this time, he wasn't pulling any punches. 
He re-emerged on the scene with a renewed sense of ambition and a brand new identity to go with it — enter Rodney Dangerfield. For most aspiring comedians, taking on the world of show business in your 40s might seem risky, but Dangerfield remained undeterred by the odds and pressed forward all the same. Then, after appearing on "The Ed Sullivan Show" in the early 1970s, his career took off. He opened up his own nightclub, stormed stand-up stages across the country, started appearing in movies, and ultimately carved out a whole new epoch in the timeless realm of comedy. Later on, Dangerfield would even take Broadway by storm with "Rodney Dangerfield on Broadway!" in 1988 (via Biography).
There goes the neighborhood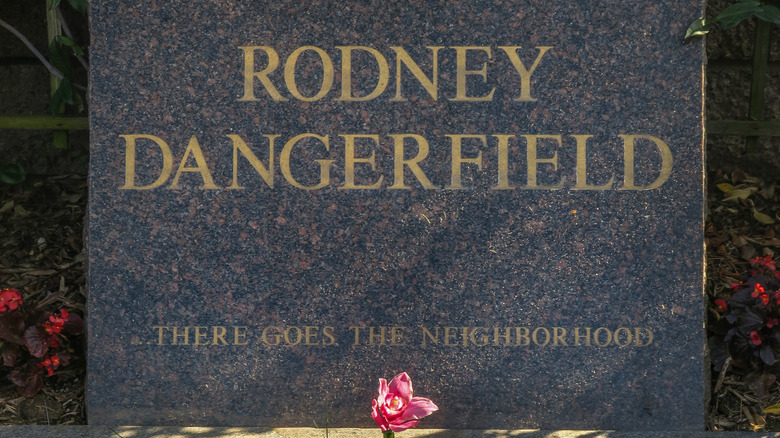 futurewalk/Shutterstock
Biography reports that around the turn of the millennium, Dangerfield's longstanding health problems started to take a turn for the worse. In August of 2004, he underwent heart surgery after surmounting vascular complications put him under the doctor's scalpel once again (he'd already been through two major surgeries, once in 2000 and again in 2003). He had a stroke during the procedure, and after being in a coma for nearly two months, Dangerfield passed away on October 5. 
Shortly after his tragic death, Dangerfield's autobiography, "It's Not Easy Bein' Me: A Lifetime of No Respect but Plenty of Sex and Drugs," hit bookshelves. Even in the throes of back-to-back surgeries and his ever-increasing health hurdles, the honorary "King of Zingers" pressed on with his work, and his final memoir is an ode to his resilience as an artist and a performer. He was never one to let anything get in the way of making people laugh, even if that thing was sickness and death. 
You might say that Rodney Dangerfield saved his greatest joke for last. According to Find a Grave, the beloved comedian was laid to rest at Westwood Memorial Park in Los Angeles, California. Along with his stage name, there are five singular words inscribed upon his tombstone that will keep people laughing for all time to come: "There goes the neighborhood," which sardonically suggests that the surrounding community of individuals both living and dead is doomed to suffer his debaucherous presence forever. You gotta respect that.